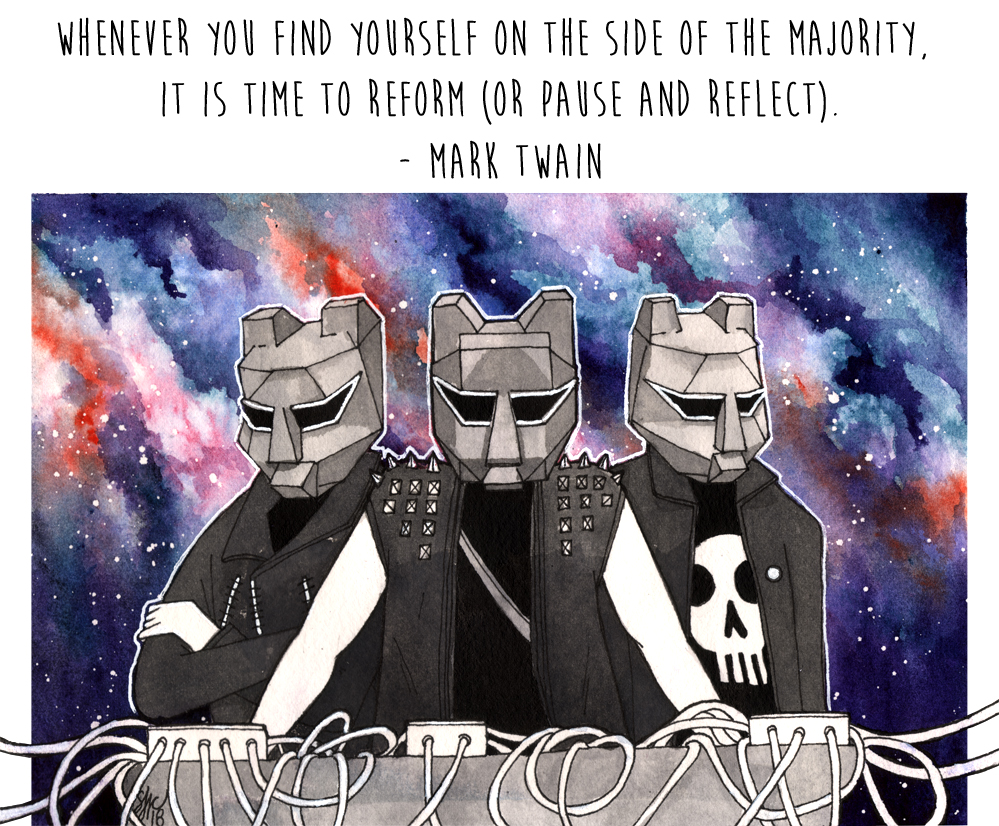 "Whenever you find yourself on the side of the majority, it is time to reform (or pause and reflect)." – Mark Twain (Notebook, 1904)
Paper: Arches Watercolor Paper 300gsm Cold Press
Paint: Daniel Smith Watercolor
Pen: Ohto Graphic Liners, Uniball Signo White Gel Pen
Brushes: Protege 512 Flat (3/4″), Princeton 8 round, Loew-Cornell 3 round +others
Masking Fluid: Lukas
+quote added in Photoshop
+minor Photoshop level adjustments
Happy Quote Monday, Friends!
I created this piece in response to an art contest for the Spring Awakening Fest in Chicago! It is a painting of the band Black Tiger Sex Machine, one of the performers of the fest that I would like to go see. If you enjoy aggressive, dark electronic music, check them out! :)
I had a lot of fun making this piece! I would appreviate your VOTE: https://p.antavo.com/FKv/867/+52338/ Thanks in advance!
I hope you all have a wonderful week and I just wanted to say thank you for all of your support through all the years (past and future) and thank you for just being you :)
Thank you so much for your support and for viewing this post!
xo-Jane
For projects I'm currently working on, free PDF zines and printables, sketchbook pages, videos, & more support my work on Patreon! :)
www.patreon.com/sjanemills