Hello friends!
I just wanted to tell you how incredibly thankful I am to have such wonderful, creative, and talented people in my life – online and offline! You all are a huge inspiration and a big motivator in the things that I do. I can't thank you all enough for being a part of my journey! I wish I could hug all of you, but until I get that teleportation device working, all I can offer is a coupon from my shop at the moment! :)
Please use coupon code SJMTHX2015 for 20% off your entire order at sjanemills.bigcartel.com through Dec 8th! I've updated my shop with new products just for this occasion, including stickers and a few original artworks!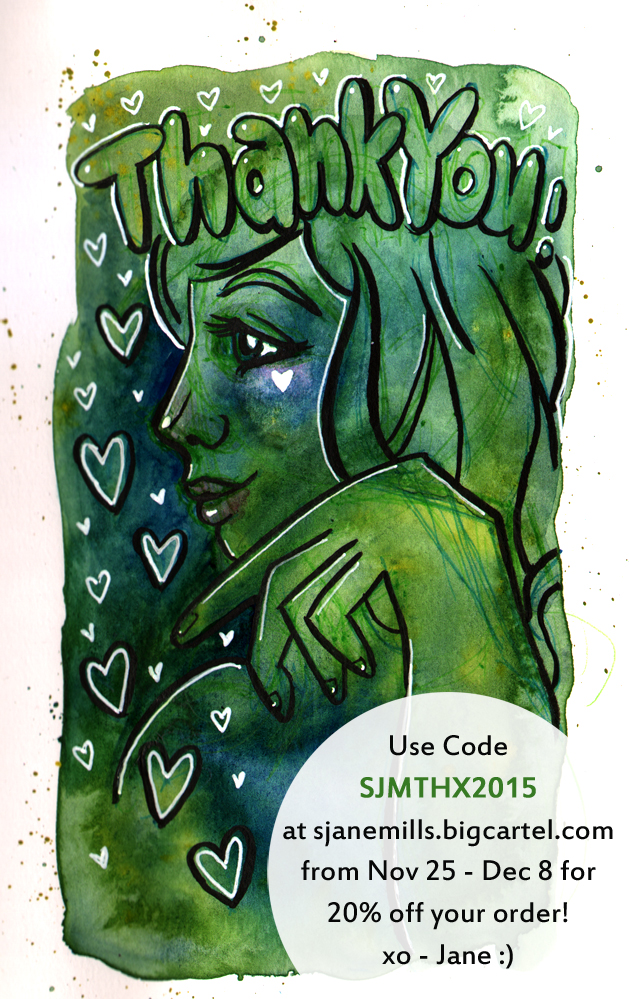 USPS holiday shipping dates! For my online shop, I use Priority Mail and Priority Mail International.
USPS has provided a listing of holiday cut off dates for expected delivery by December 24th: https://www.usps.com/holiday/
(keep in mind, I usually ship 1-3 business days from you order)
For my overseas friends: contact me at store@sjanemills.com – I might be able to work out sending an order via First Class Mail (payment through PayPal only).
Thank you again for all of your support and kind words, you all mean a lot to me :)
xo Jane
Thank you so much for your support and for viewing this post!
xo-Jane
For projects I'm currently working on, free PDF zines and printables, sketchbook pages, videos, & more support my work on Patreon! :)
www.patreon.com/sjanemills