While I'm on holiday, I thought I would share a few of my favorite posts from 2015-2016! :) Enjoy this mini-series!
xo-Jane
Original post here: Leuchtturm1917 Medium A5 Sketchbook Review
---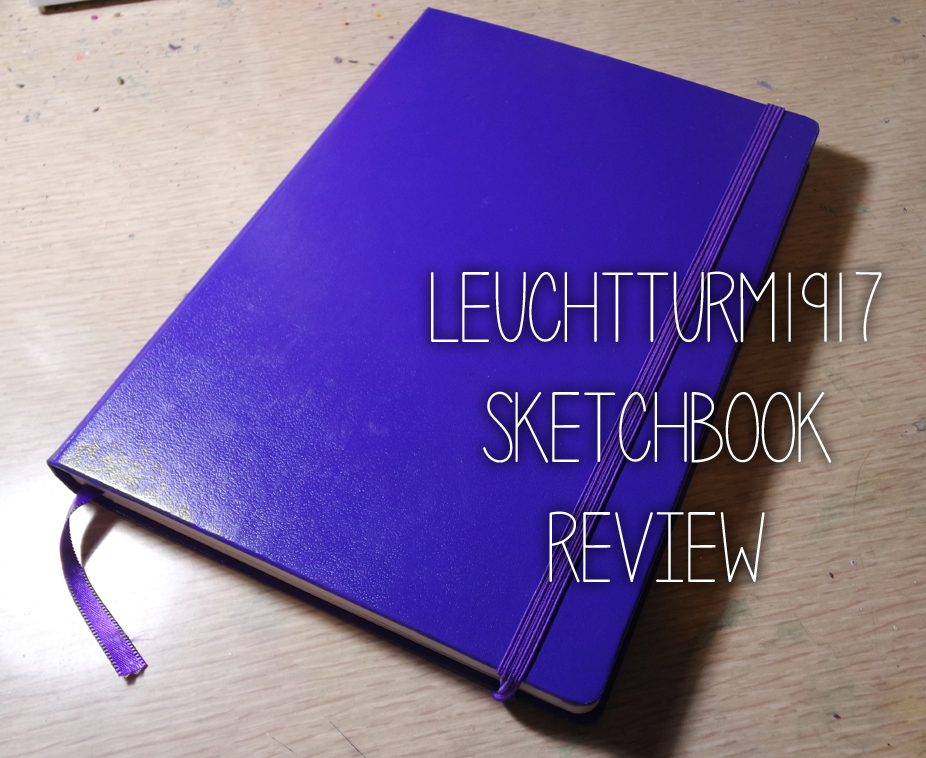 Hello friends! The Goulet Pen Company sent me over the Leuchtturm1917 Sketchbook for me to review!
I carried this sketchbook with me for awhile so I can use it and get a feel for it before posting anything about it. Most of the comparisons will be with my current sketchbook, the Stillman & Birn Alpha series (review coming soon!). I wanted to try out a large variety of art supplies since my current sketchbook also doubles as an art supply testing book. I focus on ink and watercolor with this review, because those are the supplies I mostly use when I sketch. I've taken a lot of photos, which can be found towards the bottom of this post.
Here are the specifications of the sketchbook, before we dive into using it:
Brand: Leuchtturm1917
Binding Orientation: Side
Binding Type: Hardbound
Cover Thickness: 1.5mm
Ruling Type: Blank
Width : 145mm (5.71in)
Height (mm): 210mm (8.27in)
Overall Size: A5
Overall Thickness: 17mm (0.67in)
Paper Color: White
Paper Weight: 180g
Perforated Pages: None
Sheet Count: 48
Special Features: Elastic Band, Inner Pocket, Ribbon Bookmark
Outside
The outside cover is similar to the traditional Leuchtturm1917 notebooks. I like the elastic band and the cover construction is nice and hard, I'm not worried that it will become bent, it is very solid. I chose purple, but there are very many colors to choose from. The corners of the cover (and paper) are rounded, just like the notebook.
Inside
The paper is very nice and the surface of the paper is very smooth, no tooth to it and feels similar to the notebook paper. The color of the paper is labeled white, but not a bright white, it's a dull white or kind of a really light grey tone.
The pocket in the back is a bonus and this sketchbook only has one ribbon bookmark (the notebook has two). There are no perforated pages, and there are no content pages/page numbers. I would personally like some content pages since my sketchbook is my idea book as well and it'd be nice to be able to look at a content page and find my idea easily. Not a big deal, though.
I tried out a variety of tools that I would normally use in my sketchbooks including pencils, fountain pens, sharpies, gel pens, ballpoints, masking pen, copic, colored pencils, acrylic markers, etc. (see photos)
All tools I used did very well except for Sharpies (as was expected) and watercolor. Sharpies bleed through and the watercolors were unexpectedly frustrating.
I found that using light washes with a water brush gave the best results with watercolor, but overall I did not find this sketchbook to be watercolor friendly. The water and pigment absorb pretty quickly into the paper and the paper remains water saturated for quite some time, which caused issues drawing with a liner pen on top of the watercolor. Water/pigment spots would appear when I would lay down a light watercolor wash that did not go away, kind of like a clump of pigment in the fibers.
Tombow Dual Brush Pens and Uni Posca Paint Markers did really well on this paper, with minor buckling. Copics bled through, this was expected since they are alcohol based like Sharpies.
I found that color pigments appeared kind of muted due to the color of the paper (and possibly absorption). Some colors appeared darker than in the Stillman and Birn Sketchbook.
Pens and pencils were very nice in this sketchbook! I personally prefer a more toothy paper, but I really enjoyed doing pencil sketches and pen drawings in this sketchbook. There was a minor smudging with pencils because of the super smooth surface (also depends on your pencil grade), but it wasn't a huge deal breaker for me.
This sketchbook is fountain pen friendly! No bleed-through even with a fude nib.
Pros
Smooth paper
No ghosting or bleed-through with most art supplies
Great with pencil and pen
Fountain pen friendly
Lays pretty flat
Off white paper color
Pocket in back
Standard Leuchtturm page marker (1) and elastic enclosure.
Hard cover
Cons
Lots of watercolor wash issues
Sharpie bleed through
Off white paper color (high pigment colors seemed dull)
No content pages/page numbers (like in Leuchttrum1917 notebook)
No perforated pages
Some smudging with pencil sketches
Overall
I really enjoyed this sketchbook, I would use it for pen or pencil sketching, not watercolor.
Photo Gallery:
What is your favorite sketchbook brand?
Thanks you for reading/looking!
Let me know of any questions you have in the comments and I'll do my best to answer them! :)
Links to other reviews of the Leuchtturm1917 Sketchbook
Photos taken with Samsung NX mini (with and without flash). As with any review that involves color of inks/etc., what you see on your monitor might not be the actual color, but it should be a fairly close representation. I received the Leuchtturm1917 Sketchbook free of charge from The Goulet Pen Company for the purpose of review. All opinions in this review are mine, and are not bias based on how I received this product.
Thank you so much for your support and for viewing this post!
xo-Jane
For projects I'm currently working on, free PDF zines and printables, sketchbook pages, videos, & more support my work on Patreon! :)
www.patreon.com/sjanemills