Hello Friends!
One of my zines, Rebel Doll Zine, that ran from 2009-2012 will be coming back for a Special Edition Issue #9: Rebirth  – exclusively for the Gluestick Zine Fest! There is only 10 more days to get your submissions to me!
Rebel Doll Zine (RDZ) is a zine showcasing awesome Indianapolis based artists, writers, photographers and musicians and is independently published by me :)
A Call For Submissions for Rebel Doll Zine Issue #9
If you would like to be showcased in Rebel Doll Zine #9, are from the Indianapolis (IN) area, & are an artist, writer, musician, etc. Please email your artwork, photography, comics, short stories, poetry, band/show reviews, etc to submissions@rebeldoll.com – be sure to include your name you wish to be know as and a link to your website/twitter/IG/facebook (where others can find more of your art/comics/writing/etc).
Deadline for submissions is June 15th, 2016
If you have any questions or concerns, please email or leave a comment!
Thank you so much for your support! I'm looking forward to putting a nice collection together for the Zine Fest!
Guidelines for RDZ submissions can be found here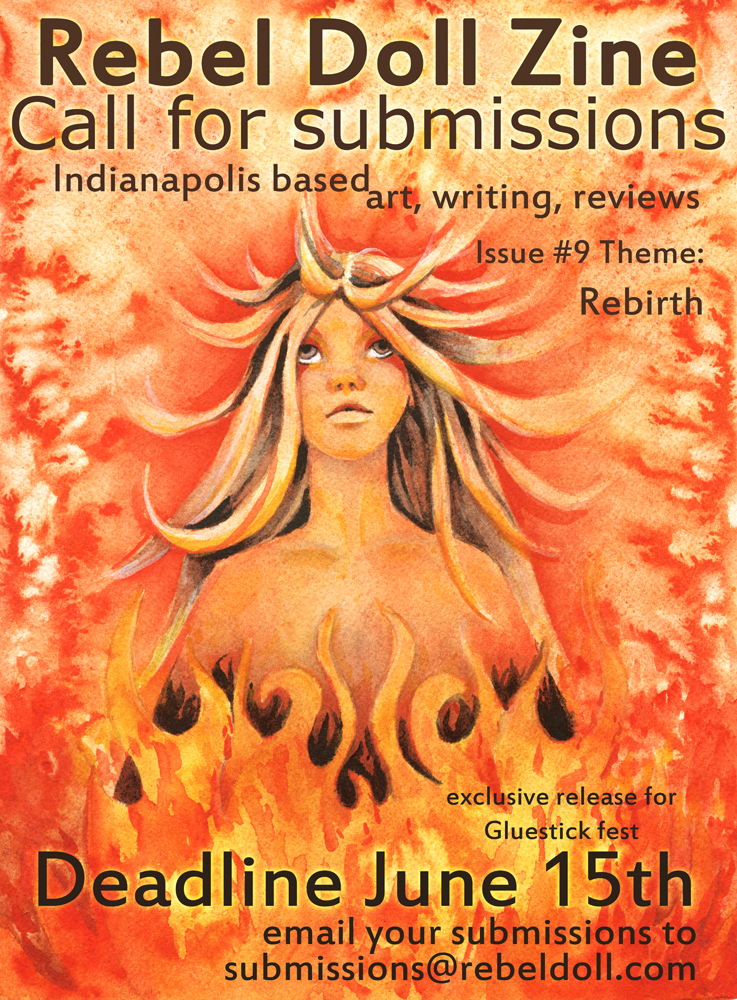 Find Rebel Doll Zine Online:
facebook.com/rebeldollzine
twitter.com/rebeldollzine
issuu.com/rebeldoll
Issue Archive:
Rebel Doll Zine Issue 1
Rebel Doll Zine Issue 2
Rebel Doll Zine Issue 3
Rebel Doll Zine Issue 4
Rebel Doll Zine Issue 5
Photo Archive:
Thank you so much for your support and for viewing this post!
xo-Jane
For projects I'm currently working on, free PDF zines and printables, sketchbook pages, videos, & more support my work on Patreon! :)
www.patreon.com/sjanemills