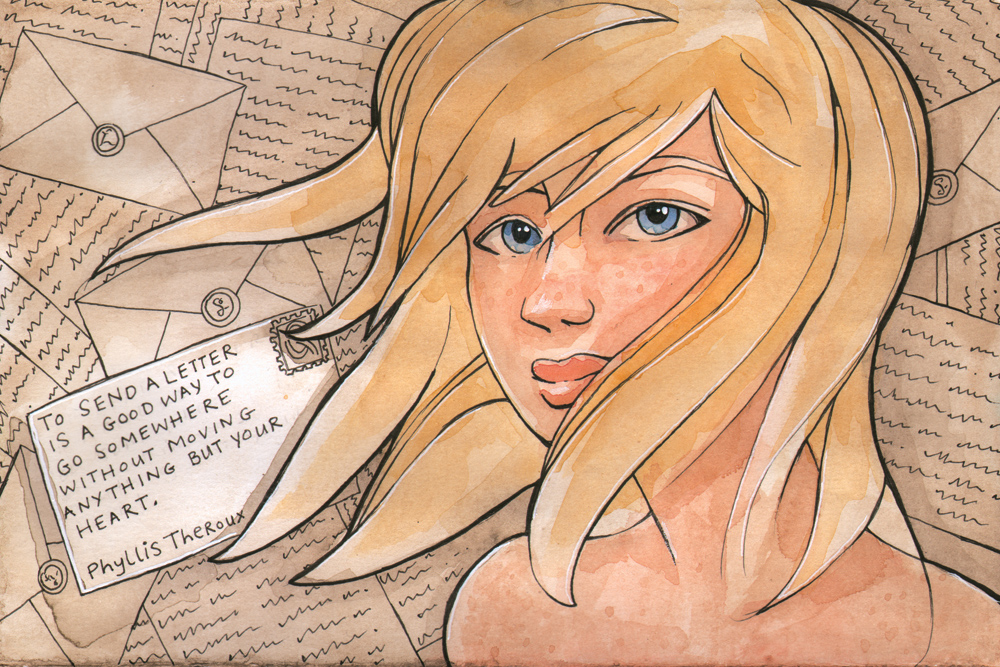 "To send a letter is a good way to go somewhere without moving anything but your heart."― Phyllis Theroux
Pencil: Tombow Mono100 2H
Pens: Sakura Pigma Micron Pens
Paper: Canson Watercolor paper 140lb, 300g – Cold Press
Watercolor: Holbein, Winsor & Newton, and QoR brand
+ Uni-ball Signo white gel pen
Found this quote on instagram this week and enjoyed it! I'm catching up on letters (again – it really never ends ;) ) this week, so it was fitting for me :) Doing some for portrait practice on this piece and I'll be getting some new art supplies this week, which I am very excited about and which I will post about in the coming week!
Also, I am completely nervous and excited posting about this, but I now have my Patreon Page set up!! (https://www.patreon.com/sjanemills)
Here's a little video from Patreon of how it works:

Here's a listing of some of the things I'll be offering to my Patrons:
Pledge $1.00 or more per month
You will have access to my Patreon only posts, which will include sketches, doodles and works in progress.
Listed as a sponsor on my monthly newsletter as a thank you for your support
Every month, you will receive my monthly newsletter as a PDF (a monthly update of what I'm doing/working on/life stuff) – sent digitally (via Patreon Mail/Email)
1 ticket in my monthly raffle
Pledge $10.00 or more per month
Pledge $25.00 or more per month
Thank you so much for your support and for viewing this post!
xo-Jane
For projects I'm currently working on, free PDF zines and printables, sketchbook pages, videos, & more support my work on Patreon! :)
www.patreon.com/sjanemills