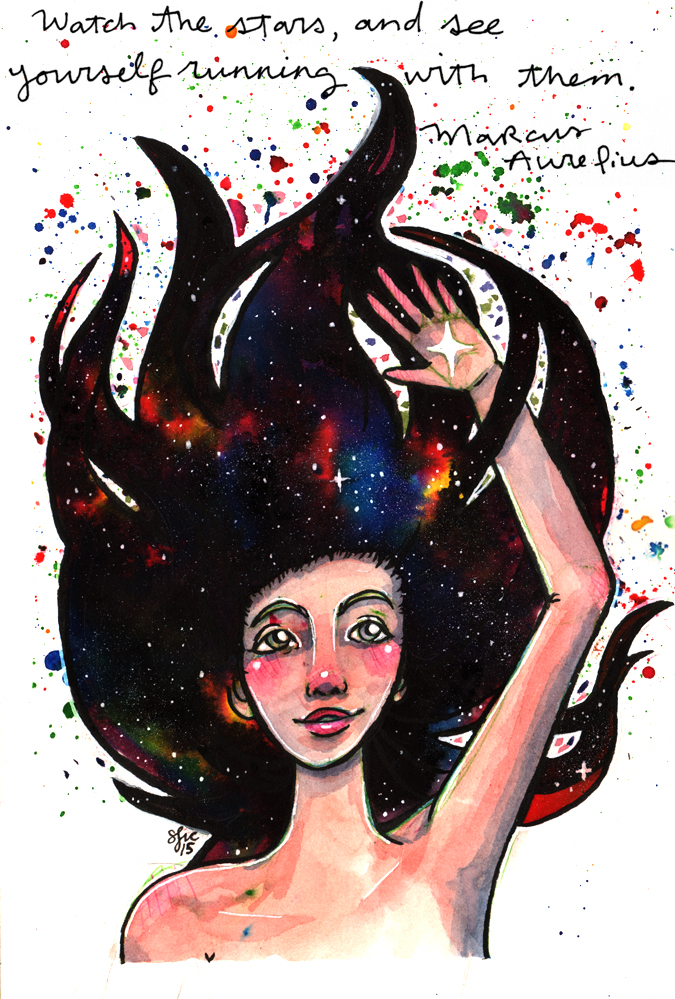 "Watch the stars, and see yourself running with them."
― Marcus Aurelius, Meditations
Pens: Bic ballpoint bold in lt. green, lt. blue, and pink; Pentel pocket brush pen
Watercolors: Ecoline, QoR, and Holbein
Paper: Arches Watercolor Pad – 300g, 140lb – Hot Press
+Sakura Gellyroll in white and Uni-ball signo gel pen in white
Masking fluid: Molotow Grafx
(scanned and added written quote digitally)
This quote is actually a modernized, shortened version. Here's the original from Meditations (PDF):
"…To look about, and with the eyes to follow the course of the stars and planets as though thou wouldst run with them; and to mind perpetually the several changes of the elements one into another. "
I kind of like the longer version better, but the shortened version works for this piece :)
Also! A quick reminder that you can use the code SJMTHX2015 at my online shop for 20% off your whole order till Dec 8th :)
I wish you all a great week! :) Thank you for looking/reading!
Thank you so much for your support and for viewing this post!
xo-Jane
For projects I'm currently working on, free PDF zines and printables, sketchbook pages, videos, & more support my work on Patreon! :)
www.patreon.com/sjanemills