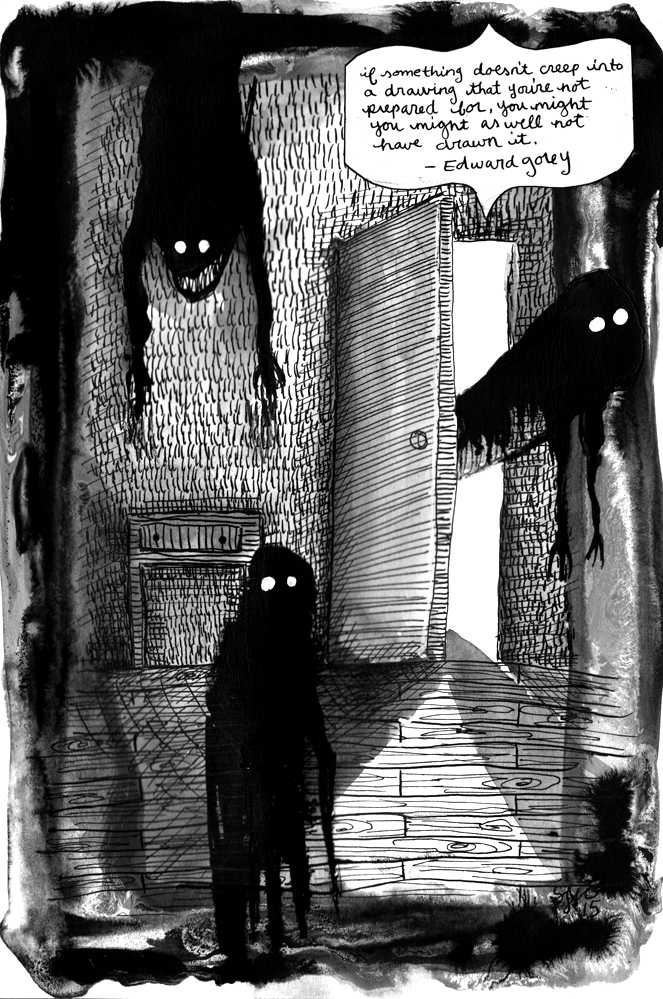 "If something doesn't creep into a drawing that you're not prepared for, you might as well not have drawn it."
― Edward Gorey, Ascending Peculiarity: Edward Gorey on Edward Gorey
( Just realized I wrote "…you might you might as well…" ha! Late night drawing session mistake :P )
Dip Pen Nib: Deleter Comic Pen Nib – Maru (Mapping) Model
Inks: Platinum Carbon Black and Diamine Quartz Black
Paper: Canson Smooth Vellum Bristol Paper
The Edward Gorey October Quote Monday theme continues!
One of my favorite YouTube personalities and Artist, Mary Doodles, uses this really cool ink painting technique with water and India ink. It's such a fun effect with awesome results, and it has a creepy look about it, especially paired with the Gorey style of illustration I've been trying to incorporate in this month's Quote Mondays. If you haven't checked out Mary Doodles, please visit her website and subscribe to her YouTube! She's a huge inspiration to me :)
The past few Quote Mondays will be on YouTube hopefully by the end of this week :)
Hope you all have a wonderful week!
Thank you for reading/looking!
Thank you so much for your support and for viewing this post!
xo-Jane
For projects I'm currently working on, free PDF zines and printables, sketchbook pages, videos, & more support my work on Patreon! :)
www.patreon.com/sjanemills