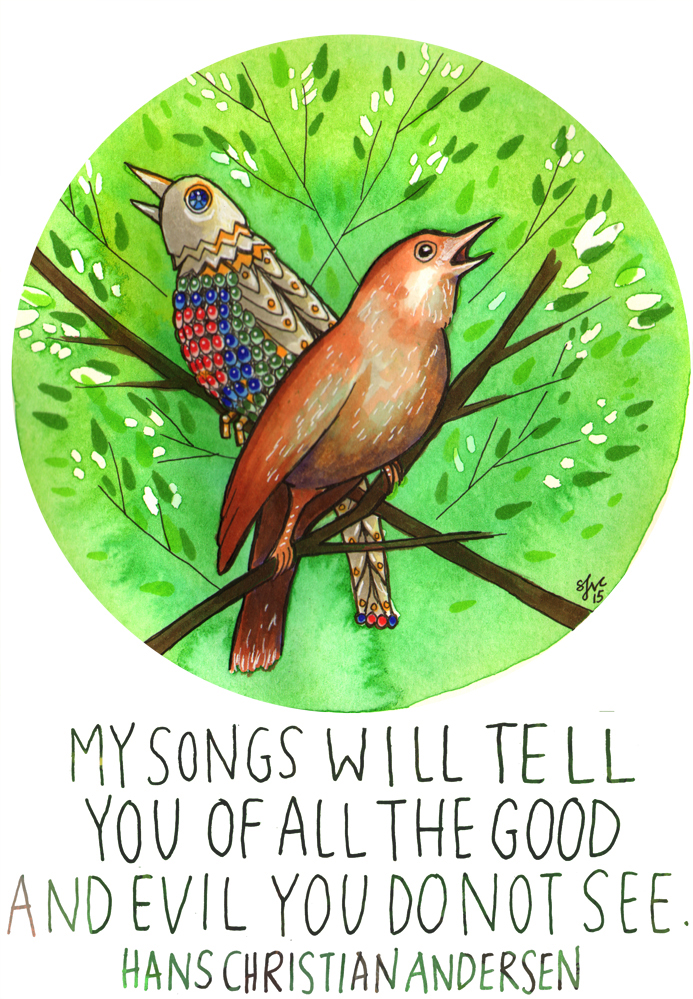 "My songs will tell you of all the good and evil you do not see."
Hans Christian Andersen (The Nightingale)
Pencil: Uniball Kuru Toga mechanical pencil – 0.7 HB
Pens: Sakura Pigma Micron Pens
Paper: Fabriano Studio Watercolor Pad 300G Hot Press
Markers: Copic Sketch
Watercolor: Holbein and QoR
+ Sakura Gelly Roll in white
Masking fluid: Molotow Grafx and Lukas
(scanned and added written quote digitally)
Been reading and thinking about fairy tales lately. My best friend turned me on on to seeing Song of the Sea. It's by the same people who did The Secret of Kells – both highly recommended animated films. In Germany, my mother would always tell me fairy tales before bed. The Nightingale was one of my favorites.
What is your favorite fairy tale?
Thank you for reading/looking!
—– —– —– —– —–
If you would like to support me and my art, videos & reviews and get some goodies every month, check out my Patreon page: patreon.com/sjanemills
Thank you so much for your support and for viewing this post!
xo-Jane
For projects I'm currently working on, free PDF zines and printables, sketchbook pages, videos, & more support my work on Patreon! :)
www.patreon.com/sjanemills