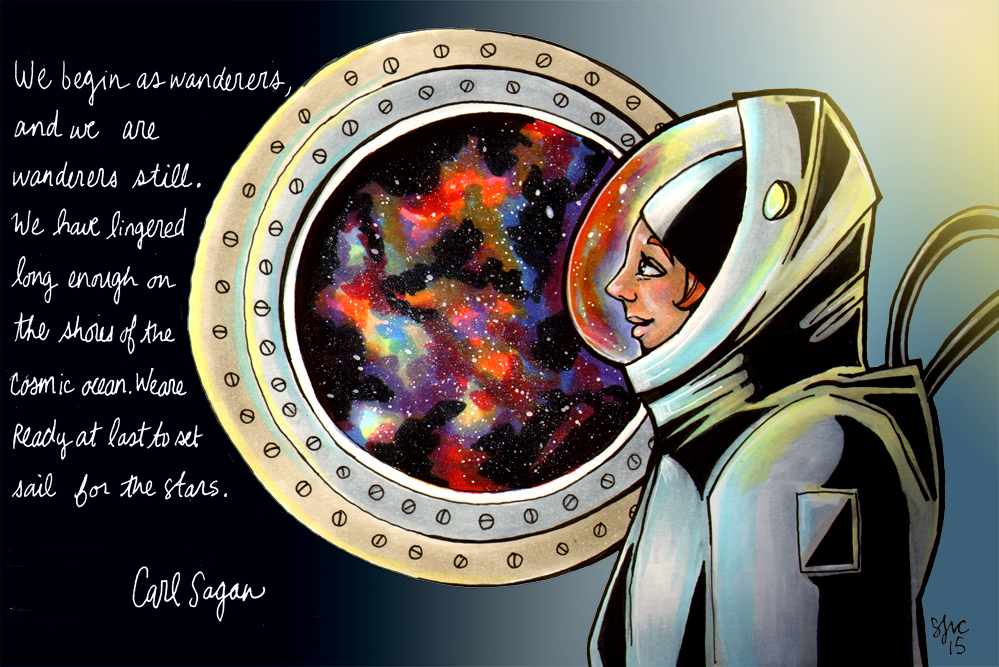 "We began as wanderers, and we are wanderers still. We have lingered long enough on the shores of the cosmic ocean. We are ready at last to set sail for the stars."
― Carl Sagan (Cosmos)
Pencil: Uniball Kuru Toga mechanical pencil – 0.7 HB
Pens: Sakura Pigma Micron Pens
Paper: Fabriano Studio Watercolor Pad 300G Hot Press
Markers: Copic Sketch
+ Bombay White India Ink & Sakura Gelly Roll in white
Post process: scanned and added written quote & added Photoshop gradients
Space, one of my favorite things. When I was little, I wanted to be either an astronaut or an air stewardess, any job that would keep me in the air. I still dream of being able to go to space. I would love to see, with my own eyes, what our earth looks like from above and go exploring to places we have never been before.
Would you visit outer space, if given the chance?
Thank you for reading/looking!
—– —– —– —– —–
If you would like to support me and my art, videos & reviews and get some goodies every month, check out my Patreon page: patreon.com/sjanemills
For projects I'm currently working on, free PDF zines and printables, sketchbook pages, videos, & more support my work on Patreon! :)
www.patreon.com/sjanemills