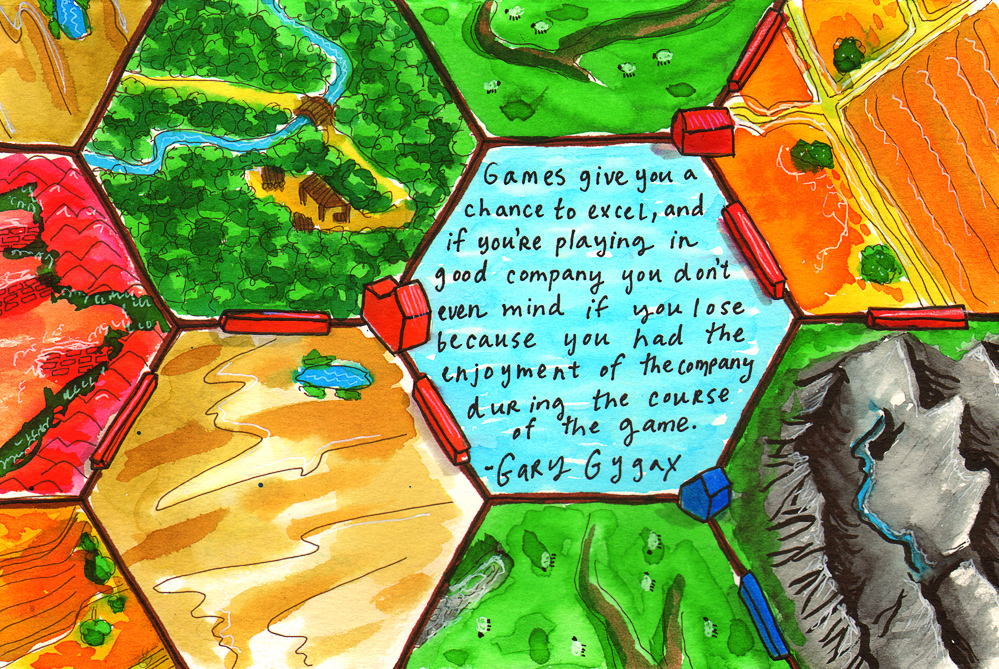 "Games give you a chance to excel, and if you're playing in good company you don't even mind if you lose because you had the enjoyment of the company during the course of the game."― Gary Gygax
Pencil: Uniball Kuru Toga mechanical pencil – 0.7 HB
Pens: Sakura Pigma Micron Pens in black and sepia
Paper: Fabriano Studio Watercolor Pad 300G Hot Press
Fountain Pen Inks:
Diamine: Quartz Black, Red Dragon
Pilot Iroshizuku: Ina-Ho
Platinum Mix Free: Sunny Yellow
Private Reserve: Daphne Blue, Shoreline Gold, Ebony Brown
DeAtramentis: Gold
Pelikan Edelstein: Mandarin
Noodler's: Habanero, Polar Brown
Waterman: Audacious Red, Harmonious Green
Markers: Copic Sketch (R29, B24, E18) & Tombow dual brush (933, 847, 476)
+ Sakura Gelly Roll and Uniball Signo in white
Dedicated to GenCon for having another great year in Indianapolis!! I'm a huge Settlers of Catan fan and so I went with that theme :) Have a wonderful week!!
What is your favorite board game?
Thank you for reading/looking!
Thank you so much for your support and for viewing this post!
xo-Jane
For projects I'm currently working on, free PDF zines and printables, sketchbook pages, videos, & more support my work on Patreon! :)
www.patreon.com/sjanemills