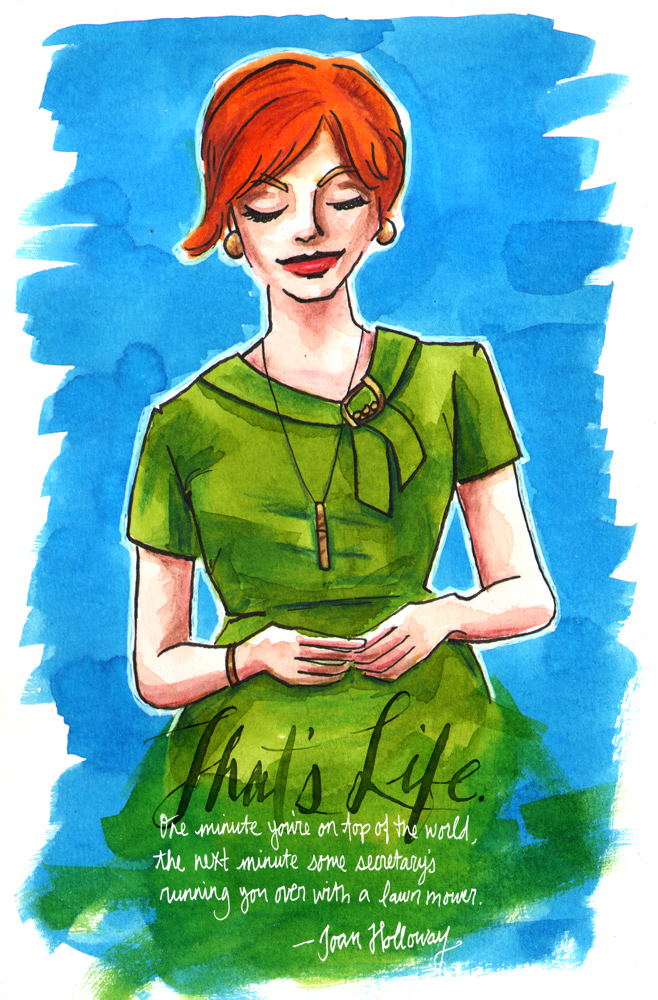 "That's life. One minute you're on top of the world, the next minute some secretary's running you over with a lawn mower."
-Joan Holloway (from Mad Men: Guy Walks Into an Advertising Agency (#3.6) (2009))
One of my favorite television shows is finally coming back to give us the last few episodes of the series. Joan is one of my favorite characters and I love this quote. I hope you all have a wonderful Quote Monday!
Pencil: Tombow Mono100 2H (for initial sketch)
Fountain Pen: Hero 9018 (Fude Nib)
Inks: Platinum Carbon Black (outlines), Pilot Iroshizuku Chiku-rin (dress base color), Pilot Iroshizuku Ama-Iro (background color), Sailor Jentle Apricot (hair base color)
Paper: Canson Watercolor paper 140lb, 300g – Cold Press
Watercolor: Holbein brand
+ Derwent Watercolor Pencils
+Uni-ball Signo white gel pen
Thank you for reading/looking!
Thank you so much for your support and for viewing this post!
xo-Jane
For projects I'm currently working on, free PDF zines and printables, sketchbook pages, videos, & more support my work on Patreon! :)
www.patreon.com/sjanemills