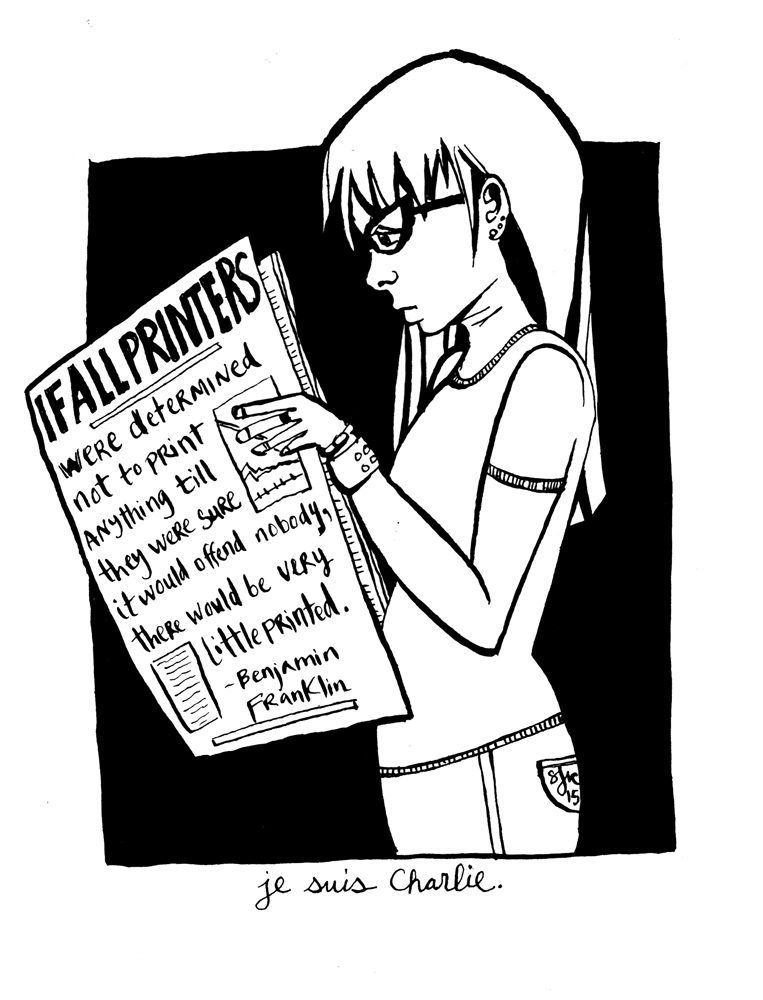 "If all printers were determined not to print anything till they were sure it would offend nobody, there would be very little printed."
― Benjamin Franklin ("Apology for Printers" (1731); later in Benjamin Franklin's Autobiographical Writings (1945) edited by Carl Van Doren)
When I heard of the shooting at the Charlie Hebdo HQ, I was sick with bronchitis with no energy to respond, other than to retweet a few tweets on my twitter. I now have medication and making a recovery and I needed my Quote Monday to be dedicated to the lives lost last week, Wednesday.
My thoughts are with their family and friends.
#JeSuisCharlie
Pencil: Derwent Graphic Pencil 4H (for initial sketch)
Dip pen nib : Brause 361 Steno Blue Pumpkin Fine Point and Zebra Comic Pen Nib G Model
Ink: Platinum Carbon Black
Paper: Fabriano Studio Watercolor Pad 300G (6×9)
Brushes: Royal & Langnickle
Thank you for looking/reading.
Thank you so much for your support and for viewing this post!
xo-Jane
For projects I'm currently working on, free PDF zines and printables, sketchbook pages, videos, & more support my work on Patreon! :)
www.patreon.com/sjanemills