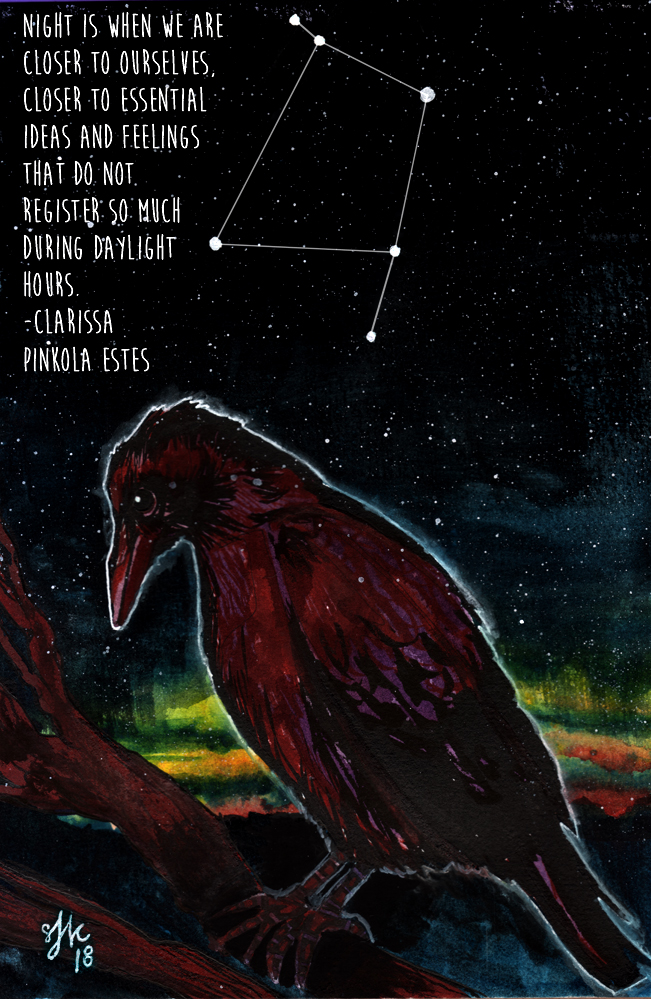 "Night is when we are closer to ourselves, closer to essential ideas and feelings that do not register so much during daylight hours."
― Clarissa Pinkola Estés, Women Who Run With the Wolves: Myths and Stories of the Wild Woman Archetype
Paper: Bee Paper 100% Rag 140# Cold Press Watercolor
Paint: Daniel Smith Watercolor and Holbein Gouache
Brushes: Protege 512 Flat (3/4″), Princeton 8 round, Loew-Cornell 3 round
Pen: Uniball Signo White Gel Pen
+quote added in Photoshop
+minor Photoshop level adjustments
This painting can be purchased on various items like bags, cases, etc. here!
Happy Quote Monday, friends!
Finally over this sickness that has had me down for the past week+. I have had no motivation to do any art or music and that depresses me. Hopefully, I'll be back at it. Have a wonderful week! :)
Thank you so much for your support and for viewing this post!
xo-Jane
For projects I'm currently working on, free PDF zines and printables, sketchbook pages, videos, & more support my work on Patreon! :)
www.patreon.com/sjanemills