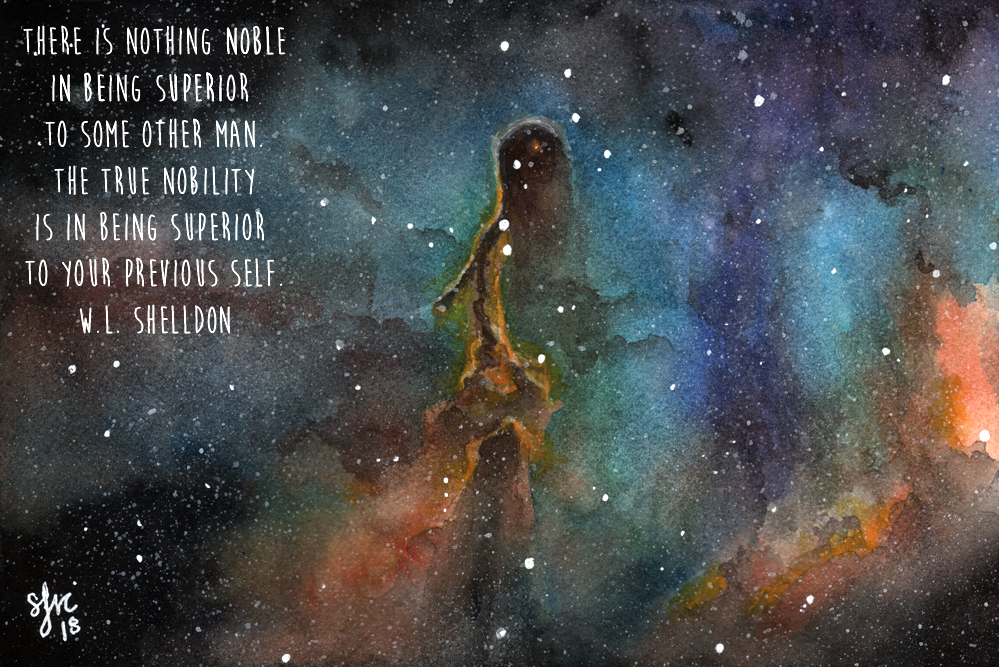 "There is nothing noble in being superior to some other man. True nobility is in being superior to your previous self."
― W. L. Sheldon (What to Believe: An Ethical Creed)
Paper: Arches Watercolor Paper 300gsm Cold Press
Paint: Daniel Smith Watercolor and Holbein Gouache
Brushes: Protege 512 Flat (3/4″), Princeton 8 round, Loew-Cornell 3 round
Pen: Uniball Signo White Gel Pen
+quote added in Photoshop
+minor Photoshop level adjustments
Happy Quote Monday, friends!
This painting is inspired by the Elephant's Trunk Nebula, part of the gas region IC 1396 located in the constellation Cepheus.
This painting can be purchased on various items like bags, cases, etc. here!
Got a few fun music projects on the horizon and still trudging away on my comics and commissions. Hope you all have a productive week!
Catch up on Chapter 1 of ASTROgirl! Check it out on www.astrogirlcomic.com! Or head over to Excess Comics for some comics that are more on the dark side!
Thank you so much for your support and for viewing this post!
xo-Jane
For projects I'm currently working on, free PDF zines and printables, sketchbook pages, videos, & more support my work on Patreon! :)
www.patreon.com/sjanemills