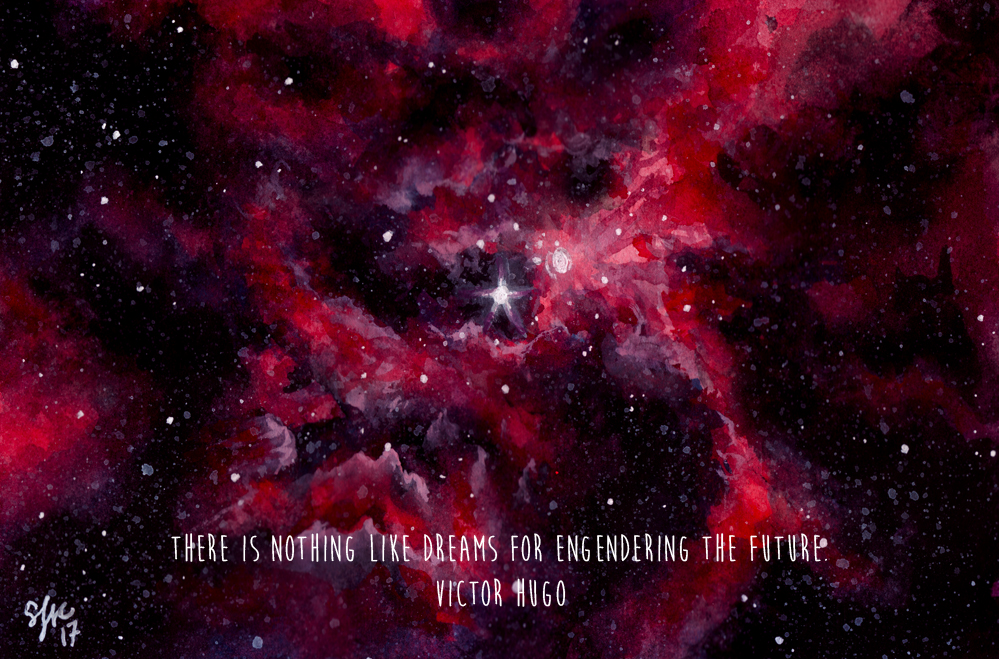 "There is nothing like dreams for engendering the future."
― Victor Hugo (Les Misérables)
Paper: Arches Watercolor Paper 300gsm Cold Press
Paint: Daniel Smith Watercolor and Holbein Gouache
Brushes: Protege 512 Flat (3/4″), Princeton 8 round, Loew-Cornell 3 round
Pen: Uniball Signo White Gel Pen
+quote added in Photoshop
+minor Photoshop level adjustments
Happy Quote Monday, friends!
This painting is inspired by the star system, Eta Carinae in infrared.
This painting can be purchased on various items like bags, cases, etc. here!
Wishing you all a prosperous New Year. Thank you so much for all your support in 2017! <3
Word of the day:
Engendering
ənˈjendər / verb
cause or give rise to (a feeling, situation, or condition).
Catch up on Chapter 1 of ASTROgirl! Check it out on www.astrogirlcomic.com! Or head over to Excess Comics for some comics that are more on the dark side!
Thank you so much for your support and for viewing this post!
xo-Jane
For projects I'm currently working on, free PDF zines and printables, sketchbook pages, videos, & more support my work on Patreon! :)
www.patreon.com/sjanemills