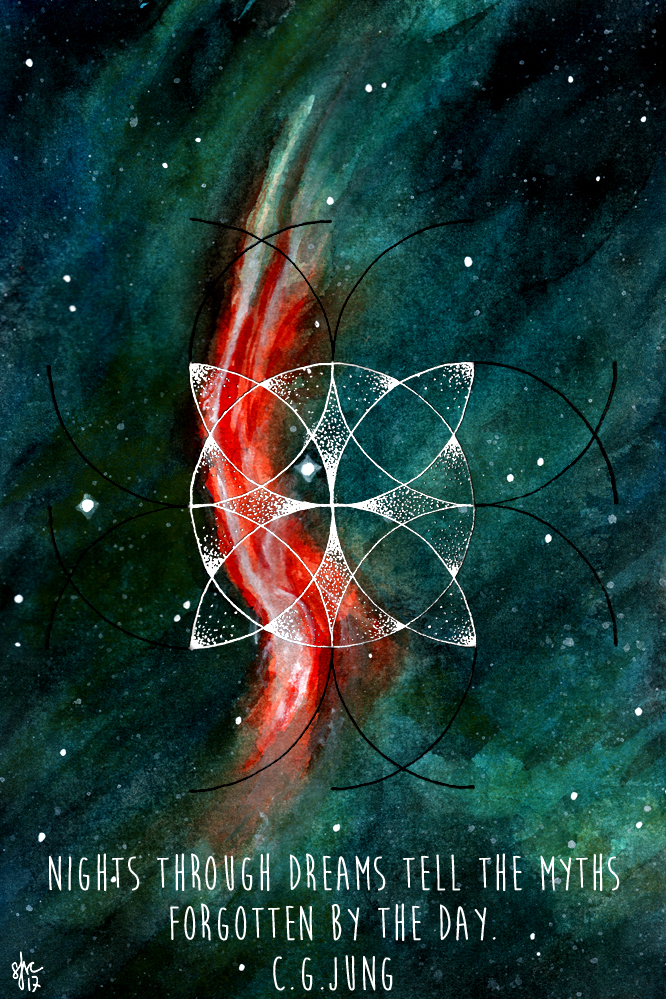 "Nights through dreams tell the myths forgotten by the day."
― C.G. Jung (Memories, Dreams, Reflections)
Paper: Bee Paper 100% Rag 140# Cold Press Watercolor
Paint: Daniel Smith Watercolor and Holbein Gouache
Brushes: Protege 512 Flat (3/4″), Princeton 8 round, Loew-Cornell 3 round
Pens: Ohto Graphic Liner 02 and Uniball Signo White Gel Pen
+quote added in Photoshop
+minor Photoshop level adjustments
+digital editing to the sacred geometry symbol in Photoshop
Happy Quote Monday, friends!
This painting is inspired by the star, Zeta Ophiuchi (Zeta Oph) in infrared.
This nebula painting can be purchased on various items like bags, cases, etc. here!
Happy Holidays! This past week reminded me I need to spend more time with my loved ones and that life is too short. I spent a lot of time this week with my wonderful friends, who are my family here. Keep loving on those you love and have compassion for others. We all struggle and need each other. <3
No Quote Monday next week, since it is the Christmas weekend. Love to you all!
Catch up on Chapter 1 of ASTROgirl! Check it out on www.astrogirlcomic.com! Follow the ASTROgirl Twitter, Facebook, and Instagram so you know when Chapter 2 gets posted!
Thank you so much for your support and for viewing this post!
xo-Jane
For projects I'm currently working on, free PDF zines and printables, sketchbook pages, videos, & more support my work on Patreon! :)
www.patreon.com/sjanemills