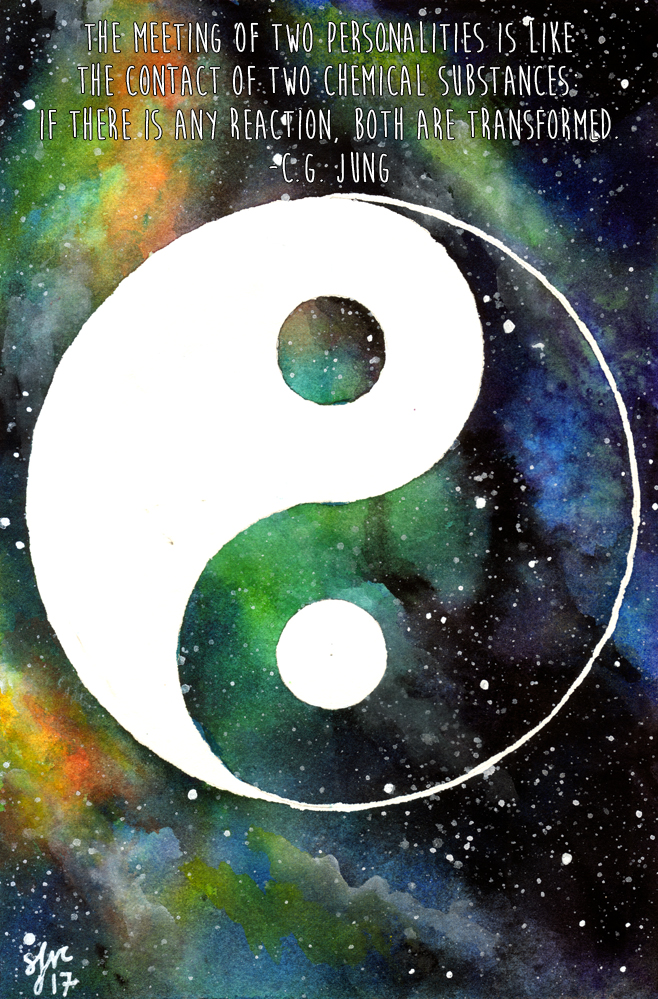 "The meeting of two personalities is like the contact of two chemical substances: if there is any reaction, both are transformed." -C.G. Jung (Modern Man in Search of a Soul, 1933)
Paper: Arches Watercolor Paper 300gsm Cold Press
Paint: Daniel Smith Watercolor and Holbein Gouache
Brushes: Protege 512 Flat (3/4″), Princeton 8 round, Loew-Cornell 3 round
+quote added in Photoshop
+minor Photoshop level adjustments
Happy Quote Monday, friends!
This nebula painting can be purchased on various items like bags, cases, etc. here!
A crazy busy week! Played a show and did a popup art sale! A lot of days off, but didn't work on anything! Oops! ;D Getting back to it this week! *determined*
ASTROgirl Chapter One page 5 (final page) has been uploaded! Check it out on www.astrogirlcomic.com! New pages come every Monday, so stay updated by following the ASTROgirl Twitter, Facebook, and Instagram! Big thanks to my Patreon Supporters who will get to see the pages on Sundays! :)
Have a wonderful week! :)
Thank you so much for your support and for viewing this post!
xo-Jane
For projects I'm currently working on, free PDF zines and printables, sketchbook pages, videos, & more support my work on Patreon! :)
www.patreon.com/sjanemills