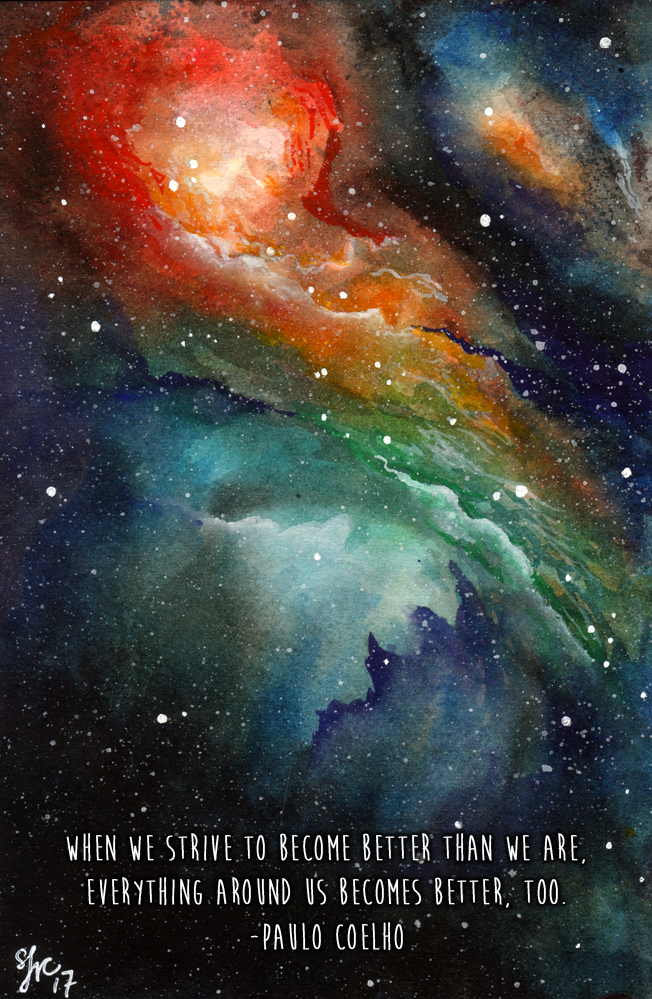 "When we strive to become better than we are, everything around us becomes better, too."
― Paulo Coelho, The Alchemist
Paper: Arches Watercolor Paper 300gsm Cold Press
Paint: Daniel Smith Watercolor and Holbein Gouache
Brushes: Protege 512 Flat (3/4″), Princeton 8 round, Loew-Cornell 3 round
+quote added in Photoshop
+minor Photoshop level adjustments
Happy Quote Monday, friends!
This nebula painting can be purchased on various items like bags, cases, etc. here!
Took a little week off from working on any projects, but this week I'm going to be focusing on finishing up The Ancients and getting together another issue of Ad Adstra Zine!
ASTROgirl Chapter One page 3 has been uploaded! Check it out on www.astrogirlcomic.com! New pages come every Monday, so stay updated by following the ASTROgirl Twitter, Facebook, and Instagram! Big thanks to my Patreon Supporters who will get to see the pages on Sundays! :)
Have a wonderful week! :)
Thank you so much for your support and for viewing this post!
xo-Jane
For projects I'm currently working on, free PDF zines and printables, sketchbook pages, videos, & more support my work on Patreon! :)
www.patreon.com/sjanemills