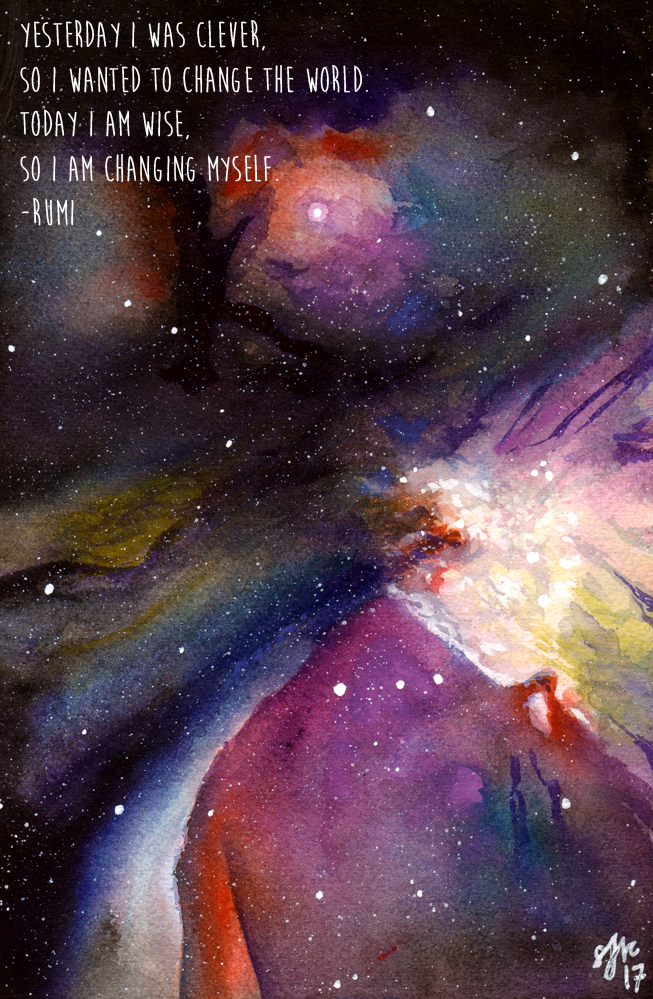 "Yesterday I was clever, so I wanted to change the world. Today I am wise, so I am changing myself."― Jalaluddin Rumi
Paper: Arches Watercolor Paper 300gsm Cold Press
Paint: Daniel Smith Watercolor, Holbein Watercolor, and Holbein Gouache
Brushes: Protege 512 Flat, MyArtscape 5 round
+quote added in Photoshop
+minor Photoshop level adjustments
Happy Quote Monday, friends!
This nebula painting was inspired by a portion of the Orion Nebula (M42/NGC 1976).
Great News! ASTROgirl Chapter One is complete! The first page will be posted on Monday, October 30th! Have a look at the cover that I just posted on the ASTROgirl website and be sure to follow on Twitter and Facebook! Big thanks to my Patreon Supporters who will get to see the pages on Sundays! :)
Have a great week!
Thank you so much for your support and for viewing this post!
xo-Jane
For projects I'm currently working on, free PDF zines and printables, sketchbook pages, videos, & more support my work on Patreon! :)
www.patreon.com/sjanemills