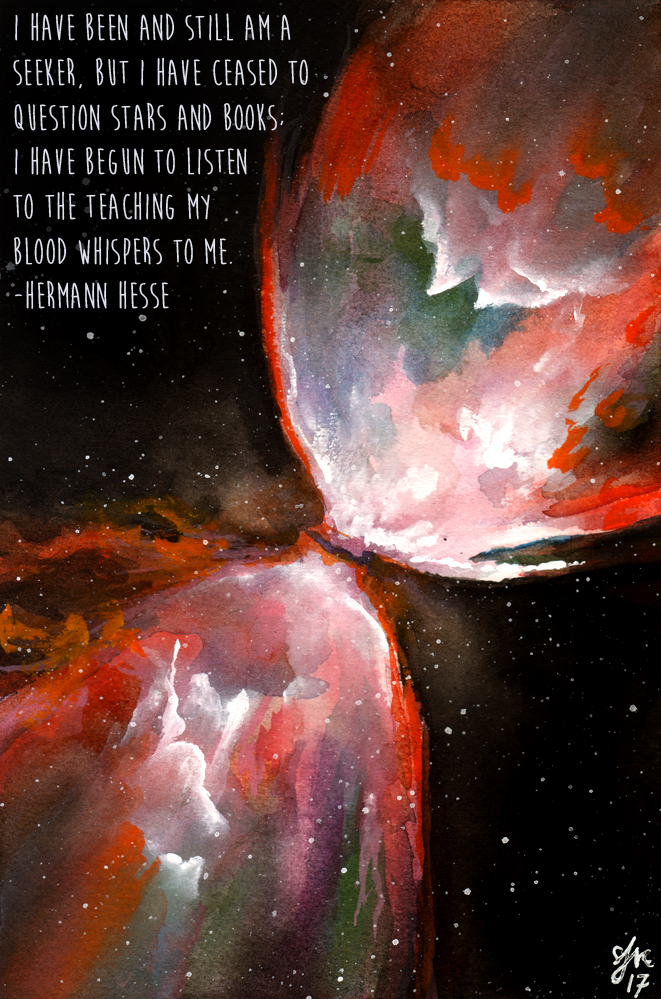 "I have been and still am a seeker, but I have ceased to question stars and books; I have begun to listen to the teaching my blood whispers to me."
― Hermann Hesse (Demian. Die Geschichte von Emil Sinclairs Jugend)
Paper: Arches Watercolor Paper 300gsm Cold Press
Paint: Daniel Smith Watercolor, Holbein Gouache
Brushes: Protege 512 Flat, MyArtscape 5 round
+quote added in Photoshop
+minor Photoshop level adjustments
Happy Quote Monday, friends!
This nebula painting was inspired by NGC 6302, also known as the Butterfly Nebula.
I'm continuing my progress on Chapter 1 of ASTROgirl and I'm working on the cover design, which I hope to have completed in a few weeks! I've very excited to share ASTROgirl's story. Chapter 1 will be one of many. The Ancients Chapter 1 is also almost completed with two more Ancients to introduce you to. Lots of art going on over here; there's just not enough hours in the day ;) Thanks for joining me in my art and comic journeys! :D
Thank you so much for your support and for viewing this post!
xo-Jane
For projects I'm currently working on, free PDF zines and printables, sketchbook pages, videos, & more support my work on Patreon! :)
www.patreon.com/sjanemills