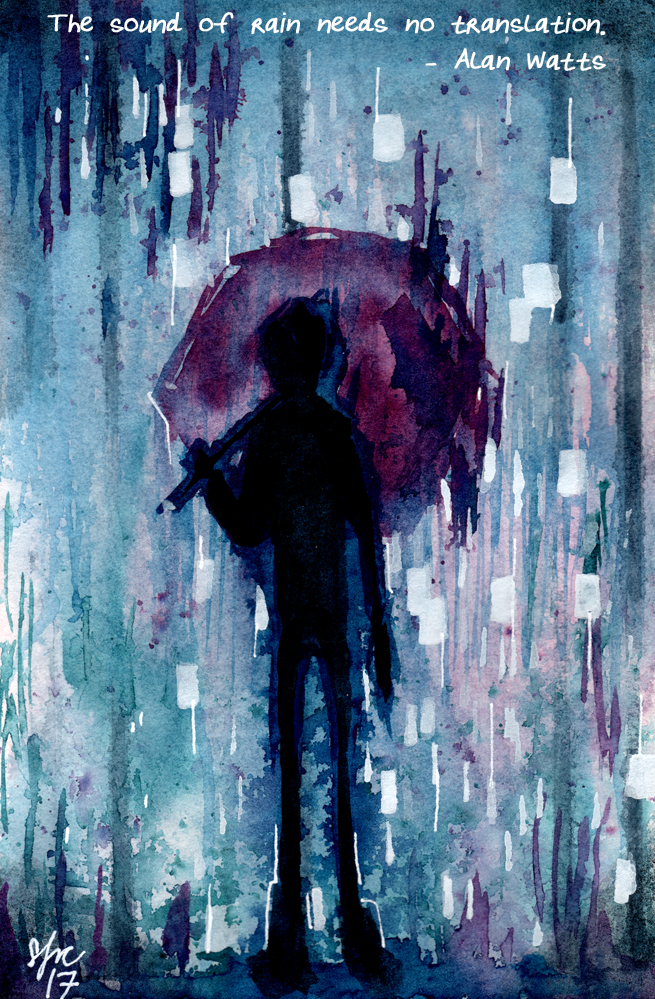 "The sound of the rain needs no translation."-Alan Watts
Available as a print here: http://sjanemills.bigcartel.com/product/falling-rain-5×7-print
Paper: Arches 300 gsm Cold Press
Watercolor: Daniel Smith and Holbein
Gouache: Holbein
Brushes: MyArtscape (14 flat and 09 flat)
Other: Uniball Signo White Gel Pen
+quote typed in Photoshop
+minor PS adjustments
Happy Quote Monday, friends!
Although I have been enjoying the beautiful sunny mild weather we've been having here in Indianapolis, I do really enjoy a good thunderstorm!
This is a semi redo of a Quote Monday I wasn't satisfied with (click here). I wanted to give a multilayered effected to a rainy scene in watercolor. Also, I needed a break from my illustrative/comic routine and went REALLY loose with this week. I only used 2 flat brushes and didn't have a pencil sketch. I wanted to play with the background and have fun! It's always good to do that once and a while. I find it really refreshes my motivation!
ALSO! No Quote Monday next week! I will be making my annual trek to New Mexico, visiting my mother and wandering the desert. I'll have a sketchbook and will be focusing on black and white photography (my first true love).
If you'd like to follow my Southwest Adventure 2017, head over to my twitter (twitter.com/ivoryocean) and instagram (instagram.com/ivory_ocean).
Thank you so much for your support and for viewing this post!
For projects I'm currently working on, free PDF zines and printables, sketchbook pages, videos, & more support my work on Patreon! :)
www.patreon.com/sjanemills