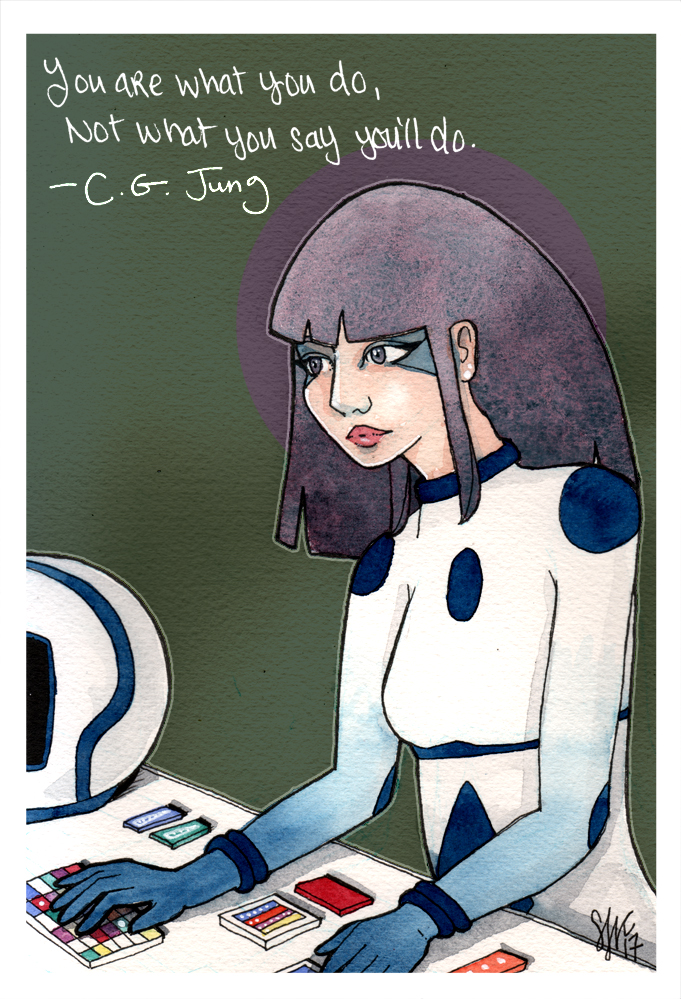 "You are what you do, not what you say you'll do."
― C.G. Jung
Pencil: Kuru Toga with blue Color Eno lead
Paper: Arches 300gsm Cold Press
Watercolor: Daniel Smith
Brushes: MyArtscape
Pens: Ohto Graphic Liner 01, 02, 03, 05
Other: quote scanned and background added in Photoshop
Happy Quote Monday, friends!
Trying some experimenting with a more comic style ASTROgirl and adding the background in Photoshop. I really would like to get her comic going this year and there is a lot of writing and planning that needs to be done! Although I've been drawing ASTROgirl since last year, she is definitely growing and evolving into more of a character that I could actually draw all the time (her wearing a helmet most of the time will help, LOL ). I will keep you posted on the progress and if you'd like to see behind the scenes things, support me on Patreon! :)
So, working on ASTROgirl, another EXCESS comic for the year, putting together Rebel Doll Zine and tabling at 2 Zine Fests (so far Bloomington on Apr.8 and Gluestick (Indianapolis) on Jul.8) are in the future picture. Always busy! :D
Thank you so much for your support and for viewing this post!
For projects I'm currently working on, free PDF zines and printables, sketchbook pages, videos, & more support my work on Patreon! :)
www.patreon.com/sjanemills