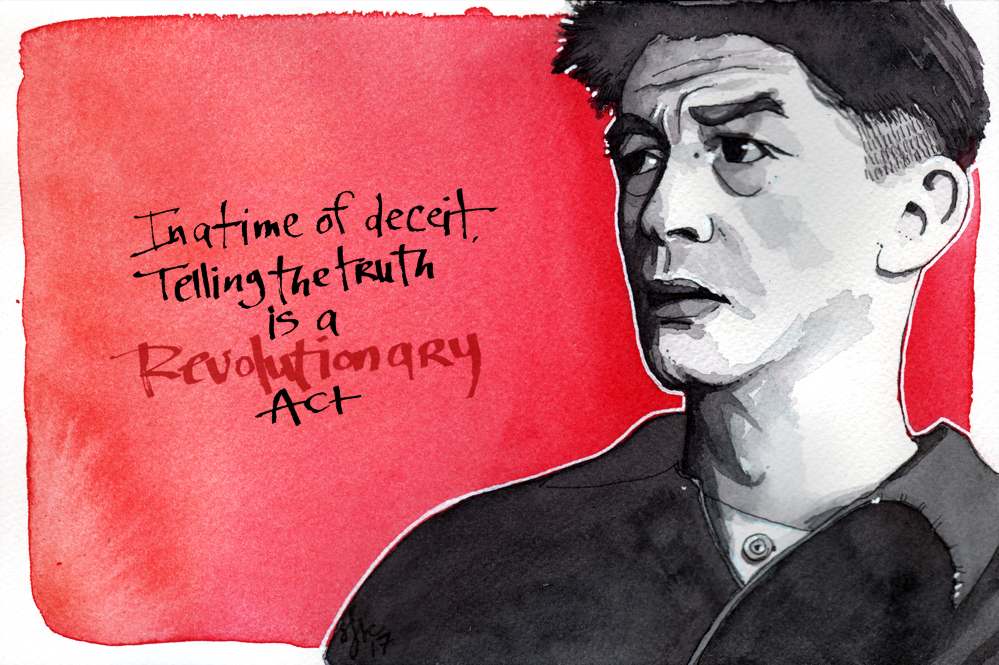 "In a time of deceit, telling the truth is a revolutionary act." -Unknown (Generally attributed to George Orwell)
Pencil: Kuru Toga with Kuru Toga lead 2H
Paper: Arches 300gsm Cold Press
Watercolor: Holbein
Brushes: MyArtscape and Loew-Cornell
Pens: Ohto Graphic Liner 01, 02, 03, and 05
Other: Uniball Signo White Gel Pen
Quote handwritten and scanned in Adobe Photoshop
Happy Quote Monday, friends. We are in an changing time. I just wanted to say that I hope that love and truth will come forward and that we can all be good to each other. I painted John Hurt (who passed away last week) from the movie adaption of the book 1984, one of my favorites.
This print can be purchased in my shop here: http://sjanemills.bigcartel.com/product/truth-print-5×7
$10 of the cost will be donated to the ACLU (https://action.aclu.org/donate-aclu)
In light of everything, I do want to put out that I have am Original Art Giveaway going on and all you have to do is comment your favorite quote on the following blog post: 
Also, there are a couple other donation items in my shop plus a discount of 10%:
Thank you for being so supportive to what I do on my little space on the internet. I appreciate you all and I'm sending you love and positive vibes. Keep fighting the good fight.
xoxo-Jane
Thank you so much for your support and for viewing this post!
xo-Jane
For projects I'm currently working on, free PDF zines and printables, sketchbook pages, videos, & more support my work on Patreon! :)
www.patreon.com/sjanemills