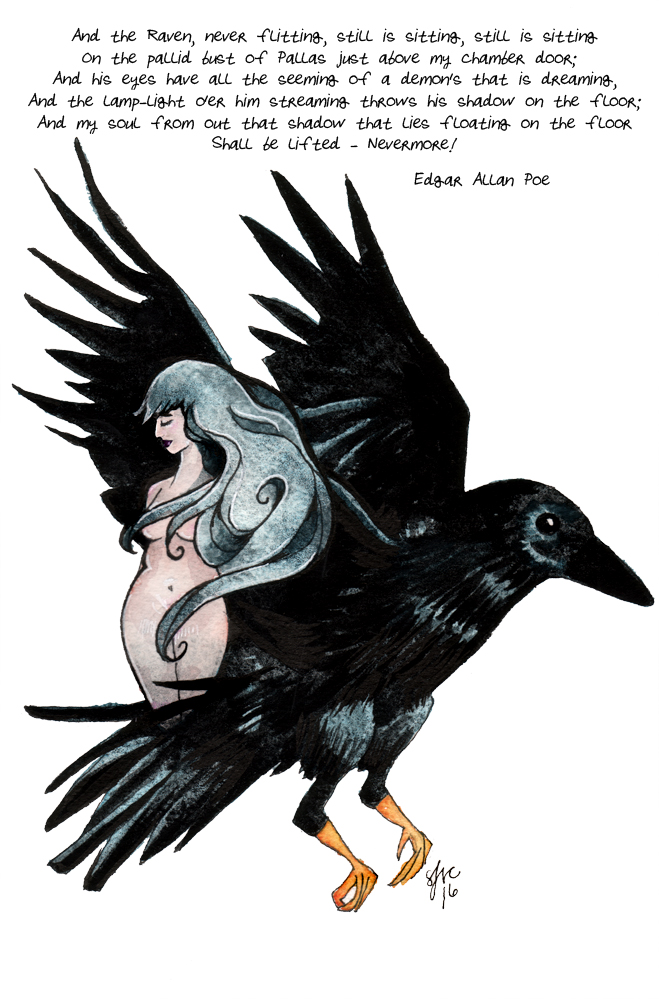 "And the Raven, never flitting, still is sitting, still is sitting
On the pallid bust of Pallas just above my chamber door;
And his eyes have all the seeming of a demon's that is dreaming,
And the lamp-light o'er him streaming throws his shadow on the floor;
And my soul from out that shadow that lies floating on the floor
Shall be lifted—nevermore!"
– Edgar Allan Poe (The Raven)
Pencil: Kuru Toga with Kuru Toga Lead 2H
Paper: Arches 300gsm Cold Press
Watercolor: Daniel Smith
Brushes: MyArtscape
Ink: Ohto Graphic Liners 01,02, 05
+ Sakura Gelly Roll White Gel Pens
+added quote in Photoshop with my own handwriting font (via www.myscriptfont.com)
Happy Quote Monday and Happy Halloween!
Still staying busy in Jane-world! Performed in a Doors cover band on Friday! It was a blast and we had fun! Now back to Lickers practice, as we have a show on Nov 20th! All will creating art in between! :) Hope you have an awesome week!
Thank you for looking/reading!
For projects I'm currently working on, free PDF zines and printables, sketchbook pages, videos, & more support my work on Patreon! :)
www.patreon.com/sjanemills