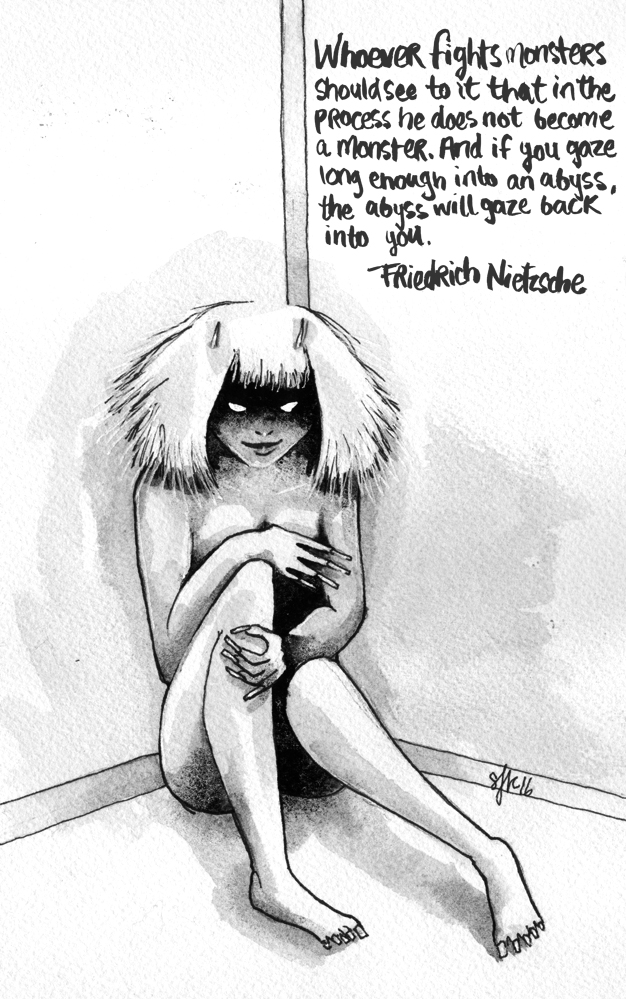 "Whoever fights with monsters should see to it that he does not become a monster in the process. And when you gaze long into an abyss the abyss also gazes into you."
Friedrich Nietzsche (Beyond Good and Evil, Aphorism 146)
Pencil: Kuru Toga with Kuru Toga Lead 2H
Paper: Arches 300gsm Cold Press
Watercolor: Daniel Smith Lunar Black
Brushes: MyArtscape
Ink: Ohto Graphic Liners 01,03, 05
+ Uniball Signo White Gel Pens
Quote done with Kuretake brush pen
Happy Quote Monday, my friends!
Halloween is a week away, so doing a more dark theme for this Quote Monday! :D I've been busy with a few projects I'd like you to check out (and like if you would)!
Excess Comics (www.facebook.com/excesscomics & www.excesscomics.com)
Excess Comics will be an online comic collection of the weird, dark, unusual, underground comics from various artists and writers from Indianapolis, IN.
It will serve to be a collection of dark comics from artists from Indianapolis, IN and surrounding areas, as well as a resource page for artists and writers to connect with others in the area, and to combat writers/artists block with helpful and inspiring posts and interviews of other artists. I also hope to be able to provide other comic artists and writers a means to have their comics printed in zine format (8.5″x5.5″).
It will begin with EXCESS, a short, dark tale written and inked by me which will be posted within the next few months!
A.S.T.R.O.girl (www.facebook.com/astrogirlcomic)
I've been working on creating a story line for A.S.T.R.O.girl and I hope to begin her journey by the end of this year! Stay updated with this project by liking A.S.T.R.O.girl on Facebook! So excited to get a web comic out there in internet land! :D
Well, that's all for now! I wish you all a spooky good week! :D
Thank you for reading/looking!
Thank you so much for your support and for viewing this post!
xo-Jane
For projects I'm currently working on, free PDF zines and printables, sketchbook pages, videos, & more support my work on Patreon! :)
www.patreon.com/sjanemills