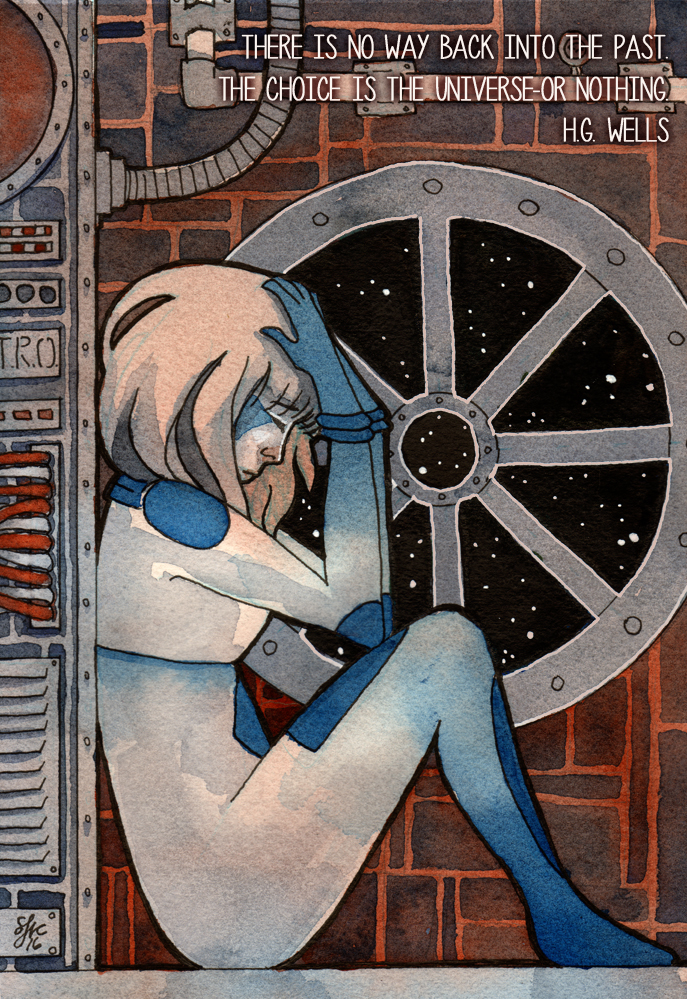 "There is no way back into the past. The choice is the Universe-or nothing."
-H.G.Wells
Pencil: Kuru Toga with Color Eno Lead in soft blue
Paper: Arches 300gsm Cold Press
Watercolor: Holbein
Brushes: MyArtscape
Ink: Dr.Ph Martins Black Star and Platinum Carbon Black
Pen: Ohto Graphic Liners 05 and TWSBI Mini
+ Uniball Signo White Gel Pen
+Photoshop edits/adjustments
Happy Quote Monday!
I couldn't imagine how lonely A.S.T.R.O.girl must get sometimes…
This week has been kind of uneventful. A lot of working and drawing. Today was a grey, rainy day and unfortunately,  we received some sad news about a death of a friend in the music scene towards the end of this evening (it is Sunday as I write this).
Wishing you all a good week, take care of yourselves and your loved ones. <3
Thank you for looking/reading!
The process of this artwork has been posted to my Patreon for my supporters ($5+). Wishing you all a great week!
Thank you so much for your support and for viewing this post!
xo-Jane
For projects I'm currently working on, free PDF zines and printables, sketchbook pages, videos, & more support my work on Patreon! :)
www.patreon.com/sjanemills