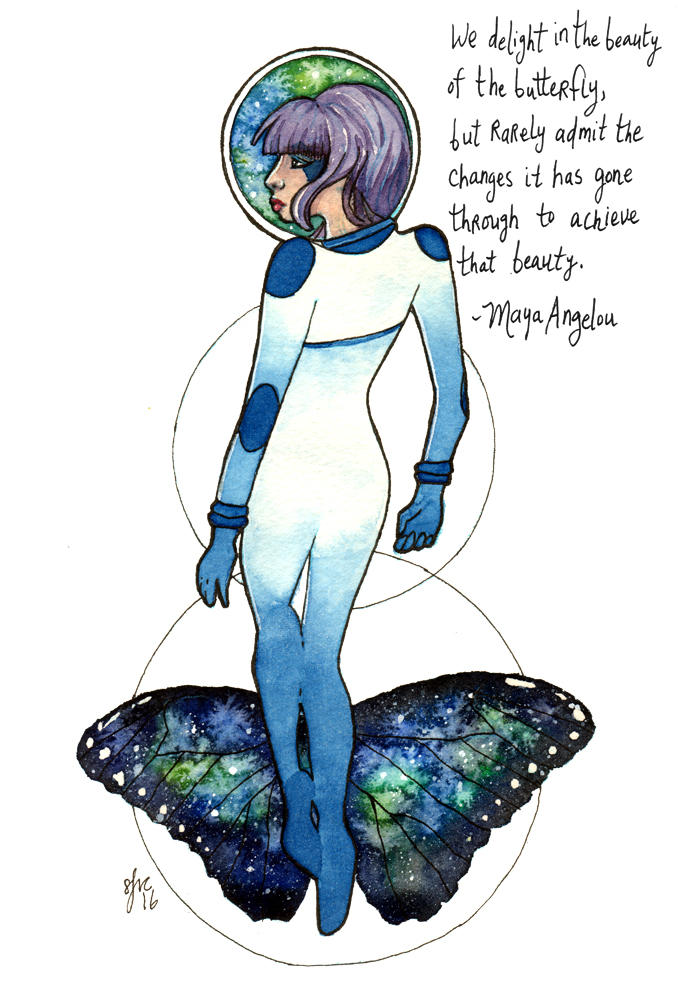 "We delight in the beauty of the butterfly, but rarely admit the changes it has gone through to achieve that beauty."
― Maya Angelou
Pencil: Kuru Toga with Color Eno Lead in soft blue
Paper: Arches 300gsm Cold Press
Watercolor: Holbein
Brushes: MyArtscape
Pen: Ohto Graphic Liners 005 – 05
Masking fluid: Winsor and Newton Masking fluid
+ White Sakura Gelly Roll pen
Happy Quote Monday!
This past week has been good, the highlight was going to Gen Con and being inspired by my friends and seeing art work and meeting those I have admired online! I've been toying around the idea of an ASTROgirl web comic and I've redone my Patreon page with more manageable rewards. Have a look and tell me what you think!
Also, the process of this artwork has been posted to my Patreon for my supporters ($5+). Wishing you all a great week!
Thanks for looking/reading!
Thank you so much for your support and for viewing this post!
xo-Jane
For projects I'm currently working on, free PDF zines and printables, sketchbook pages, videos, & more support my work on Patreon! :)
www.patreon.com/sjanemills