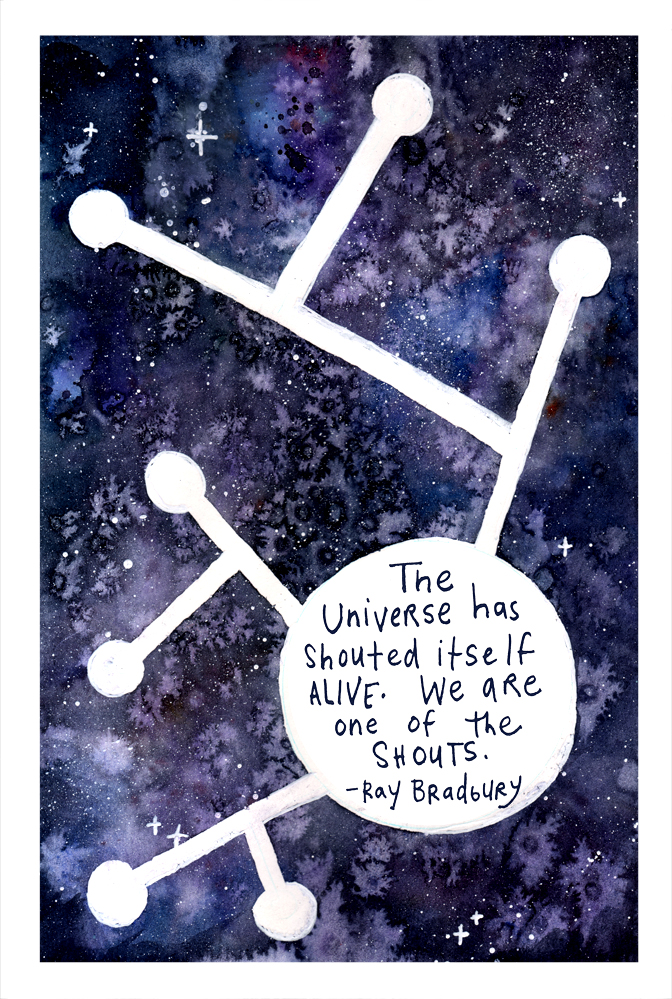 "The Universe has shouted itself alive. We are one of the shouts."
– Ray Bradbury ("G. B. S. — Mark V", in I Sing the Body Electric: And Other Stories)
Pencil: Kuru Toga with Color Eno Lead in soft blue
Paper: Fabriano Studio Watercolor Pad 300G Hot Press
Pen: Hero 9018 fude
Watercolor: Holbein, Qor, and Daniel Smith
Brushes: MyArtscape
Masking fluid: Lukas brand
+ Uniball Signo white gel pen
Hello friends! Apologies for Quote Monday "lite" ;D This weekend really wiped me out! Jason had an art opening in Louisville on Friday, my band, The Lickers, had a show on Saturday night, and then there was an interview with The Lickers on Sunday, and once I got home I was done! :P I'm working on a game plan for ink reviews and a few tutorials in the next month! :) Have a wonderful week everyone!
Thank you for looking/reading!
Thank you so much for your support and for viewing this post!
xo-Jane
For projects I'm currently working on, free PDF zines and printables, sketchbook pages, videos, & more support my work on Patreon! :)
www.patreon.com/sjanemills