This post was posted a few days ago on my Patreon. If you would like to support me on Patreon and get an inside look at my art projects before they go public, you can do so here: https://www.patreon.com/sjanemills
Hi Friends! Just updating you on a few projects that I have going on at the moment:
EXCESS Comic Zine: First draft done! Doing some minor touch-up edits and then this Zine/Comic will be available in my store soon! I will post on all my social media with the details! Which leads to…
Shop Update: I am so due for a shop update, I need to get some more recent pieces in there! Soon!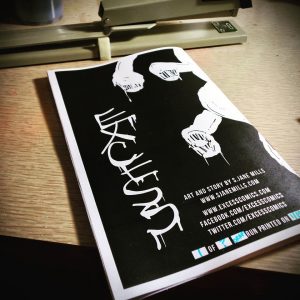 ASTROgirl: Working on the outline for the first chapter of ASTROgirl! This process is a bit time consuming because I want to make a good story that I can continue writing from for a long time. She's been in my brain for a while and wants to get out! I've been doodling her and I need to flesh her out a bit, so thanks for bearing with me!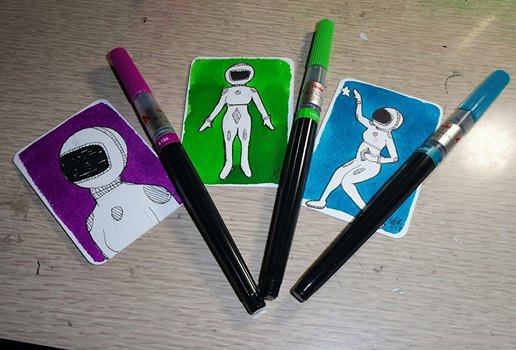 EXCESScomics, the future: The future of EXCESScomics(.com) is on my brain because I have other dark short stories brewing up in my head that I want to get written and created! As I create them, I'll be updated my facebook page and twitter for it (facebook.com/excesscomics / twitter.com/excesscomics)
Illustration for a Documentary: I've been contacted to possibly add some of my illustrations to a documentary (with the possibility of them being animated)! I'll keep y'all posted if this is something I'll be doing :)
Commissions: I've been asked about doing portrait/pet commissions, so I thought I would post my rates. Below are the Patron prices, when this goes on my public blog it will be the general public prices, so you guys get a bit of a discount. Email me at commissions(at)sjanemills.com if you are interested. I will email you back if I can or can't do it (based on time constraints)

ACEO/ATC: black ink only: $20 | watercolor or markers+black ink: $25
6×9 black ink only: $60 | watercolor or markers+black ink: $70

Speed-Paint Saturday: I've been posting speed-paintings on my YouTube again, going to be coming up with other videos soon. http://youtube.com/user/contactivoryocean
And in case you missed it, I drew up a #meettheartist drawing (click for bigger)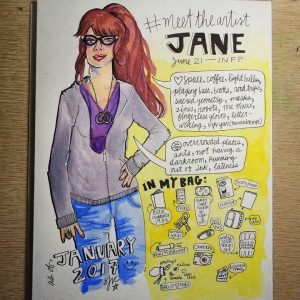 So essentially ASTROgirl and EXCESS are going to be my main focus for a while! :)
Thanks for your support!
xo-Jane
Thank you so much for your support and for viewing this post!
xo-Jane
For projects I'm currently working on, free PDF zines and printables, sketchbook pages, videos, & more support my work on Patreon! :)
www.patreon.com/sjanemills