I came across this ink looking up inks that have sheen in them since I've been noticing sheen in a few sample inks that I have. I would consider this ink in the blue black (kind of more teal black) family of color. With flex nibs, this ink is an incredibly dark teal color. With my Pilot Metropolitan Fine Nib, this ink looks black. In both instances, once this ink catches the right light, there will be a gorgeous pink-ish sheen.
I found this ink as an office acceptable ink, since it's not a super bright ink and the sheen is not overwhelming in the Pilot F nib. It is not waterproof though.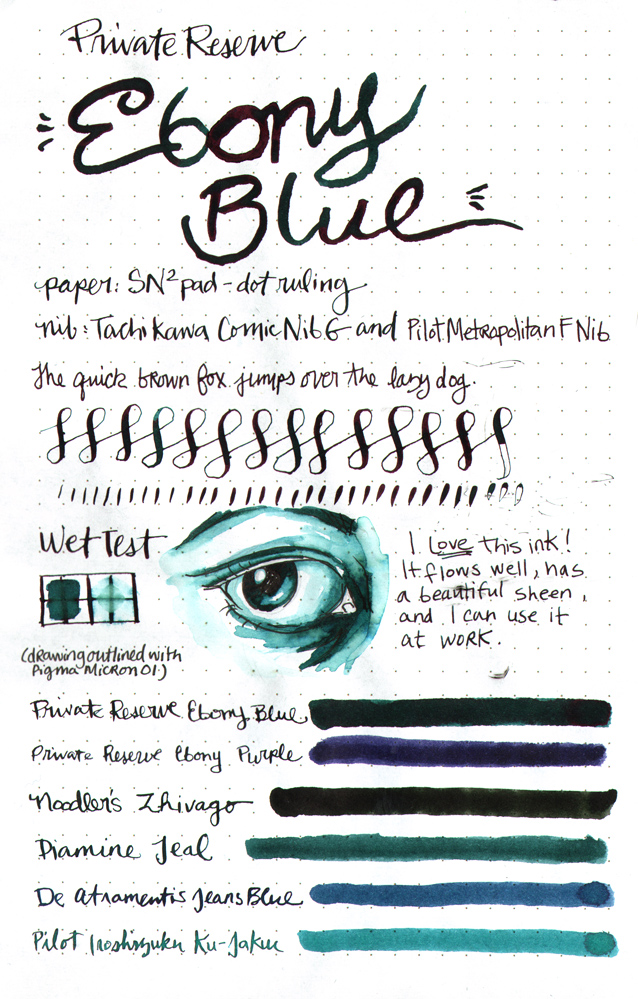 (Scanned into computer with slight level adjustment)
(Photos taken with a Canon Eos D60)
Overall, I really like this ink because it's a neutral ink color, but it has the added bonus of the sheen that sets it apart. It will be a staple ink for my fountain pens that I use at the office.
Paper: SN2 Pad
Pen: Dip pen with Zebra Comic Pen Nib G Model and Pilot Metropolitan F Nib
(As with any ink scans and/or photos I try to be consistent in color. What you see on your monitor might not be the actual color, but it should be a fairly close representation.)
I purchased this ink at The Goulet Pen Company for $11.00, if you're interested!
Thanks for reading/looking!
Thank you so much for your support and for viewing this post!
xo-Jane
For projects I'm currently working on, free PDF zines and printables, sketchbook pages, videos, & more support my work on Patreon! :)
www.patreon.com/sjanemills