I recently acquired all 4 sizes of the Pilot Parallel pens. I've been wanting to get back into doing calligraphy, but I was looking for a convenient option to travel in my bag instead of a dip pen with ink, so I can practice wherever I am. Enter the Pilot Parallel Pen!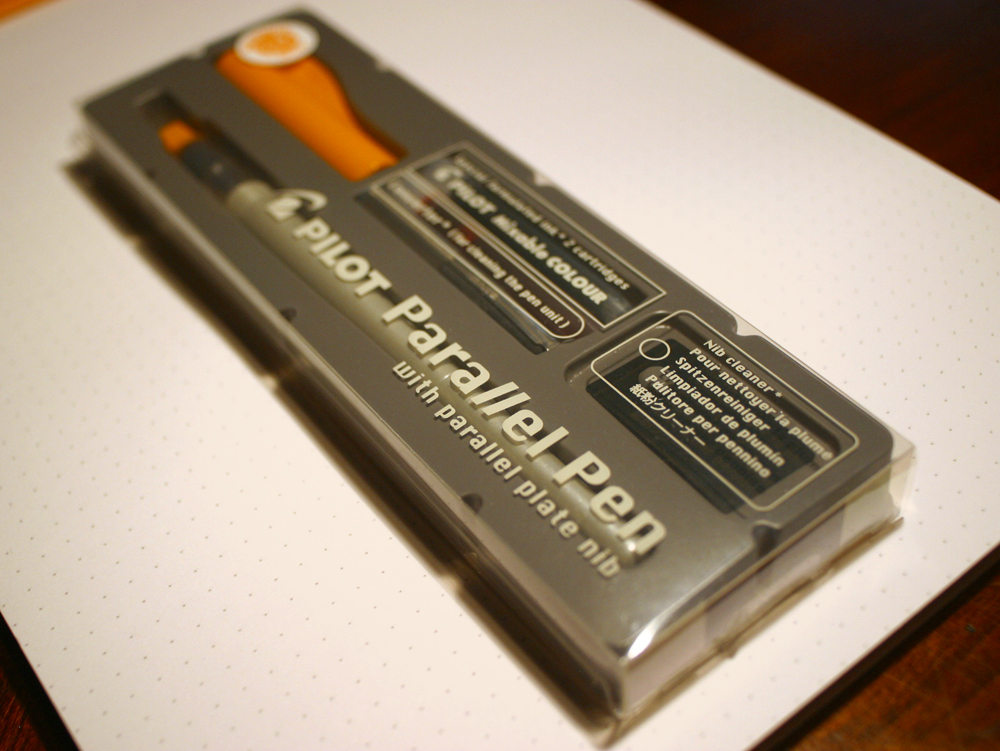 These pens are plastic, light, use cartridges and exactly what I was looking for. They are called Parallel because of the parallel plate nib.
Here's what's in the box: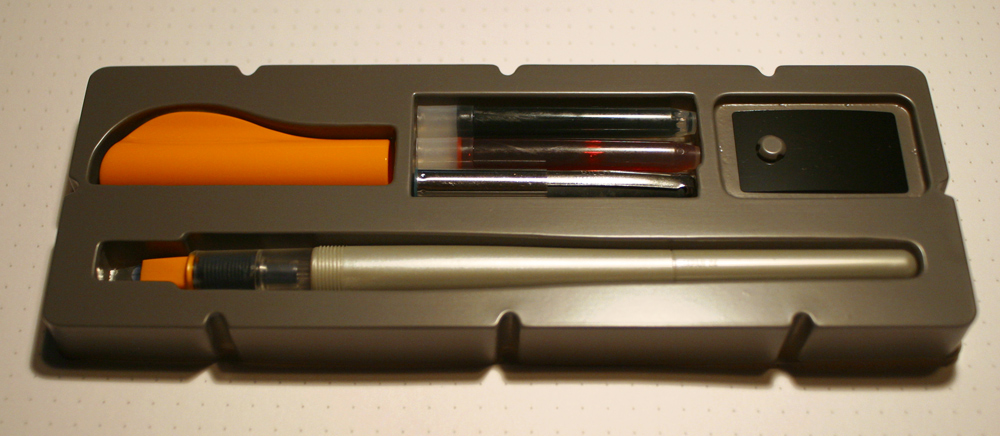 The pen, 2 ink cartridges – black and red, a converter for cleaning the pen unit, and a piece of film for cleaning the nib.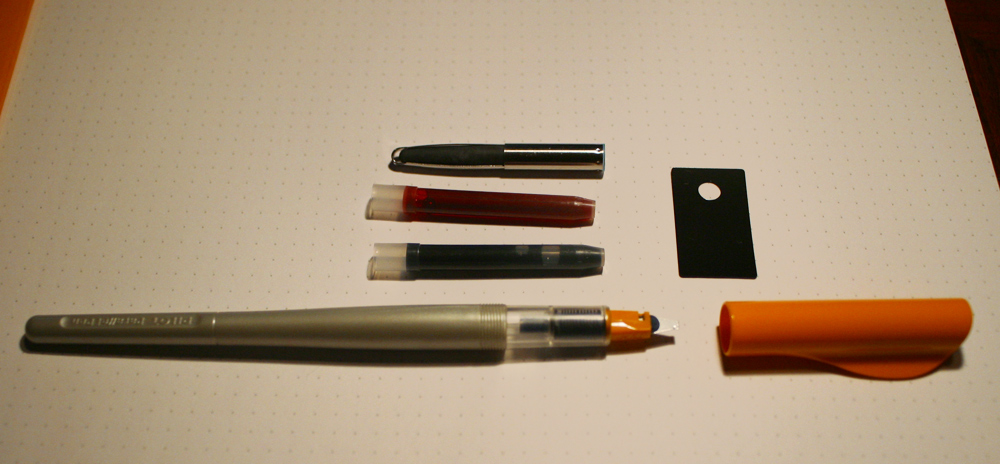 Putting in the cartridge and squeezing the ink to the tip: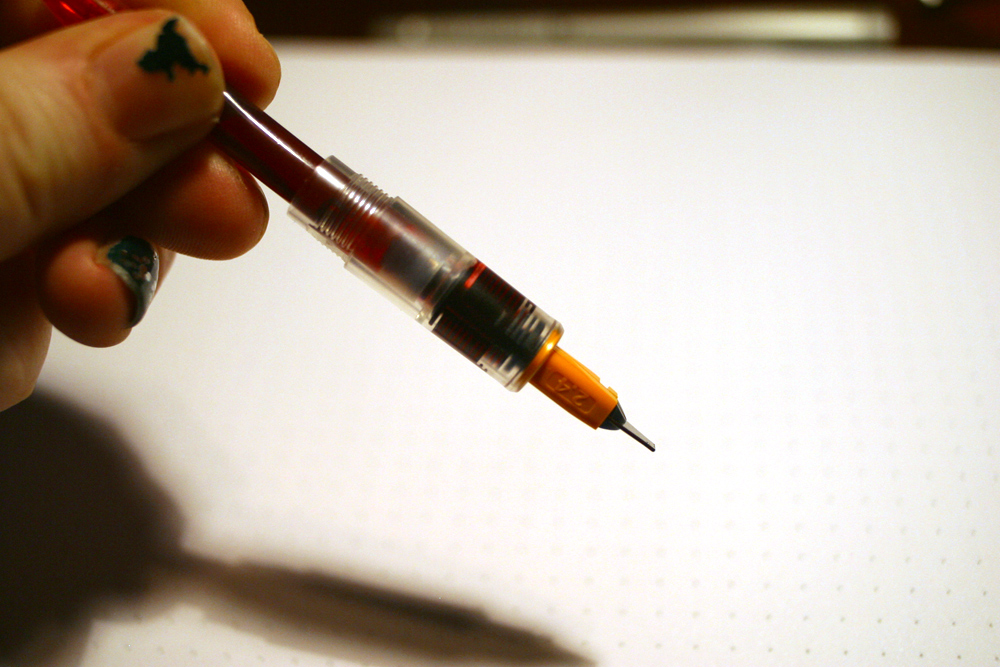 Here's the little piece of film to clean between the metal plates: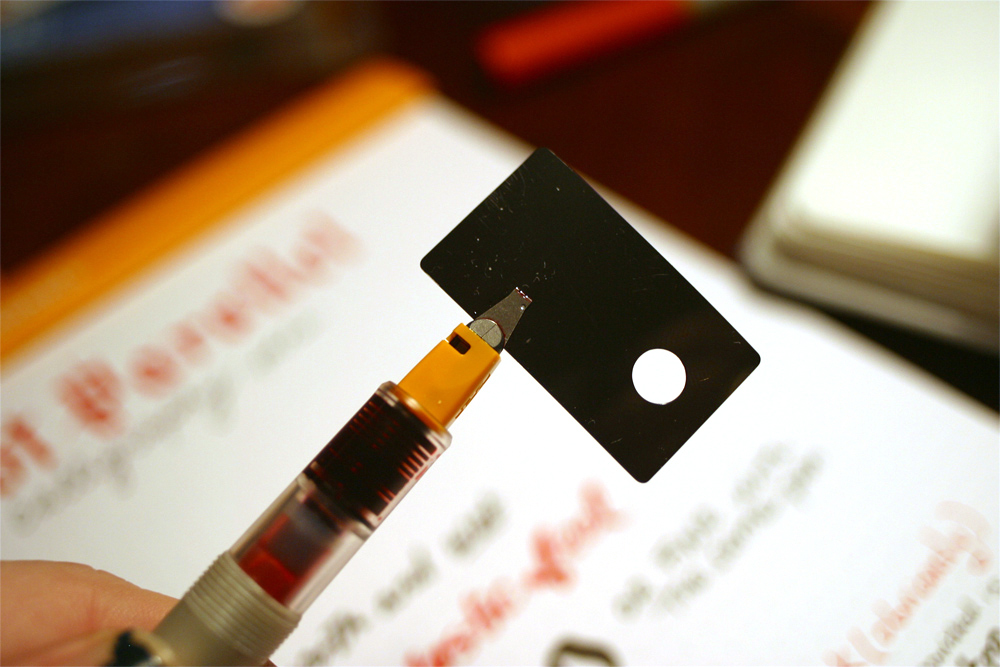 It also comes with a handy pamphlet for ideas and some tutorials in writing (angle of nib, etc.):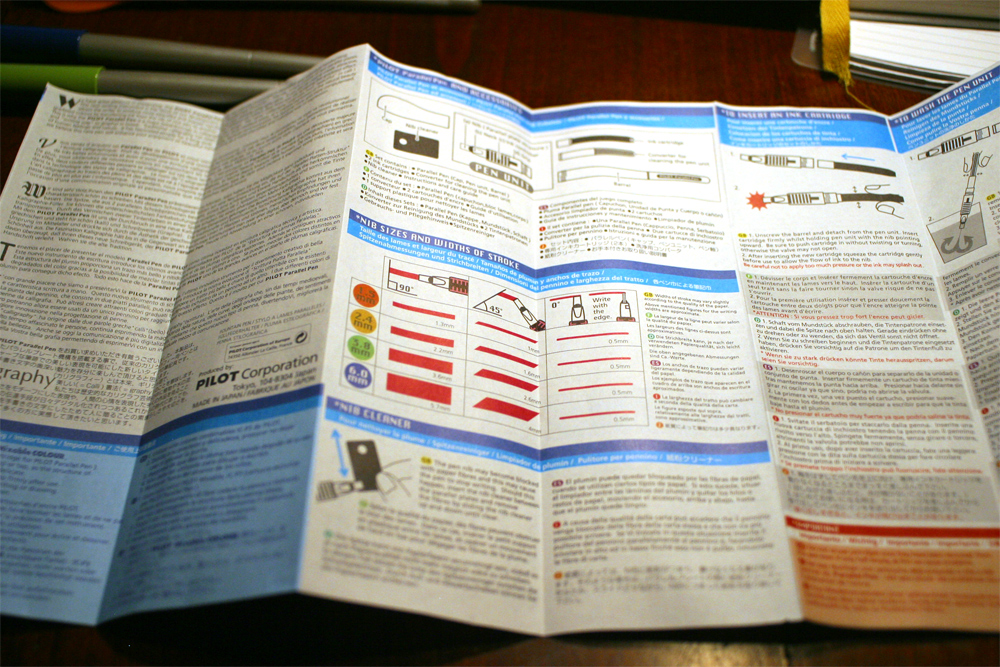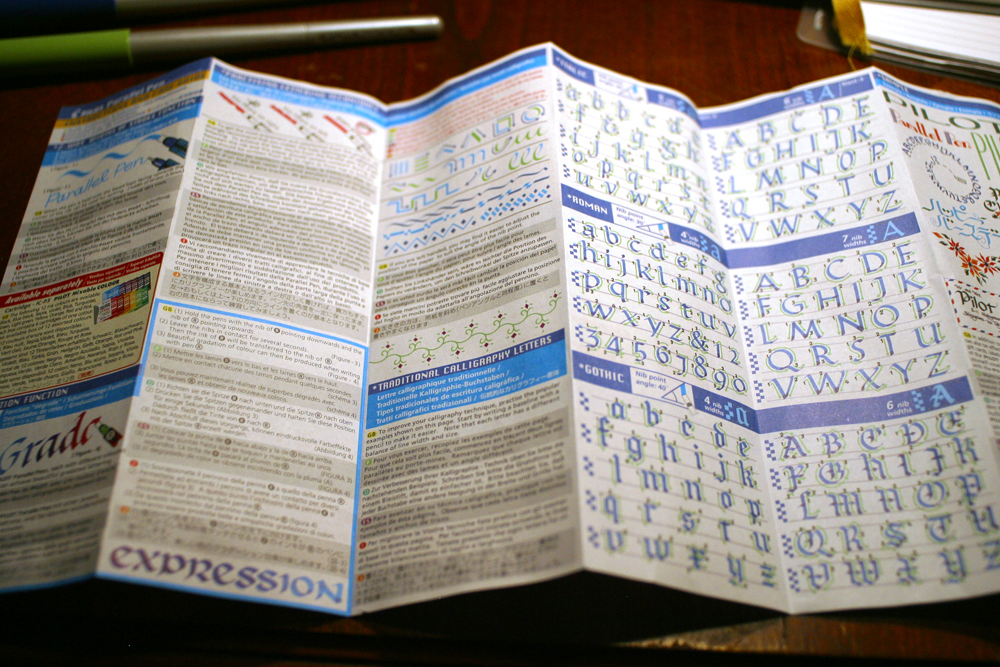 The pen feels nice in my hand and the ink glides, smooth and wet. It's important to use good paper with this pen to avoid feathering and bleeding. I've used Rhodia Dotpad Nº 18.
You can use this pen with the broad side and achieve fine lines by writing on corner of the nib.
You can blend the inks together by touching nibs together and start writing a gradation of the two colors. I plan on ordering some of the other colors to experiment more with this. The inks provided are obviously not waterproof, but I've seen others refill the empty cartridges with their 'bullet-proof' ink of choice.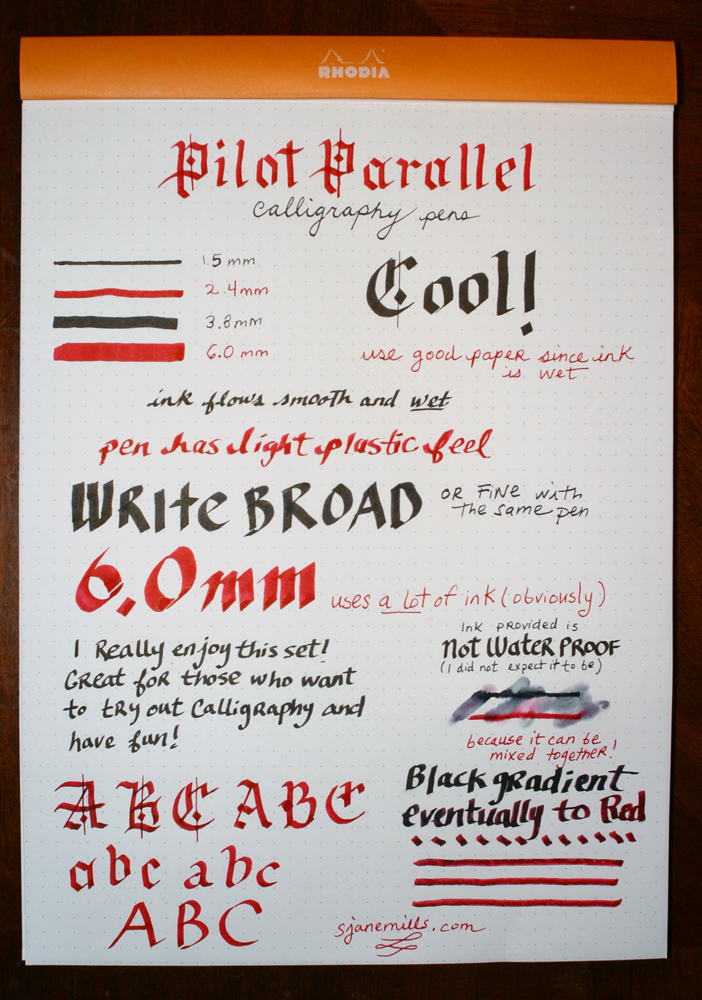 The Pilot Parallel is a long pen, but I have no issue since it fits in my pen case (Lihit Lab Teffa book style pen case)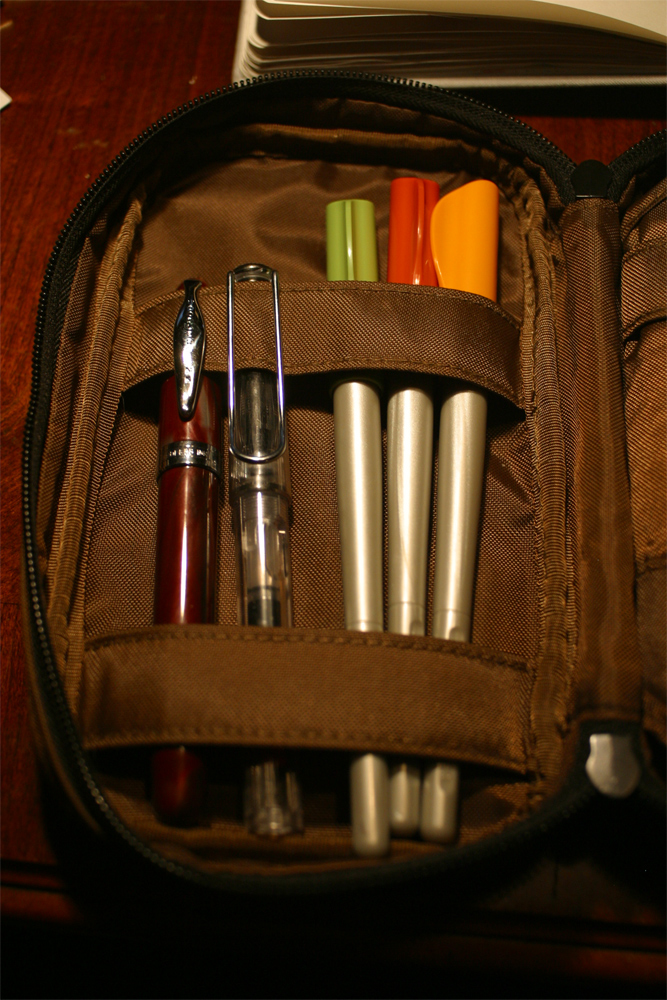 Here's a comparison with some other fountain pens. From top to bottom: Pilot Parallel, Lamy Vista, TWSBI mini, and Kaweco Classic Sport.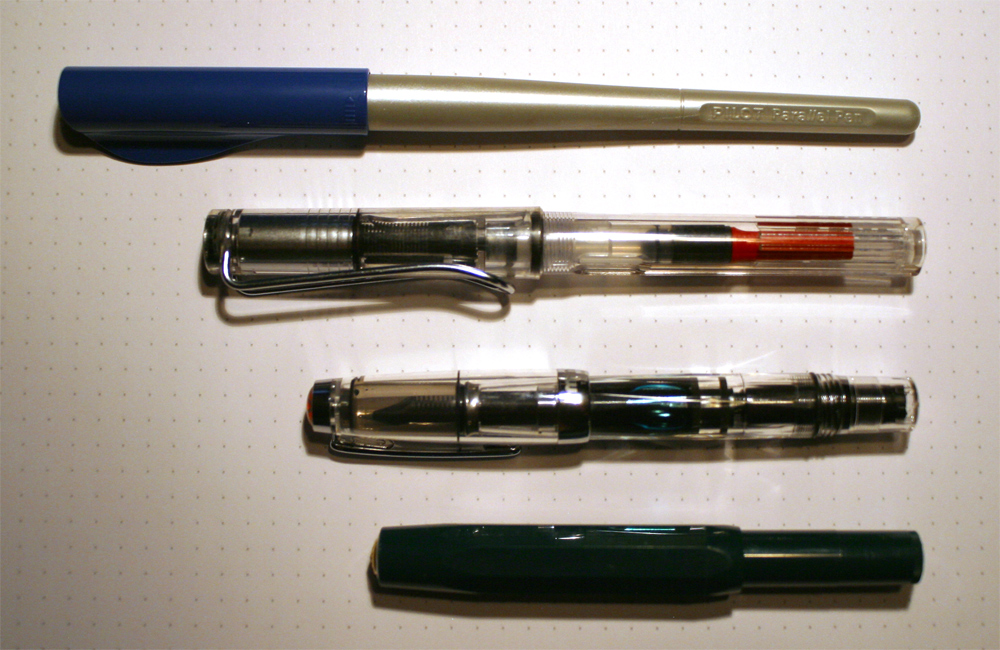 Overall, I'm loving this pen  and I can't wait to get better at calligraphy so I can start addressing my outgoing letters in fancy type :)
Thank you for reading!
(This pen set was a gift from a friend and the opinions are my own. Photos taken with a Canon D60, slight exposure adjustments made.)
 If you're looking to get one, or all, Goulet Pens and Jet Pens carry them.
Thank you so much for your support and for viewing this post!
xo-Jane
For projects I'm currently working on, free PDF zines and printables, sketchbook pages, videos, & more support my work on Patreon! :)
www.patreon.com/sjanemills