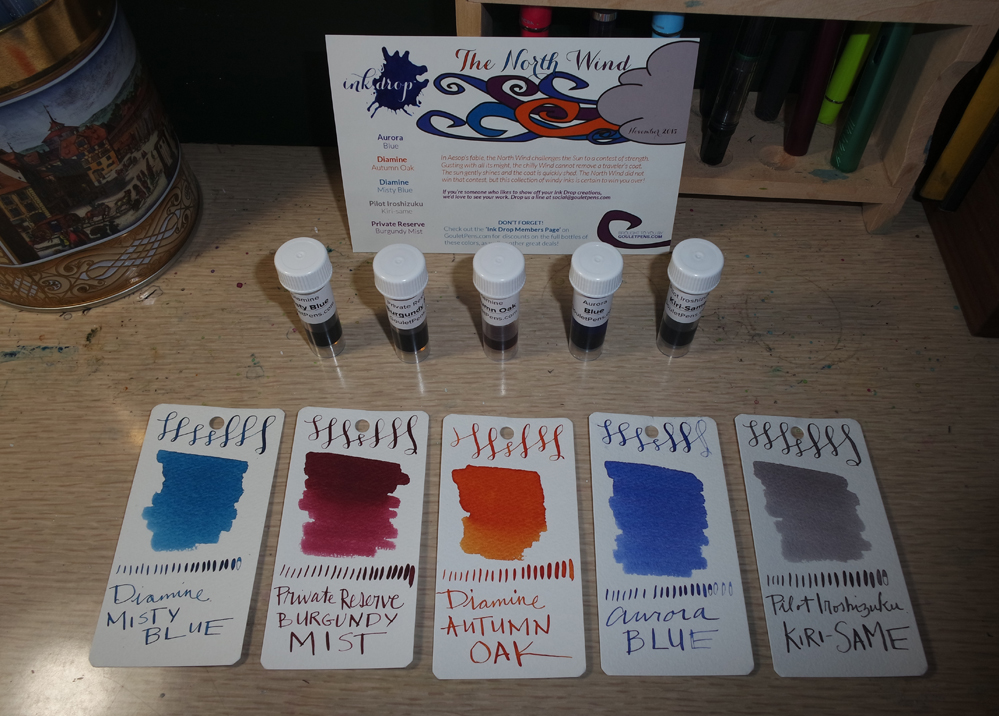 Another great Ink Drop from Goulet Pens! This month's drop is based on the classic folktale, The North Wind and The Sun, one of Aesop's Fables. Here is the story:
The North Wind and the Sun were disputing which was the stronger, when a traveler came along wrapped in a warm cloak.
They agreed that the one who first succeeded in making the traveler take his cloak off should be considered stronger than the other.
Then the North Wind blew as hard as he could, but the more he blew the more closely did the traveler fold his cloak around him;and at last the North Wind gave up the attempt.
Then the Sun shined out warmly, and immediately the traveler took off his cloak.
And so the North Wind was obliged to confess that the Sun was the stronger of the two.
Theme:
The North Wind
Inks:
Diamine Misty Blue
Private Reserve Burgundy Mist
Diamine Autumn Oak
Aurora Blue
Pilot Iroshizuku Kiri Same
Here's the Ink Drop Doodle! I used all the colored inks in this drop separately (did not mix) and outlined the doodle using a Copic Multiliner, on Bristol board.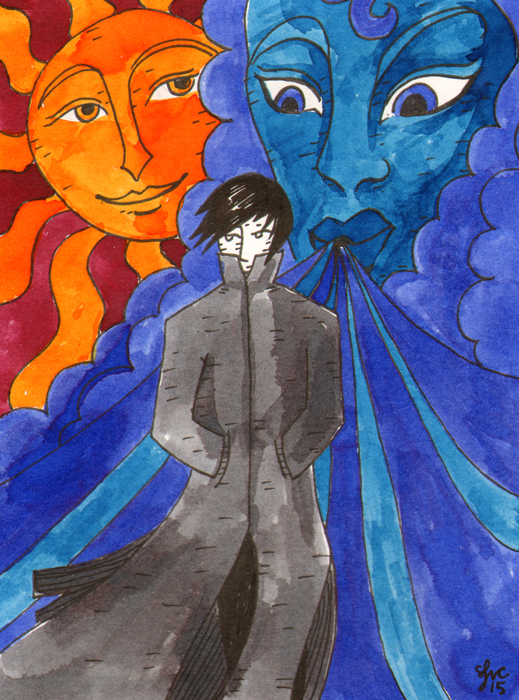 More images:
I really enjoyed this drop as well as the theme. The shading in Diamine Autumn Oak and Pilot Iroshizuku Kiri-Same are beautiful. I've never heard of the brand Aurora before, so I'm going to research them more :)
What are your favorites from this month's Ink Drop?
Thank you for reading/looking! :)
Join the Goulet Pens Ink Drop here!
—– —– —– —– —–
(Images scanned in with minimal level adjustment (unless noted) and photos taken with Samsung NX mini (with and without flash). Ink swatches are done on Maruman Mnemosyne Word cards with a dip pen and Tachikawa Comic Nib G. As with any ink scans and/or photos I try to be consistent in color. What you see on your monitor might not be the actual color, but it should be a fairly close representation.)
Thank you so much for your support and for viewing this post!
xo-Jane
For projects I'm currently working on, free PDF zines and printables, sketchbook pages, videos, & more support my work on Patreon! :)
www.patreon.com/sjanemills