This ink was mailed to me by Pen Chalet for the purpose of review (Thank you Pen Chalet!). If you wish to purchase this ink, click here.
This ink has become my new favorite turquoise. It came to me before my visit to the southwest, so fitting :)
This ink has been well behaving in my TWSBIs, color is lovely, flow is good. It does get a little dry if I haven't written anything in a while and my nib was exposed, but otherwise, this ink has been performing nicely! I love the shading :)
Scanned with slight level adjustment: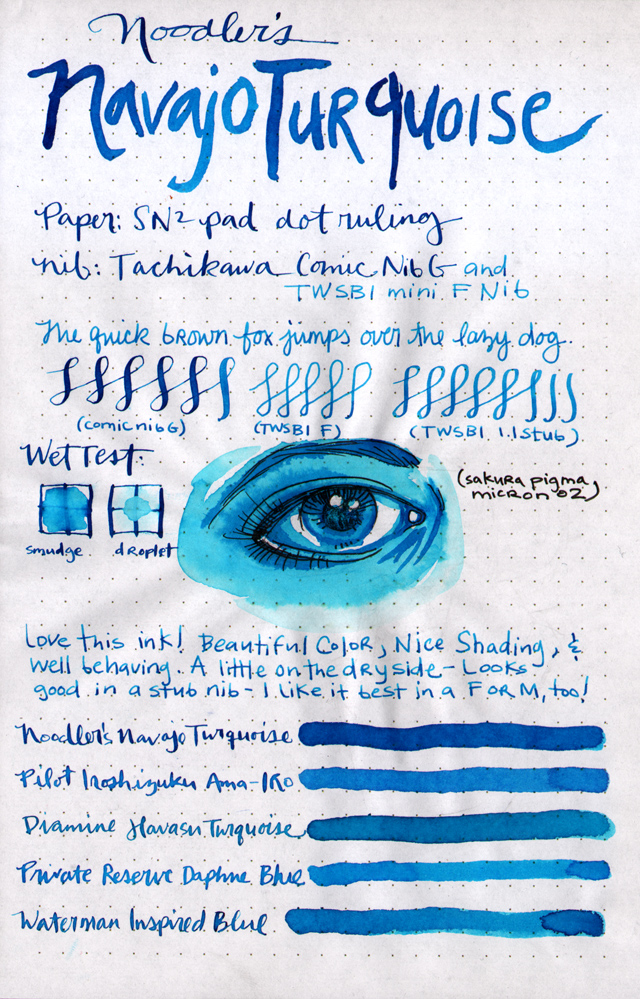 Photographs:
Notes:
Images scanned in with slight level adjustment and photos taken with Canon Eos D60.
As with any ink scans and/or photos I try to be consistent in color. What you see on your monitor might not be the actual color, but it should be a fairly close representation.
All opinions in this review are mine, and are not bias based on how I received this ink (free of charge, for purposes of review).
Thank you so much for your support and for viewing this post!
xo-Jane
For projects I'm currently working on, free PDF zines and printables, sketchbook pages, videos, & more support my work on Patreon! :)
www.patreon.com/sjanemills