I received my May iPenBox last week!
From their site: "iPenBox is a curated subscription box for the pen, paper and ink enthusiast, delivering a monthly box of products to your door. Each month this mystery box will be filled with new, unusual, and innovative items from the pen, paper and ink world. We travel the world to find the best products and hand pick 5-10 items around a fun monthly theme! This way you'll be able to discover and sample new items that you might not have heard of or tried before."
Silly little Sketch below created using all items in the box (minus the postcard, candy and sticker ;) )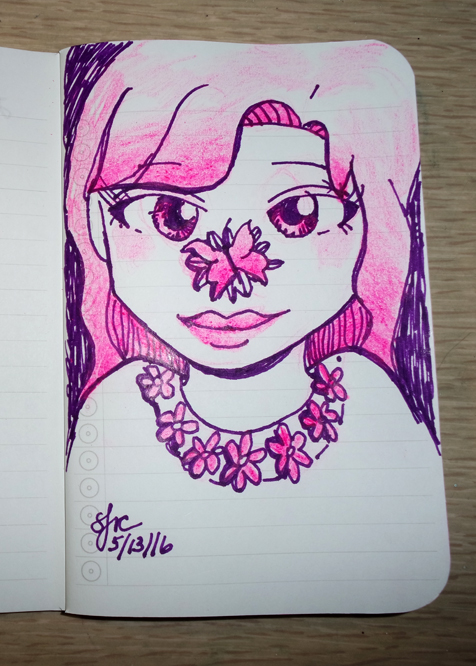 Theme: May Flowers
Products in the iPenBox:
1 Lamy Safari Dark Lilac Fountain Pen 2016 Ltd Edition M nib ($37.00) – So stoked to receive this pen! I love that this year's Lamy Safari is a beautiful dark purple! After inserting the Lamy cartridge, it wrote straight from the box. A great pen, good price point for beginner fountain pen users.
1 Lamy Dark Lilac Fountain Pen Ink Sample Vile ($1.97) – This color is so lovely! Excellent darkness and pigment with a tiny bit of shading -not waterproof. This spring has been mint greens and purples for me, so I'm in love with this color.
1 Lamy Dark Lilac Fountain Pen Ink Cartridge ($0.90) – See above :)
1 Koh-i-Noor Chartpak Astra Neon FX Colored Pencil ($1.16)- Super bright pink! This colored pencil is smooth and highly pigmented, I imagine it could be used as a highlighter as well as a sketching tool.
1 Word Pocket Notebook with Declan Floral Cover ($3.33) – I am recent fan of pocket notebooks and this Word notebook is so nice! Does not appear to be fountain pen friendly, as there is bleed through with the pen/ink combos I used (see photos). The cover is lovely and sturdy.
1 Postcard ($1) – I have now a little Michigan postcard collection going ;D
1 Sunbursts Candy – never tried these before, but they are yummy!
1 iPenBox Sticker
Prices were calculated from the iPenStore's List prices, unless noted. Approximate total items cost for the May iPenBox = $45.39 – Another fine set of writing tools in this month's iPen Box! I'm loving the addition of limited edition items in these boxes! I was super surprised to see the Lamy Safari included! :)
More Images!
Do you have a favorite monthly subscription box? If you receive this subscription, what is your favorite item from this collection?
Thank you for looking/reading!
—– —– —– —– —–
I was not compensated for this post, I purchased the iPenBox subscription and all these thoughts are my own opinions. Photos taken with Samsung NX mini (with and without flash). If there are ink swatches, they are done on Maruman Mnemosyne Word cards with a dip pen and Tachikawa Comic Nib G. As with any ink and product photos, I try to be consistent in color. What you see on your monitor might not be the actual color, but it should be a fairly close representation. Artwork created using only the items from this subscription box. Thanks!
Thank you so much for your support and for viewing this post!
xo-Jane
For projects I'm currently working on, free PDF zines and printables, sketchbook pages, videos, & more support my work on Patreon! :)
www.patreon.com/sjanemills