Since I've been working with watercolor more frequently, I've been looking at masking fluids to use and enhance my artwork. I looked online for a multi-comparison of different brands, but I could only find single reviews. So, I decided to purchase a few different types of masking fluids and put together this little comparison with my observations, and eventually my choice masking fluid for my work.
I hope you enjoy and maybe find a masking fluid that works for you :)
Schmincke Aquarell Masking Fluid gel (pen) – applied direct with bottle applicator tip
Winsor & Newton Art Masking Fluid (bottle) – applied with brush
Lukas Aquarell Masking fluid (bottle) – applied with brush
Grafix Incredible White Mask Liquid Frisket – applied with brush
Papers used:
Canson Watercolor paper 140lb 300g – Cold Press
Fabriano Studio Watercolor Paper 140lb 300 g – Hot Press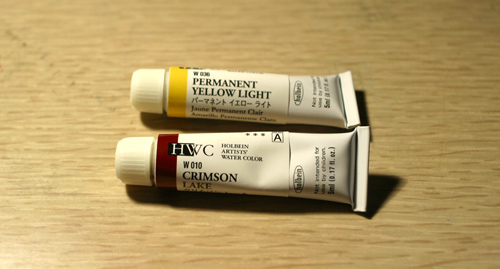 Watercolor used:
Holbein Permanent Yellow Light
Holbein Permanent Alizirin Crimson
Tip: Before applying masking fluid with a paintbrush, fill a cup with some liquid soap and water, use an inexpensive brush, and swish the brush in soapy water. Wipe the brush with clean paper towel. Dip brush into the masking fluid and apply to the areas of the paper where you do not want the watercolor to show (leaving the color of the paper). After using the mask immediately swish brush in soapy water to clean and wipe dry with a paper towel. If you are applying mask to a large area, clean brush a few times between application to prevent mask from sticking to brush. Use this brush only for masking fluid.
I applied a layer of yellow watercolor and my most frequent inks before I applied the mask to the papers. Then after the mask dried completely, I did a crimson watercolor wash. After the watercolor wash dried, I removed the mask.
Tip: Mask must be completely dry before adding watercolor; Watercolor must be completely dry before removing mask.
I let the masks dry approximately 20-25 minutes. When laying on the watercolor wash, the Schmincke came off in some areas.
Notes about the paper:  The hot press produced the cleanest edges and the cold press had more textured edges in some areas.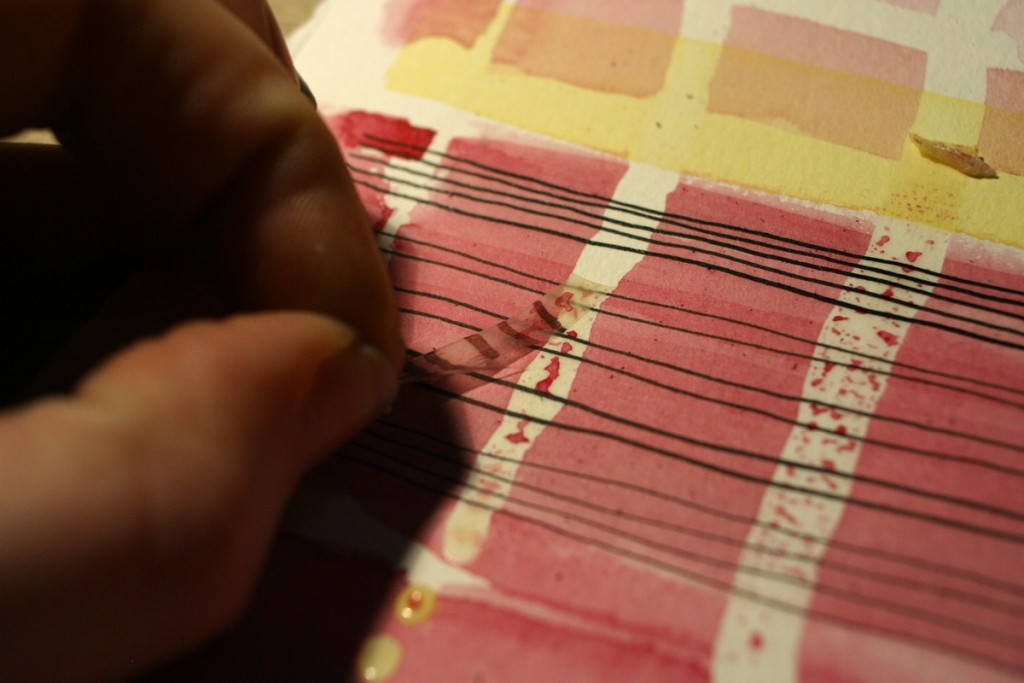 Removal of the mask consisted of rubbing an eraser on the mask and/or slowly pulling the mask off.
Scans of the papers: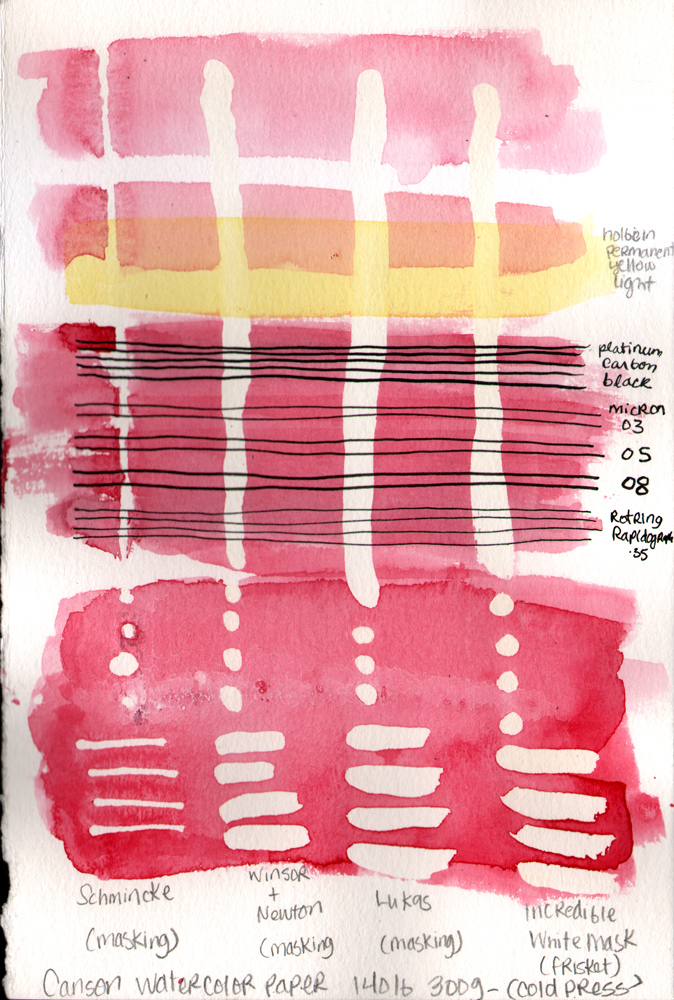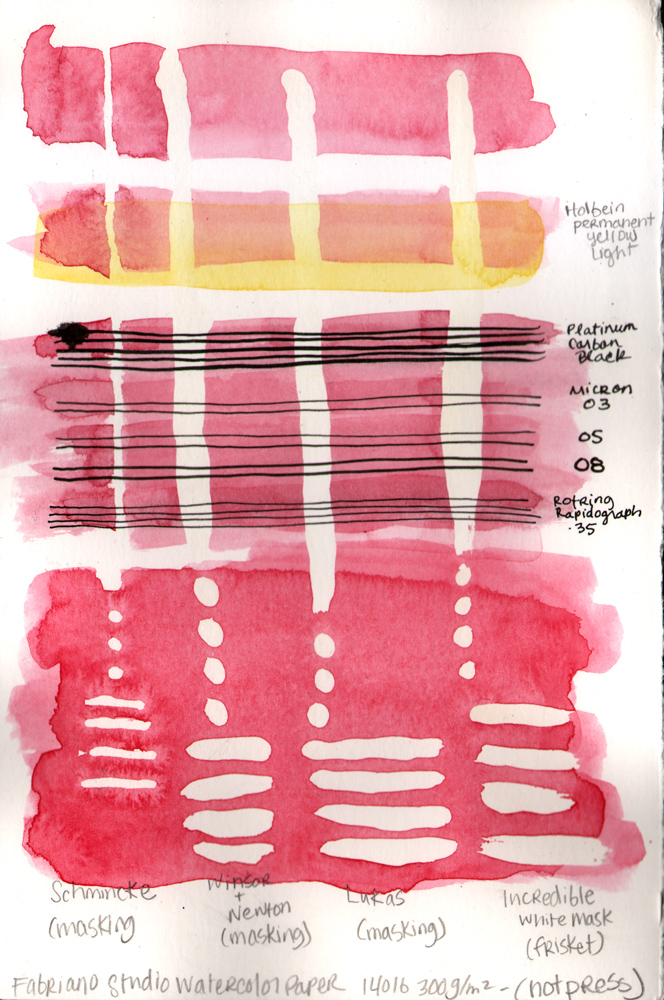 My Pros and Cons of each masking fluid:
Schmincke Aquarell Masking fluid gel (pen)
Pros: Nice applicator, blue color helpful
Cons: Bubbles more frequent because of the applicator, too bumpy-the watercolor wash can not be consistent and puddles on one side, hard to remove -too gooey, appears to need more dry time than the others
Winsor & Newton art masking fluid (bottle)
Pros: Yellow color makes mask easy to see, consistent flow, flat mask
Cons: took off some pigment
Lukas Aquarell Masking fluid (bottle)
Pros: Consistent flow, easy to remove , cleanest edges out of all 4, flat mask
Cons: Clear can be hard to see, took off some pigment
Grafix Incredible White Mask Liquid Frisket (bottle)
Pros: Yellowish color makes easy to see, somewhat flat mask, may work better diluted (did not test this)
Cons: Very thick consistency, hard to remove, a little too sticky- might cause tears
My favorites are Lukas and Winsor & Newton. I used Lukas masking fluid on one of my Quote Mondays and I was very satisfied with the results.
If you have any questions, masking tips and tricks, or want me to try anything with the above masking fluids, feel free to leave me a comment! :)
Thanks so much for reading/looking!
All opinions are my own. This review is based on my personal feelings about masking fluid and how I use watercolors. I was not paid for this review by any company. Photos taken with a Canon D60 or scanned in, no editing to the photos/scans other than slight exposure adjustments made)
Thank you so much for your support and for viewing this post!
xo-Jane
For projects I'm currently working on, free PDF zines and printables, sketchbook pages, videos, & more support my work on Patreon! :)
www.patreon.com/sjanemills