Hi friends! I received the March Maker Monthly Box a week ago!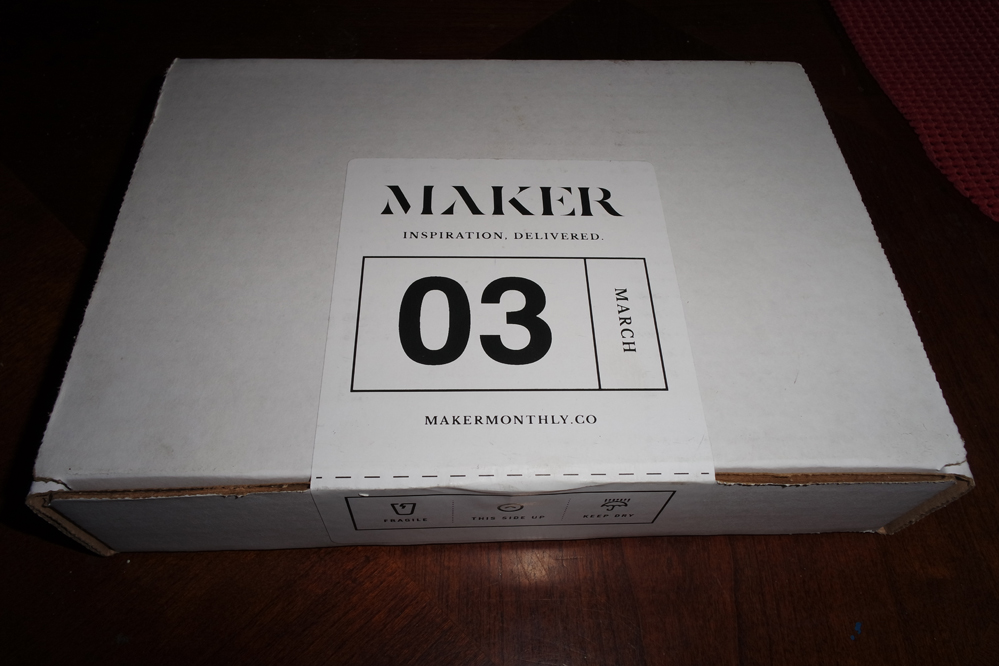 Maker Monthly is a monthly subscription box that features a journal, sketchbook or planner combined with a set of writing tools and art supplies. It's $20 a month with free shipping in the US (+$5 Canada/ +$10 Worldwide). It appears from their Instagram, they have been putting out boxes since June or July of last year.
Here's a little look at the products inside, theme, and cost per items, if they were purchased separately, a little commentary, etc. I hope you find this informative and enjoy! :)
Theme: Spring
Field Notes Notebooks ‑ Sweet Tooth (3‑Pack) – $9.95 – Something I was looking forward to and glad I received a 3 pk, I was definitely wanting to try all the colors – I loved the orange/rust color the best, nice thick paper for drawing
Sakura Pigma Graphic 1 (1) – $2.20* – a pen I already owned, it's a solid pen, permanent and works well
General's Charcoal Pencil (1)- $0.95 – I haven't used charcoal in a while, so it took me a bit to get used to, it was very smooth and smudged nicely
General's Cedar Point #333 2HB (1) – $0.50 – nice pencil, smooth, didn't think it was anything fancy
Sakura Pen Touch 1.0mm Fine point in white (1) – $3.20* – Not my favorite, even though it flowed well, it is not opaque enough for me.
Paper-mâché Pencil box (1) $1.95 – a nice solid box though, just a little plain
March Newsletter – $0 – Cute newsletter, talks about the products
Postcard $1 – nice postcard from Jessica Hische
Mini photo $1? pretty design from Giorgia Karerina
Prices were calculated from the Maker's shop regular stock prices or jetpens (marked with *), unless noted. Approximate total items cost for the March Maker's Monthly Box = $20.75
Unfortunately, I've been finding the Maker's Monthly Boxes a little lean for the $20 price recently -which is honestly why I haven't been reviewing them, especially so when I also get the iPenBox around the same time. Packaging on this month's box was kind of thrown together as if someone was in a rush, see photo below.
I really do miss the monthly calendar they included in previous boxes and even though the notebook(s) that come with the box are something that I look forward to, the writing tools are a bit "meh" :( I'm hoping things will pick up next months, I promised myself I would review the next few months.
Here's a little sketch I did using all items in the box: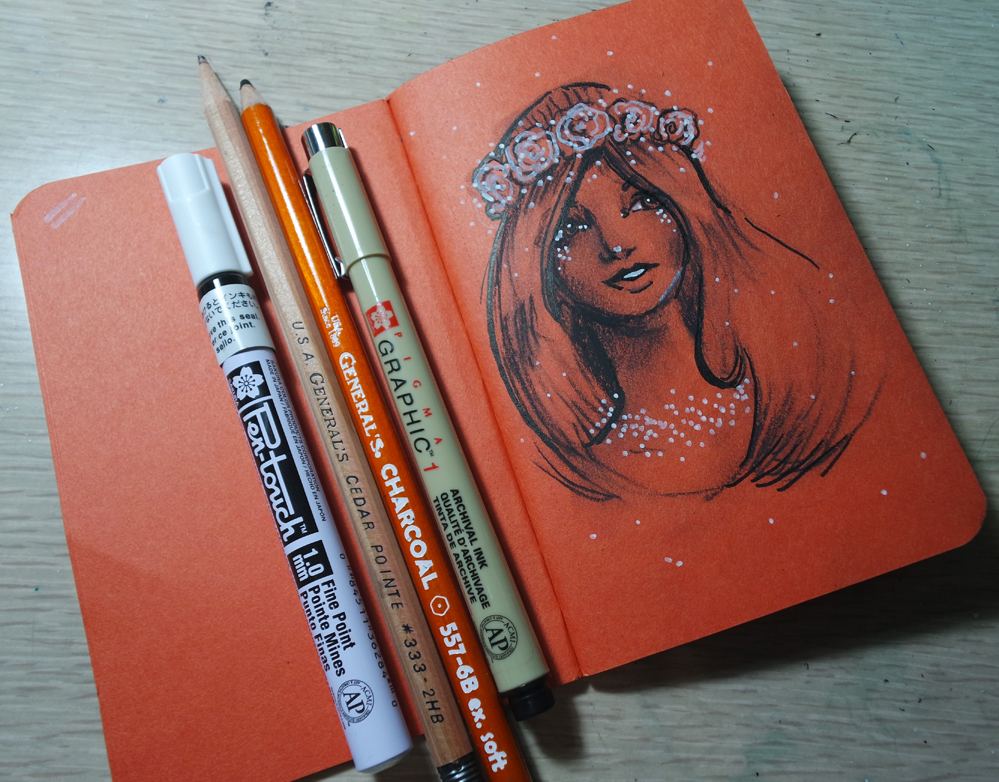 More photos:
Do you do any subscription boxes? Which one(s)?
Thank you so much for reading/looking!
—– —– —– —– —–
I was not compensated for this post, I purchased the Maker Monthly subscription and all thoughts are my own opinions. Photos taken with Samsung NX mini (with and without flash). As with any ink and product photos, I try to be consistent in color. What you see on your monitor might not be the actual color, but it should be a fairly close representation. Thanks!
Thank you so much for your support and for viewing this post!
xo-Jane
For projects I'm currently working on, free PDF zines and printables, sketchbook pages, videos, & more support my work on Patreon! :)
www.patreon.com/sjanemills