I received my March iPenBox last week!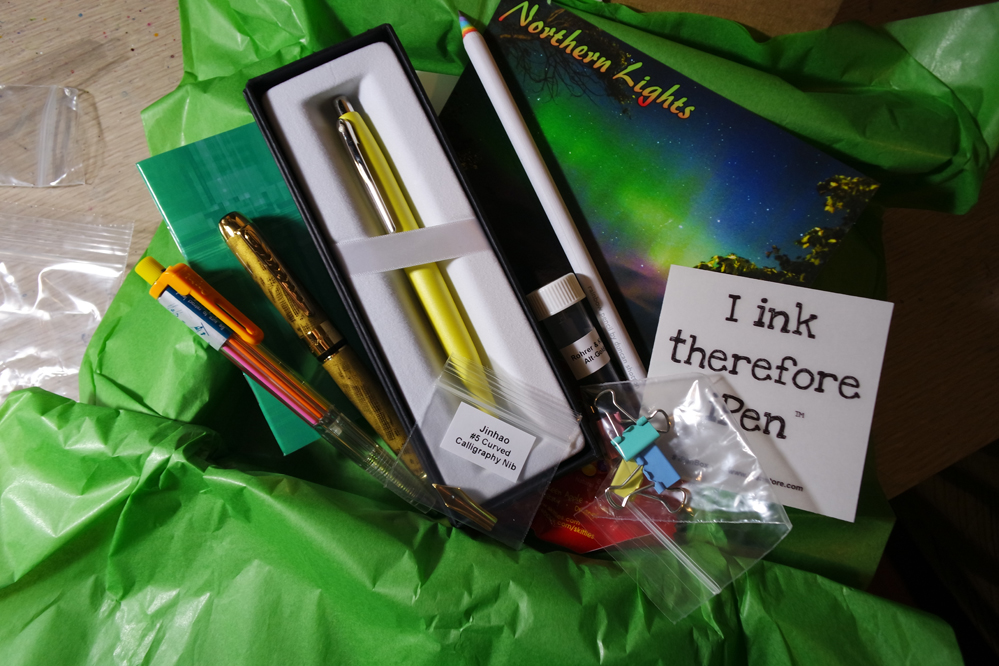 This is iPenStore's 7th box they've put out. The iPenBox is iPenStore's monthly subscription box is $30 per month with free shipping ($40 per month for international shipments). Each monthly box revolves around a theme.  I received good responses from my previous iPenBox reviews, I figured I'd keep doing them :) I've been really impressed with the products and I like sharing :) Here I'll post about the products inside, a mini thought about each item, theme, and cost per items, if they were purchased separately, and photos, of course. I hope you enjoy!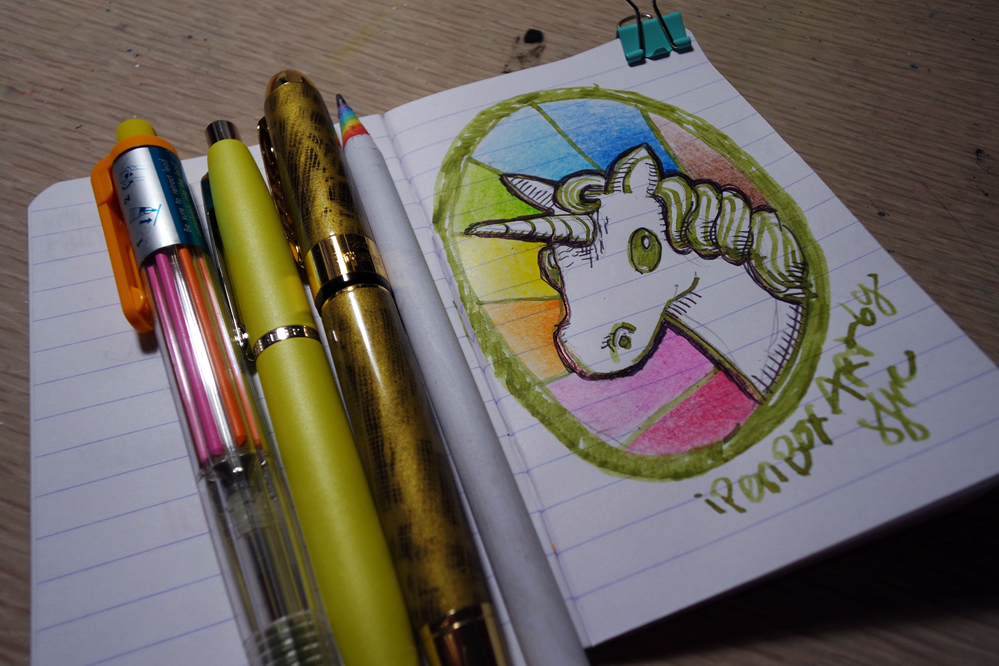 Theme: Over the Rainbow
Products in the iPenBox:
Sheaffer VFM Metal Barrel Ballpoint Pen ($14.25) – took a bit to start, but has been a consistent writer, I'm using this at work, where my poor fountain pens aren't much appreciated ;) It's a solid pen and in a color I didn't really think I would like!
Rainbow Pencil by Duncan Shotton ($2.50) – What a cute idea for a pencil! These are recycled paper pencils and the lead is HB (#2). I probably won't use this all the time, but I do know what to get my friends' kids for birthday's now! :D
Pentel 8 Color 2mm Pencil ($24.99) – My jaw dropped when I opened this one up! Why have I not heard of it before?! It combines my love of colored lead and multi-pens! Comes with instructions, and it's pretty easy to work once you've done it a few times. This one is my favorite of this month's bunch and it permanently lives in my daily pen case now :)
Clairefontaine 3×4.5 notebook ($2.49) – A nice little pocket notebook. I like Clairefontaine paper and they hold up to fountain pen ink (see photos)
Jinhao 250 Fountain Pen in gold ($6.97) – It's been hit or miss with me with Jinhaos, but lately the ones I have been receiving have been performing really well. Comes with a steel nib in a fine/medium and a converter.
Jinhao Calligraphy Nib ($2.97) – This nib is definitely a fude nib! I do love using fude nibs for my drawings so that I can get a varied line. This nib was easy to replace in the Jinhao 250.
Rohrer & Klingner – Alt-Goldgrün Fountain Pen Ink Sample ($2) – A very nice shading ink, I do enjoy this gold green color and it performs nicely on fountain pen friendly papers.
Colored binder clips (about $1.50 via amazon) – so cute! :)
Michigan postcard ($1.00)
Candy! :D
Free sticker!
Prices were calculated from the iPenStore's regular stock prices, unless noted.
Approximate total items cost for the March iPenBox = $58.67
More Images!
If you want to join the iPenBox subscription, head over to the iPen Store! :)
Do you have a favorite monthly subscription box?
Thank you for looking/reading!
—– —– —– —– —–
I was not compensated for this post, I purchased the iPenBox subscription and all these thoughts are my own opinions. Photos taken with Samsung NX mini (without flash). Ink swatches are done on Maruman Mnemosyne Word cards with a dip pen and Tachikawa Comic Nib G. As with any ink and product photos, I try to be consistent in color. What you see on your monitor might not be the actual color, but it should be a fairly close representation. Thanks!
Thank you so much for your support and for viewing this post!
xo-Jane
For projects I'm currently working on, free PDF zines and printables, sketchbook pages, videos, & more support my work on Patreon! :)
www.patreon.com/sjanemills