Hi Friends!
The Goulet Pen Company sent me the March Ink Drop! If you haven't heard of Ink Drop, it's a monthly subscription with 5 fountain pen ink samples, stickers and access members page with extra discounts. Check out more info and sign up here if you'd like: Goulet Ink Drop! If you're an ink addict like me, it's awesome :)
March's Theme: Monarch Madness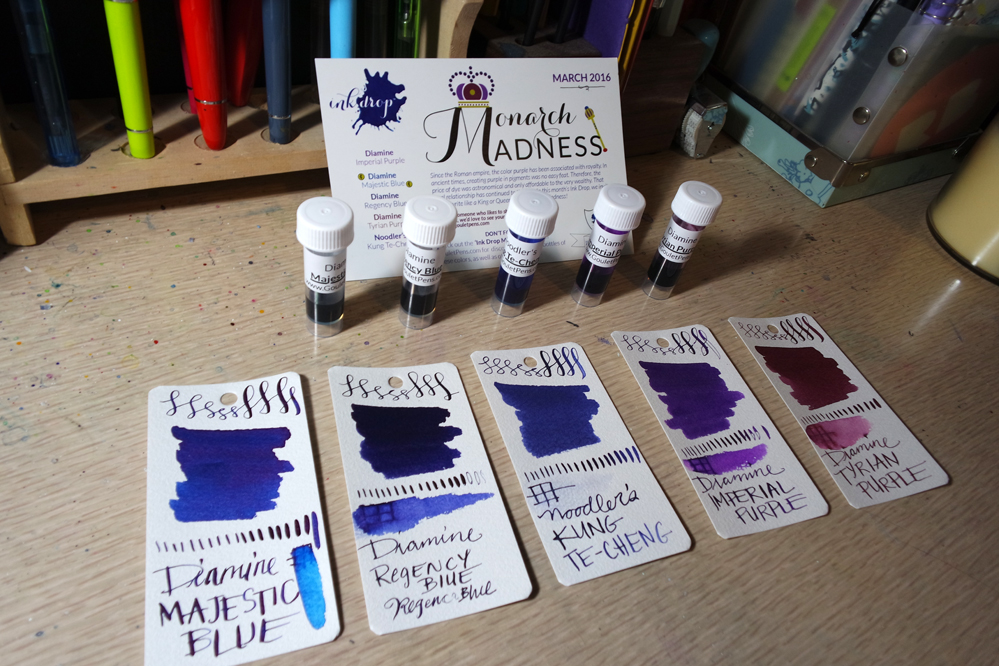 Inks:
Diamine Imperial Purple
Diamine Majestic Blue
Diamine Regency Blue
Diamine Tyrian Purple
Noodlers Kung Te-Cheng
Here's the Ink Drop Doodle – I used all the inks in this drop separately (did not mix), using a brush. The outlines were done with a Cross ATX Fountain Pen (M nib) with Noodler's Kung Te-Cheng. I also used a Uni-ball Signo White Gel Pen for minor cleanup/highlights. ( I used The Postman's Knock tutorial for the gem in the back) :)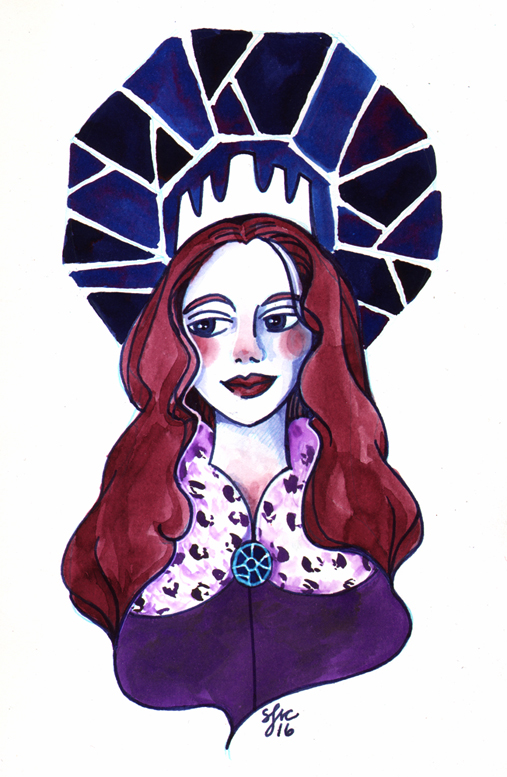 This month's theme is all blues and purples. It reminds me of my very first Ink Drop (Blurple)! A difference I noticed was 4 out of 5 inks were Diamine – I personally do not mind this, I've found Diamine inks to be very smooth and well behaved inks and I've had much luck with them. Also, very excited to receive Noodler's Kung Te-Cheng! I did not know this was a water-resistant, so I was excited!
My favorite sheening ink was included in this drop – Diamine Majestic Blue – I took some additional photos of the sheen because it's a gorgeous ink!
My favorites are Diamine Tyrian Purple and Noodler's Kung Te Cheng!
What are your favorites from this month's Ink Drop?
Thank you for reading/looking! :)
Join the Goulet Pens Ink Drop here!
—– —– —– —– —–
Images scanned in with minimal level adjustment (unless noted) and photos taken with Samsung NX mini (with and without flash). Ink swatches are done on Maruman Mnemosyne Word cards with a dip pen and Tachikawa Comic Nib G. As with any ink scans and/or photos I try to be consistent in color. What you see on your monitor might not be the actual color, but it should be a fairly close representation. I received these ink samples from The Goulet Pen Company for the purposes of review. All opinions in this review are mine, and are not bias based on how I received these samples.
xo-Jane
For projects I'm currently working on, free PDF zines and printables, sketchbook pages, videos, & more support my work on Patreon! :)
www.patreon.com/sjanemills