I received my Goulet Pens March Ink Drop a bit ago! This ink set consisted of lovely blues, greens and purple. Each name had a bird name so I decided to accompany my little inky samples with silly looking birds! I hope you enjoy :)
Title:
Birds of a Feather
Inks:
Noodler's Bad Blue Heron
De Atramentis Pigeon Blue
Noodler's Purple Martin
Pilot Iroshizuku Ku-Jaku
Diamine Woodland Green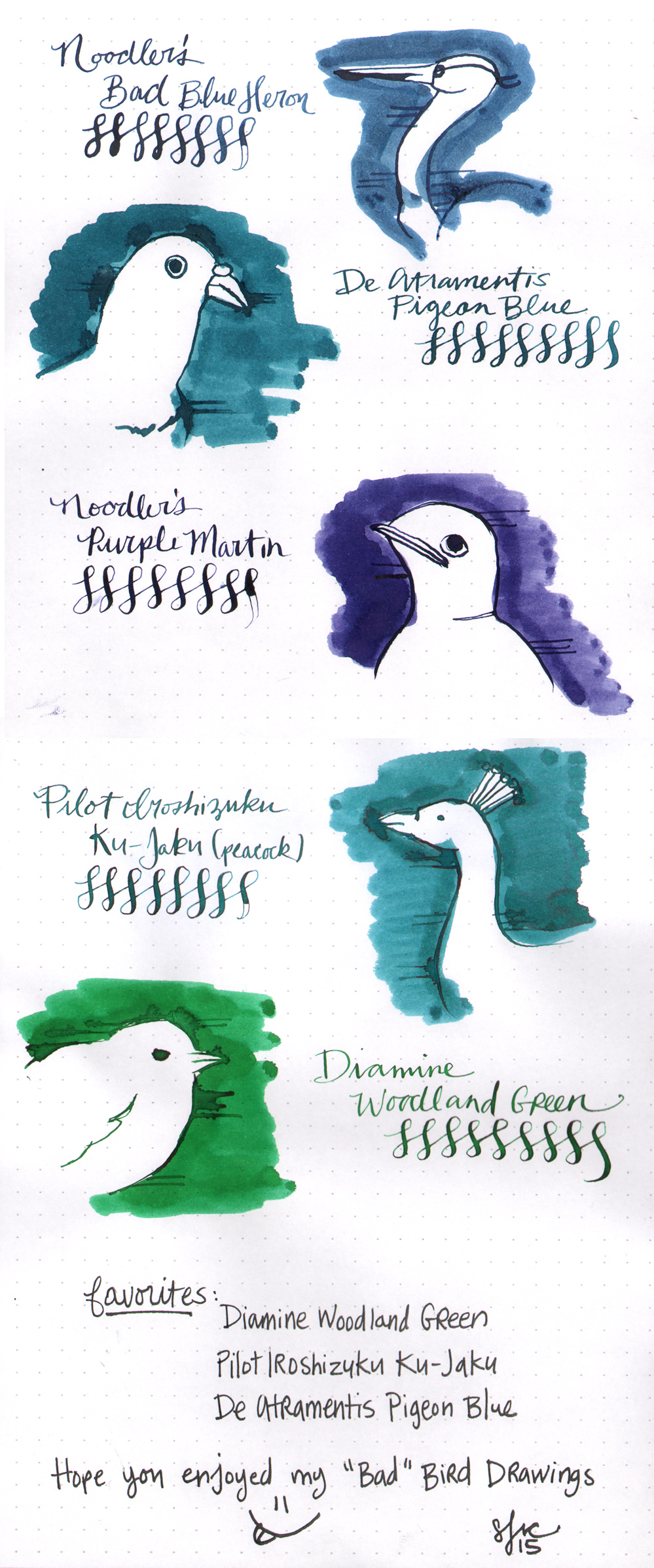 (Scanned into computer with slight level adjustment)
Photo Gallery:
(Photos taken with a Canon Eos D60)
Paper: Rhodia Dot Pad N° 16
Pen: Dip pen with Tachikawa Comic Pen Nib G Model
Q-Tips
Hard to pick a favorite this month, because I enjoy all of these colors, but my top 3 would be Pilot Iroshizuku Ku-Jaku, Diamine Woodland Green, and De Atramentis Pigeon Blue.
What is your favorite ink this month?
If you have any questions about the inks, leave me a comment and I'll do my best to answer :)
Join the Goulet Pens Ink Drop here!
(As with any ink scans and/or photos I try to be consistent in color. What you see on your monitor might not be the actual color, but it should be a fairly close representation.)
Thank you so much for your support and for viewing this post!
xo-Jane
For projects I'm currently working on, free PDF zines and printables, sketchbook pages, videos, & more support my work on Patreon! :)
www.patreon.com/sjanemills