I received my July 2015 Ink Drop from Goulet Pens! Just in time for the summer heatwave! It's supposed to be in the mid 90s°F this weekend. Yuck! :P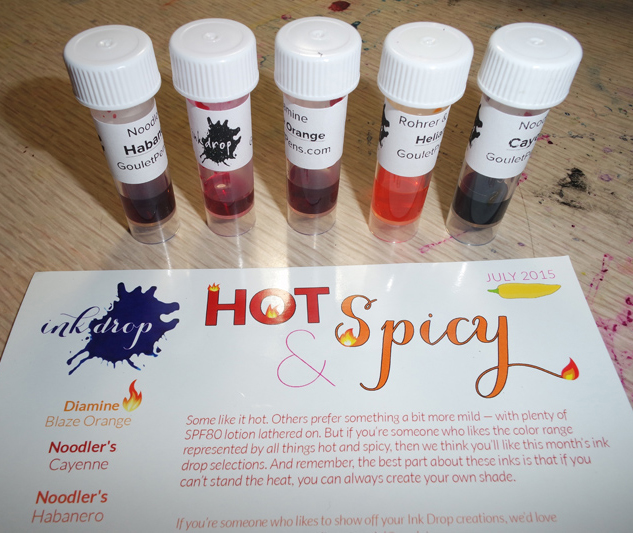 Theme: Hot & Spicy
Inks:
Noodler's Cayenne
Noodler's Habanero
Diamine Blaze Orange
Rohrer & Klingner Helianthus
Noodler's Hellfire
Here's my little Ink Drop Doodle, a fire dude I made with Sakura Pigma Micron Pens, shaded with grey Prismacolor Makers, and the inks in the Ink Drop on SN2 paper: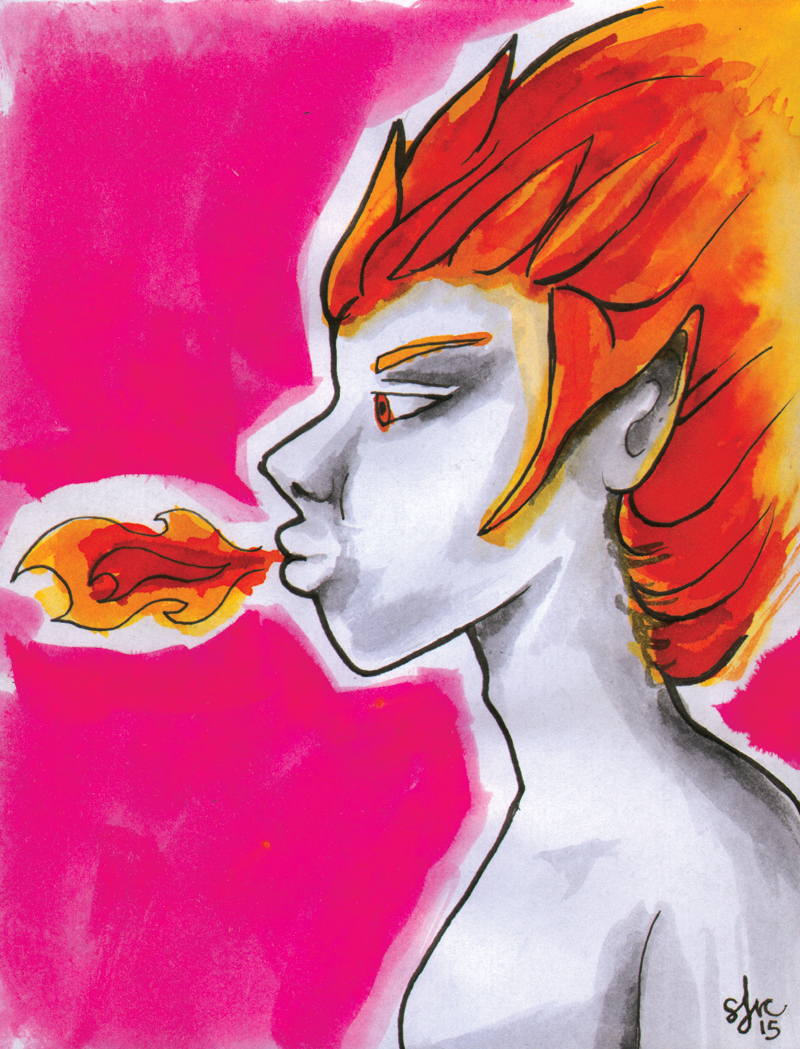 This month's drop features inks with a spice/heat/fire theme! Lots of bright oranges, and deep reds, plus a hot pink! Made me think about the desert colors when I lived in New Mexico.

I'm really glad I received this drop, because it had a bright pink, Noodler's Hellfire that I was going to get a sample of to try at some point this month. I don't have a lot of pinks in my ink arsenal and this one was super bright!
Unfortunately, I was sadly disappointed in the amount of feathering Hellfire had :( I was hoping to maybe do something fancy with either flex nibs or brush paintings, but I only noticed no feathering when writing with a fine nib (specifically the Pilot Prera F nib).
I tried on 3 different fountain pen ink friendly papers and the Tomoe River paper had the best result.
I didn't have any super broad nibs to try it out as a highlighter, so I laid the ink with a brush over a Sakura Pigma Micron pen.
Side note! I do enjoy Noodler's Inks, and this is only the *2nd* Noodler's ink that I have tried that feathers like this (the other being Polar Brown)
All the other inks in this set are great inks! I've tried pretty much all of these, except for Diamine Blaze Orange, which is a really nice orange :) Also, never noticed that Helianthus feathered a bit as well *shrugs*
I'm not a huge fan of oranges, but Noodler's Cayenne was definitely my favorite out of the bunch.
What are your favorites this month?
Thank you for reading/looking! :)
Join the Goulet Pens Ink Drop here!
(Scanned in with minimal level adjustment and photos taken with Samsung NX mini with flash. Ink swatches are done on Maruman Mnemosyne Word cards with a dip pen and Tachikawa Comic Nib G. As with any ink scans and/or photos I try to be consistent in color. What you see on your monitor might not be the actual color, but it should be a fairly close representation.)
Thank you so much for your support and for viewing this post!
xo-Jane
For projects I'm currently working on, free PDF zines and printables, sketchbook pages, videos, & more support my work on Patreon! :)
www.patreon.com/sjanemills