Hello friends! I received my January 2016 Ink Drop from The Goulet Pen Company! First Ink Drop of the year! :D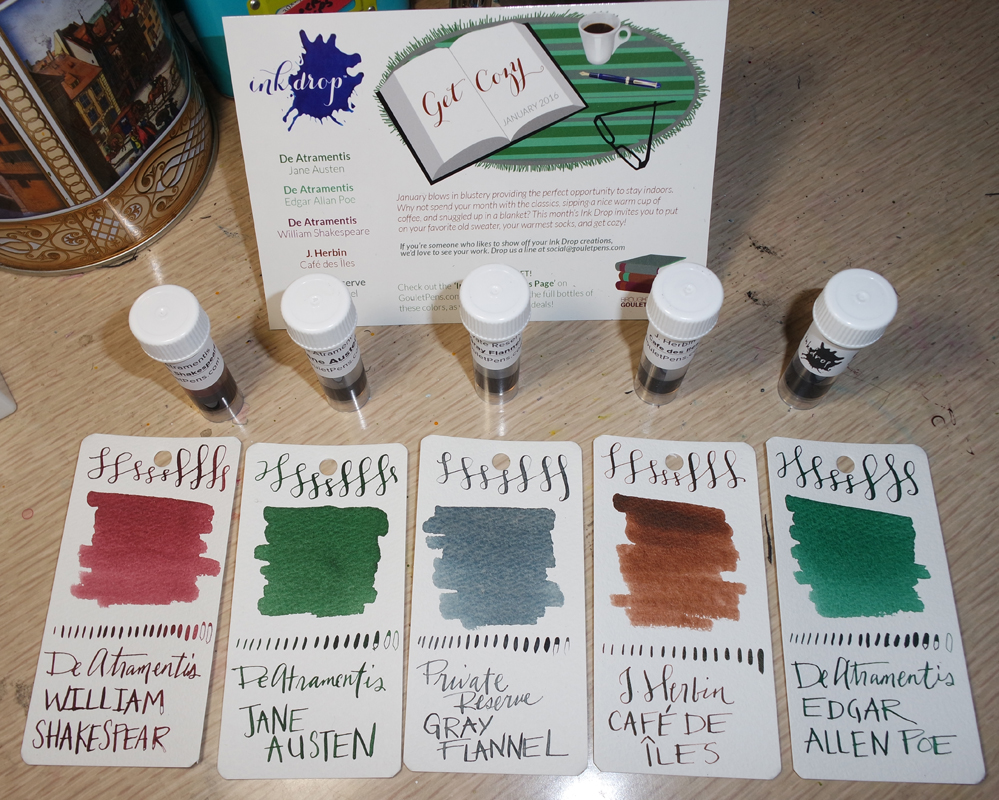 Theme: Get Cozy
Inks:
De Atramentis Jane Austen
De Atramentis Edgar Allen Poe
De Atramentis William Shakespeare
J.Herbin Café Des Îles
Private Reserve Gray Flannel
Here's the Ink Drop Doodle – in which #Vyvyanthewonderpup makes an appearance :) I used all the colored inks in this drop separately (did not mix) 0 except on the skin. The dress and mug stripe is Jane Austen with Edgar Allen Poe trim. The dog pillow is Edgar Allen Poe, The wood, book, and hair is Café Des Îles. the back pillow, lips, dog nose is William Shakespeare. The skin was watered down William Shakespeare. Vyvyan and the shadow areas are Gray Flannel. I added a little bit of white gel pen to the skin for highlights and corrections ;)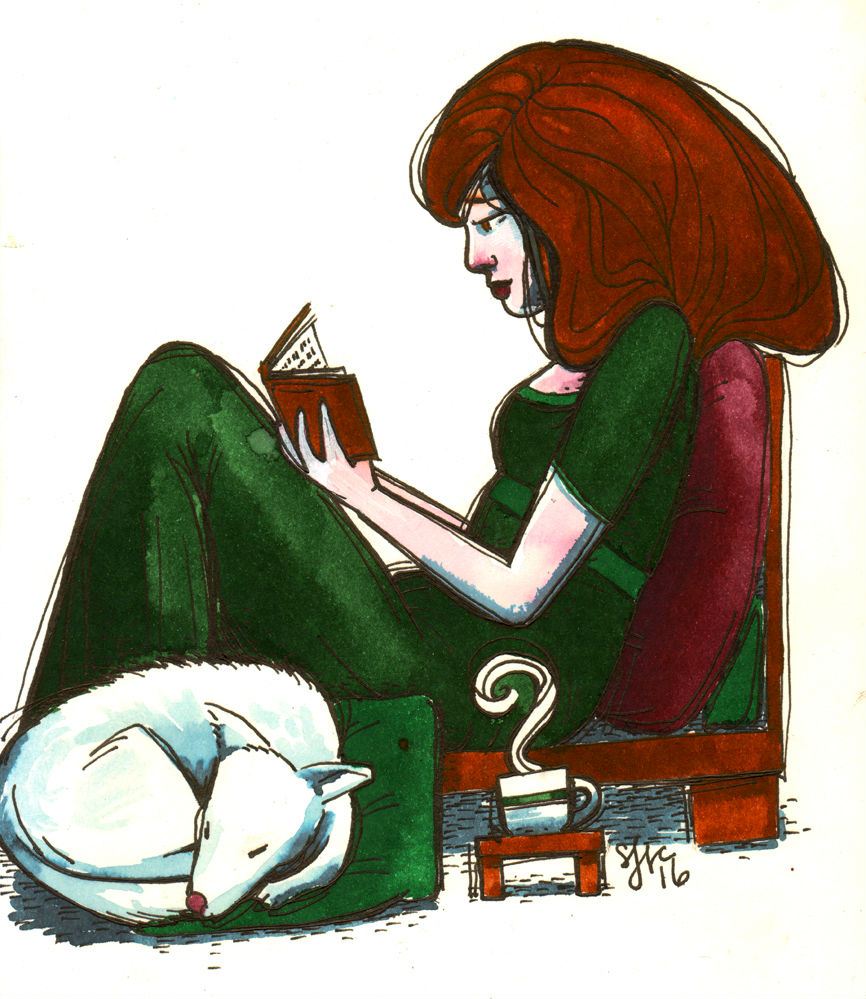 A note about the images: the Gray Flannel and Jane Austen appear extra saturated in some shots/scans. Gray Flannel is a blue gray, and the light picked up extra blue tone and Jane Austen is a little less saturated and darker than Edgar Allen Poe. Also in the doodle, the Café Des Îles is brighter than is really looks, it's more dark brown than orange-y. I think this set of inks was the hardest to photograph/scan ;P
I loved this color combination, though and my favorites are De Atramentis Jane Austen and J.Herbin Café Des Îles :)
Additional photos:
What are your favorites from this month's Ink Drop?
Thank you for reading/looking! :)
Join the Goulet Pens Ink Drop here!
—– —– —– —– —–
Images scanned in with minimal level adjustment (unless noted) and photos taken with Samsung NX mini (with and without flash). Ink swatches are done on Maruman Mnemosyne Word cards with a dip pen and Tachikawa Comic Nib G. As with any ink scans and/or photos I try to be consistent in color. What you see on your monitor might not be the actual color, but it should be a fairly close representation.
Thank you so much for your support and for viewing this post!
xo-Jane
For projects I'm currently working on, free PDF zines and printables, sketchbook pages, videos, & more support my work on Patreon! :)
www.patreon.com/sjanemills