Hi Friends! I received a J.Herbin Glass Dip Pen from The Goulet Pen Company and I thought I would share some thoughts on it! I hope you enjoy! :)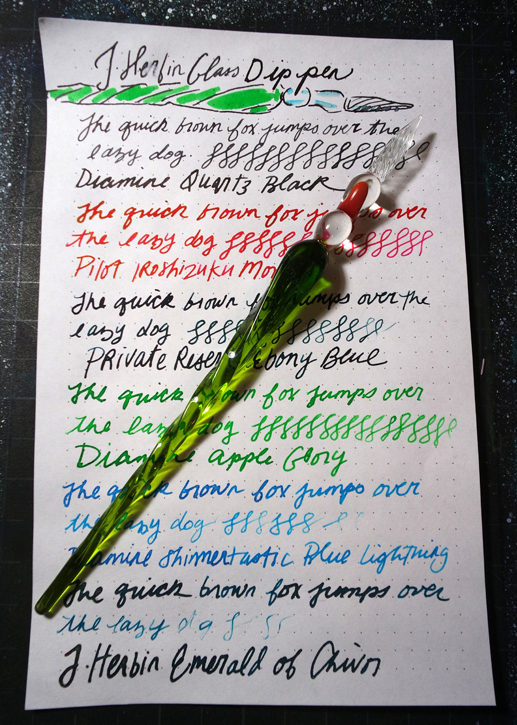 This J. Herbin spiral glass dip pen is made of green glass and measures 7-7/8″ long. I found it felt really nice in my hand and the weight was balanced. The glass is beautiful and the nib was just the right amount of tooth for me.
This pen is great for fountain pen ink sampling! If you have/get a lot of ink samples, this dip pen would be perfect. For everyday use, I wouldn't recommend – it can get tiresome to write (and dip) for long periods of time. I would use this for a short letter or card if I didn't have a certain ink already in one of my fountain pens.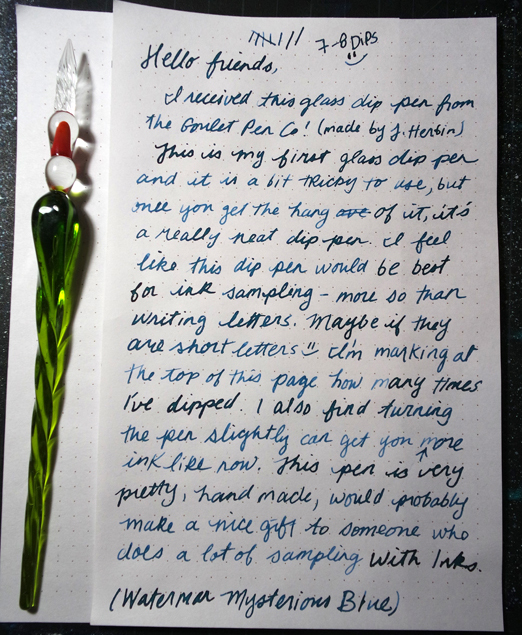 I haven't tried drawing with it, but I'll be doing so and updating this entry with my findings :)
Pros:
great for sampling different inks /perfect for testing ink
cleans easily
writes a good amount before having to re-dip
would make a nice gift
Cons:
a little tricky, if you have never used one before
Nib can be a bit toothy, each one is different since it is hand made*
Not practical for everyday use (e.g. in the workplace)
A bit pricey
This dip pen is available at The Goulet Pen Company (Green one: J. Herbin Large Spiral Glass Dip Pen) for $25. I would recommend this pen to someone who like to sample different inks :)
*If nib is too toothy or scratchy, it's possible to sand the tip with very fine sandpaper (Goulet Pens made a video )
Some of the inks used in the above sample are inks that I have reviewed before, as well as the paper used. Have a look:
Have you ever used a glass dip pen before?
Thank you for looking/reading!
—– —– —– —– —–
Images scanned in with minimal level adjustment (unless noted) and photos taken with Samsung NX mini (with and without flash).  As with any ink scans and/or photos I try to be consistent in color. What you see on your monitor might not be the actual color, but it should be a fairly close representation. I received this product from The Goulet Pen Company for the purposes of review. All opinions in this review are mine, and are not bias based on how I received it.
Thank you so much for your support and for viewing this post!
xo-Jane
For projects I'm currently working on, free PDF zines and printables, sketchbook pages, videos, & more support my work on Patreon! :)
www.patreon.com/sjanemills