Hello Friends! The Goulet Pen Company kindly sent me a sample of the newest edition to the J.Herbin 1970 series of inks, Caroube De Chypre.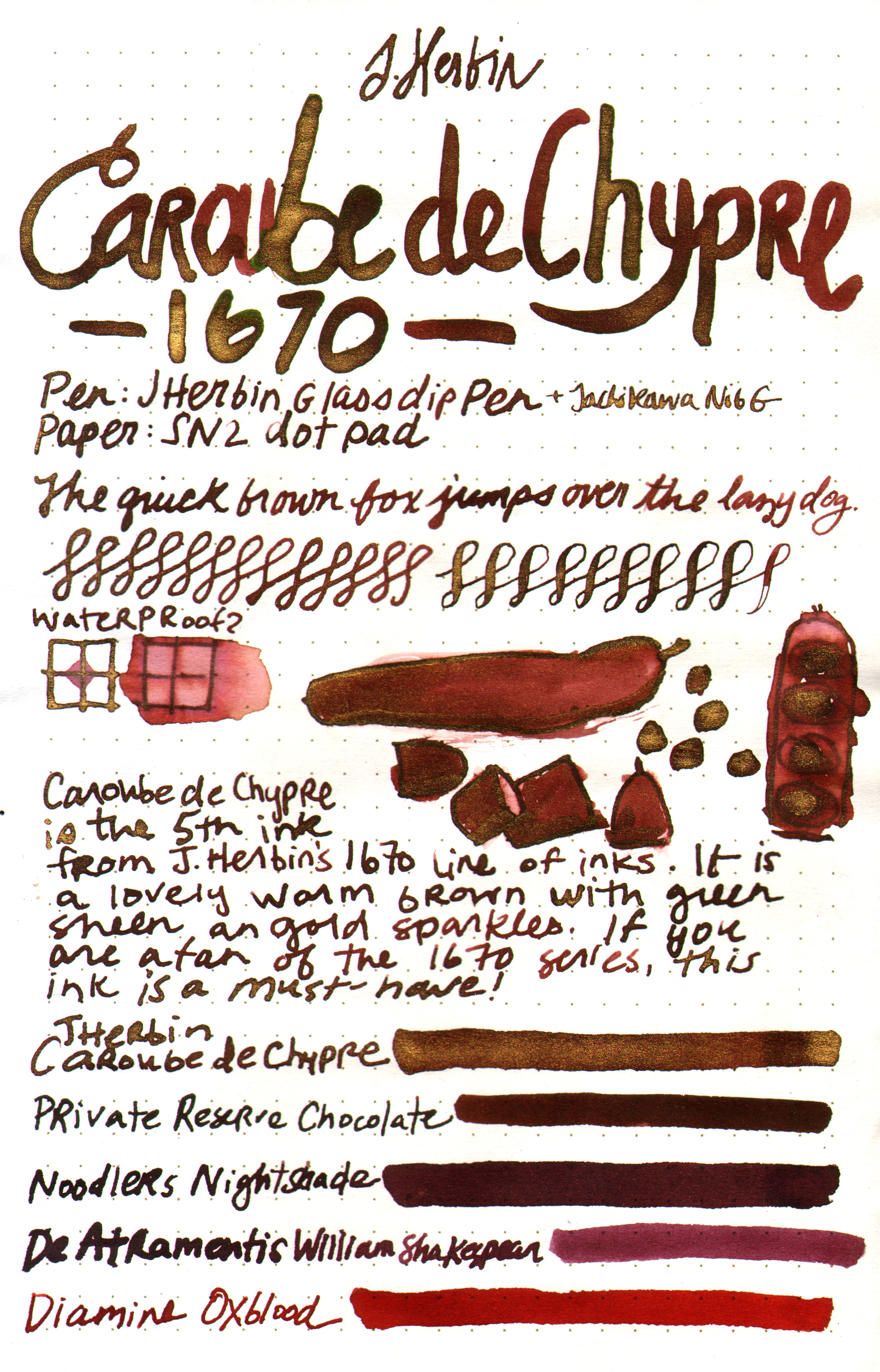 *Diamine Oxblood scanned shows more red than with regular lighting (see photos below)
I'm not a huge fan of brown inks, but this ink has a warm undertone reminds me of old leather and has nice green sheen and sparkle. Although, I wouldn't be able to get away with this ink at work, I think it would give a nice look to a letter without being too over-the-top colorful.
If you're like me and own all the other J.Herbin 1670 inks, then this is a nice addition to the ink collection :)
Quick note: Particles in inks mean more maintenance if you use these in fountain pens! (Goulet Pens has a video on inks that require more maintenance on YouTube: https://youtu.be/nO3pREn4wro)
More Photos:
Have you tried this ink? What are your thoughts?
Thank you for looking/reading!
—– —– —– —– —–
Images scanned in with minimal level adjustment (unless noted) and photos taken with Samsung NX mini (without flash).  As with any ink scans and/or photos I try to be consistent in color. What you see on your monitor might not be the actual color, but it should be a fairly close representation. I received this ink sample from The Goulet Pen Company for the purposes of review. All opinions in this review are mine, and are not bias based on how I received it.
Thank you so much for your support and for viewing this post!
xo-Jane
For projects I'm currently working on, free PDF zines and printables, sketchbook pages, videos, & more support my work on Patreon! :)
www.patreon.com/sjanemills