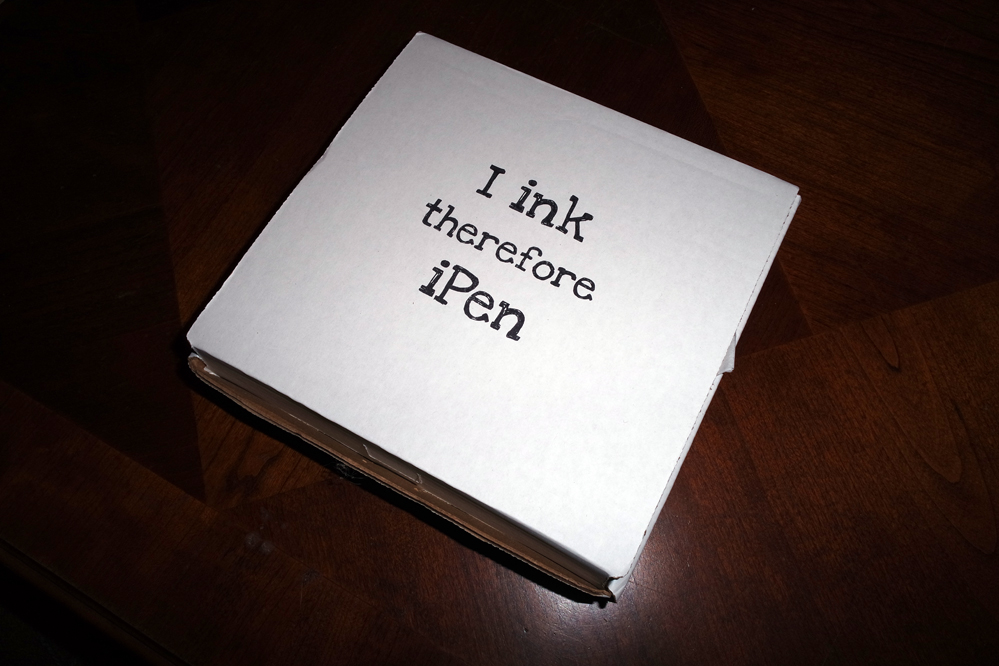 I received my first iPenBox last week! This is iPenStore's 4th box they've put out. The iPenBox is iPenStore's monthly subscription box is $30 per month with free shipping ($40 per month for international shipments). Each monthly box revolves around a theme. Pretty cool :)
Since this is my first box from them, I thought I'd do a post about the products inside, theme, and cost per items, if they were purchased separately, etc. I hope you enjoy!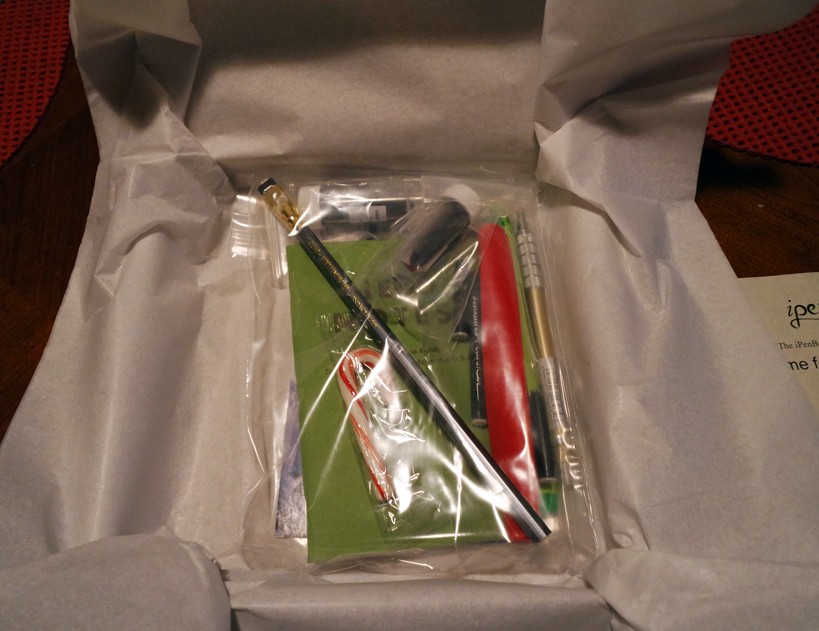 Theme: Home for the Holidays
Products in the iPenBox:
1 Field Notes, "Snowblind" Limited Edition – Graph (approx $3.32)
1 Field Notes, "Shenandoah" Limited Edition – Graph  (approx $3.32)
1 Pelikan Twist Fountain Pen, Apple Candy (Red/Lt Green), Medium Nib comes with two Pelikan Royal Blue ink cartridges (approx $15.40)
1 Pelikan Edelstein Aventurine Green Fountain Pen Ink Cartridge (approx $0.55)
2 ink samples of Pelikan Edelstein Ruby Red and Aventurine Green (approx $4.00)
Blackwing 602 Pencil (approx 1.90)
Schneider Xpress Fineliner Pen in Green (approx 2.97)
Ohto NBP-507R Promecha Needle Point Ballpoint Pen, Silver (approx 14.00)
Michigan Postcard (approx $1.00)
1 small Blank Card and Envelope from Fabriano Medioevalis Stationery (approx $0.60)
Mini Candy Cane :)
Approximate total items cost for the December iPenBox = $47.06 (Each month has different items, so the approximate cost would be different every month.)
Really good deal! I'm glad I signed up and I'm impressed! I personally enjoy blind box/trying out things I wouldn't have thought to pick up before. Also, if you don't like what you received, these items would make great little gifts for your stationery friends or family. :)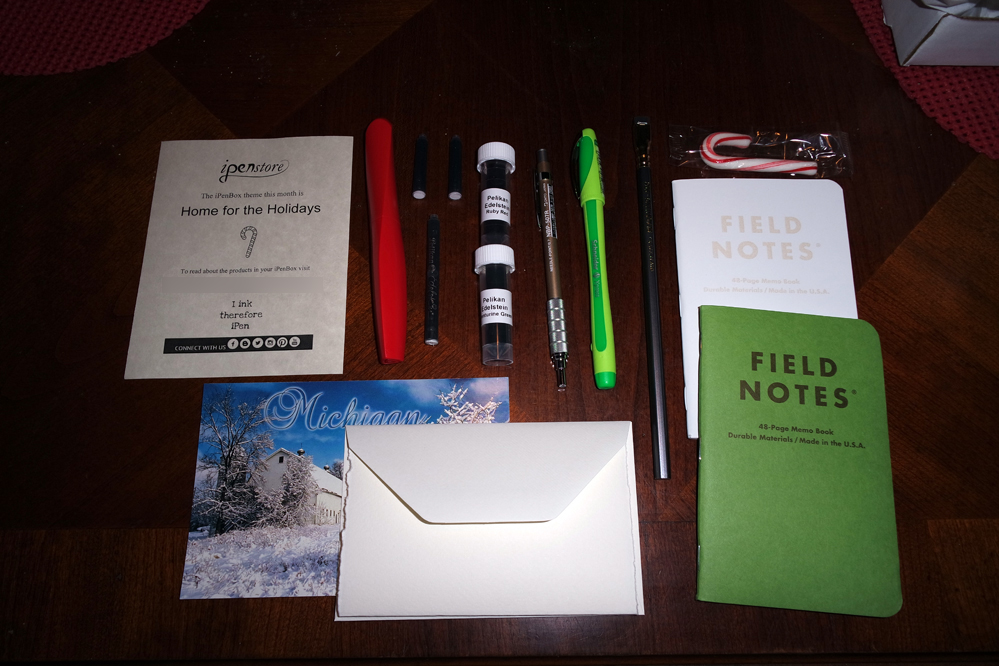 I put the Pelikan Edelstein cartridge in the Twist fountain pen and and it started up fairly quickly. I like the feel of this pen, it's surprisingly comfertable, but I wish the cap would post securely.
The Schneider Pen wrote really smooth and I love the color (I'm green biased though ;) )
The Ohto started a little slow at first but then wrote smoothly after – love that it's a needle point, never would have tried it because I don't know a lot about the Ohto brand, but I really like it!
The Pelikan Edelstein inks are lovely! Perfect for the season, Ruby Red is a lighter red and the green is nice and rich
These 2 Field Notes are my very first! I know, weird right?! ;D I've owned pocket notebooks before, like Word Notebooks. I like the Field Notes and I can see the desire for collecting these. The designs are pretty cool :)
Note: I wasn't able to get any good shots of the Field Notes Snowblind changing color because there hasn't been any sunlight lately :(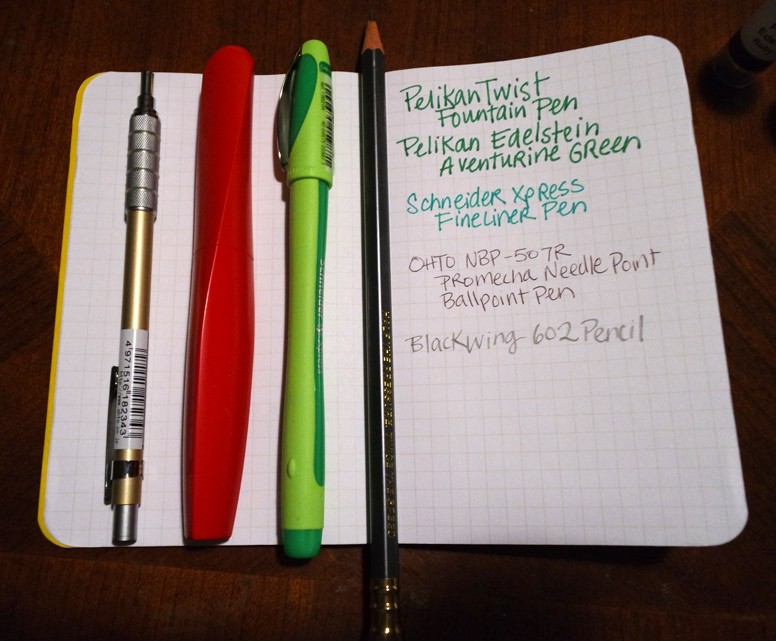 Overall, I'm pretty happy I joined up! If you want to join the iPenBox subscription, head over to the iPen Store! :)
Here's a bunch more photos:
—– —– —– —– —–
I was not compensated for this post, I purchased the iPenBox subscription and all these thoughts are my own opinions. Photos taken with Samsung NX mini (with and without flash). Ink swatches are done on Maruman Mnemosyne Word cards with a dip pen and Tachikawa Comic Nib G. As with any ink and product photos, I try to be consistent in color. What you see on your monitor might not be the actual color, but it should be a fairly close representation. Thanks!
Thank you so much for your support and for viewing this post!
xo-Jane
For projects I'm currently working on, free PDF zines and printables, sketchbook pages, videos, & more support my work on Patreon! :)
www.patreon.com/sjanemills