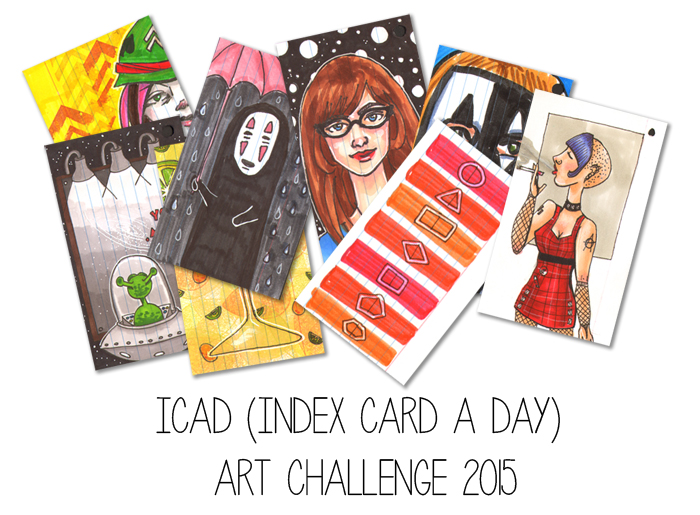 So I did my first art challenge of the year in June and July: The ICAD (Index Card A Day) Art Challenge.
The 2015 Index-Card-a-Day Challenge ran from June 1 to July 31, 2015. Basically, ICAD is creating something on a 3×5″ index card every day for 61 days. Ideally, you don't have to play catch-up, but I wanted to :) Daisy Yellow provided prompts, but you didn't have to use them. I think I stuck to all the prompts, which were fun and challenging.
I never really do monthly art challenges because I know I'm bad at keeping up with them ;) For the most part, I was pretty on schedule, but there were a few days that I didn't do it and I had to play catch-up of the following weekend :P
Would I do it again? Yes, but maybe just for 1 month, 2 months was really challenging with my already crazy busy art+work+band+life schedule :D
Well, I got all the index cards scanned in today, so I wanted to share! These were done with a variety of art supplies. Everything from sharpies to waterbrush pens to copics. None of them took me more than 5-10 minutes to complete.
Here they are! All 61 of them! :D
I uploaded a video a while back of me playing catch-up one time ;)
Do you participate in any art or writing challenges?
Thank you for reading/looking!
—– —– —– —– —–
If you would like to support me and my art, videos & reviews and get some goodies every month, check out my Patreon page: patreon.com/sjanemills
Thank you so much for your support and for viewing this post!
xo-Jane
For projects I'm currently working on, free PDF zines and printables, sketchbook pages, videos, & more support my work on Patreon! :)
www.patreon.com/sjanemills