I received my February iPenBox last week! So many goodies!! (。♥‿♥。)
This is iPenStore's 6th box they've put out. The iPenBox is iPenStore's monthly subscription box is $30 per month with free shipping ($40 per month for international shipments). Each monthly box revolves around a theme.
I receive a good response from my last iPenBox, I figured I'd keep doing them :) I've been reallyt impressed with the products and I like sharing :) Here I'll post about the products inside, a mini thought about each item, theme, and cost per items, if they were purchased separately, and photos, of course. I hope you enjoy!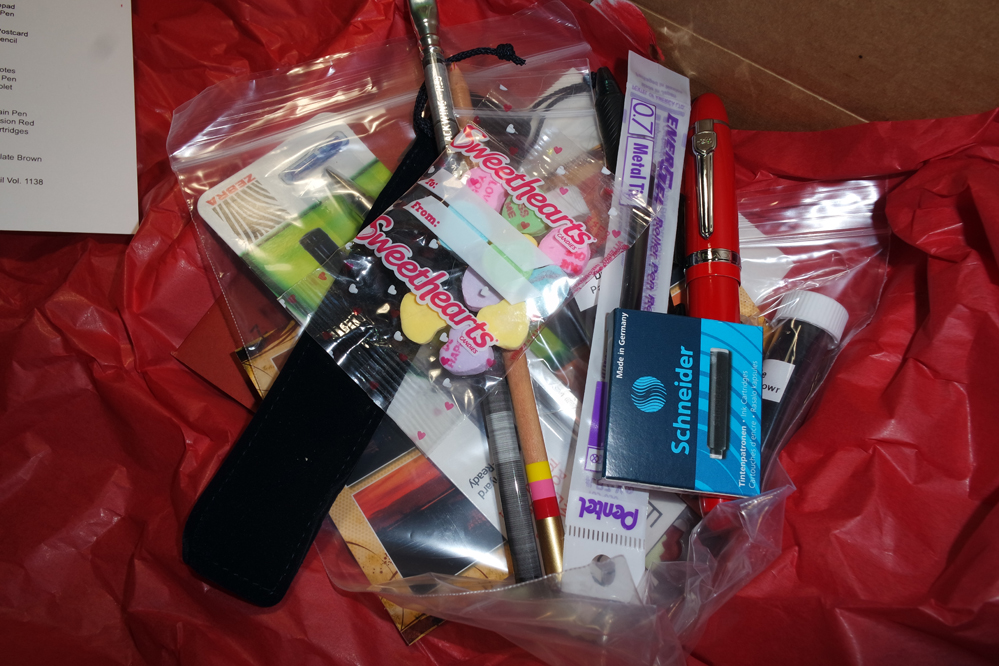 Theme: Date Night!
Products in the iPenBox:
1 Miquelrius Heart Mini Notepad (Apprx $4-6.00 – I couldn't find the actual item, but I guestimated from other products of this line)
1 Zebra Compact Ball Point Pen ($6.16)
1 Pepin Artist's Floral Coloring Postcard ($0.50)
1 Koh-i-Noor Tri-Tone Color Pencil ($1.79)
1 Word Notebook – Tasting Notes ($4.00)
1 Pentel EnerGel X RollerGel Pen ($2.00)
1 Pentel EnerGel Refill in Violet ($2.58)
1 Jinhao 159 Metal Barrel Fountain Pen ($12.50)
1 ink sample – Diamine Passion Red ($2.00)
1 ink sample – Diamine Chocolate Brown ($2.00)
1 box of Schneider Ink Cartriges in black ($2.00)
1 Palamino Blackwing Pencil 1138 ($2.00)
Michigan postcard ($1.00)
1 cleaning cloth
1 cloth pen holder
Candy!
Free sticker!
Prices were calculated from the iPenStore's regular stock prices or amazon, unless noted.
Approximate total items cost for the February iPenBox = $44.53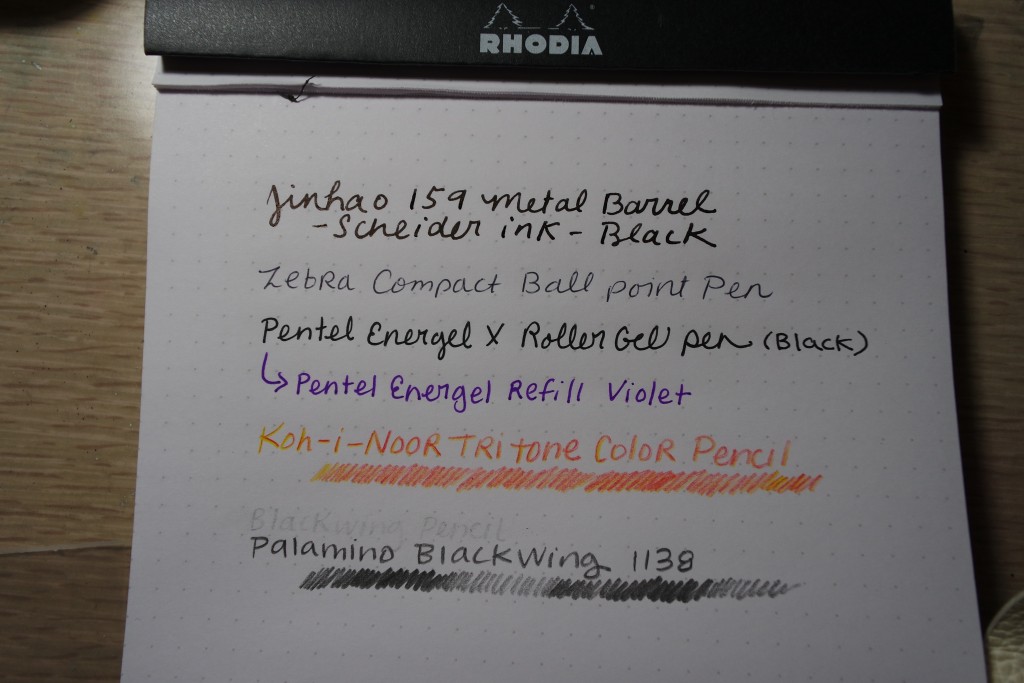 The Jinhao fountain pen had me laughing, it's a bit comically big, but surprising fits my hand :D All pens started up right away with no issues. The Diamine inks were very nice, I like how Diamine flows really nicely, the Chocolate Brown is such a nice brown ink! I haven't tried how pen friendly the Miquelrius notepad is, trying to figure out how I'll use it, will have to post another time. The Word Tasting Notes Notebook is my favorite of this bunch! I have the Word Adventure Journal and this is exactly what I wanted! :) I've never tried a Koh-i-Noor tritone pencil, so that was fun to play with and I always love getting a new Blackwing pencil!
Here are some photos of everything:
If you want to join the iPenBox subscription, head over to the iPen Store! :)
Do you have a favorite monthly subscription box?
Thank you for looking/reading!
—– —– —– —– —–
I was not compensated for this post, I purchased the iPenBox subscription and all these thoughts are my own opinions. Photos taken with Samsung NX mini (without flash). Ink swatches are done on Maruman Mnemosyne Word cards with a dip pen and Tachikawa Comic Nib G. As with any ink and product photos, I try to be consistent in color. What you see on your monitor might not be the actual color, but it should be a fairly close representation. Thanks!
Thank you so much for your support and for viewing this post!
xo-Jane
For projects I'm currently working on, free PDF zines and printables, sketchbook pages, videos, & more support my work on Patreon! :)
www.patreon.com/sjanemills