Hello again friends! More visual reviews of 2 more Diamine Shimmertastic Inks!
These are the last 2 of the 10 Shimmertastic inks I've reviewed, below are the links to the other review!
Brandy Dazzle, Purple Pazzazz
Blue Lighting, Shimmering Seas, Blue Pearl
Red Luster, Magical Forest, Night Sky
Diamine has released 10(!) new inks with shimmer! I'm a shimmery ink fan, so I'm excited for these. I understand these inks will not be for everyone, and that is totally okay! If you like some shimmer in your writing, please enjoy!
Quick note: Particles in inks mean more maintenance if you use these in fountain pens! (Goulet Pens has a video on inks that require more maintenence on YouTube: https://youtu.be/nO3pREn4wro)
Personally, I prefer to use flexible dip pens with shimmery type inks.
Enjoy!
Shimmering Sands (gold with gold particles)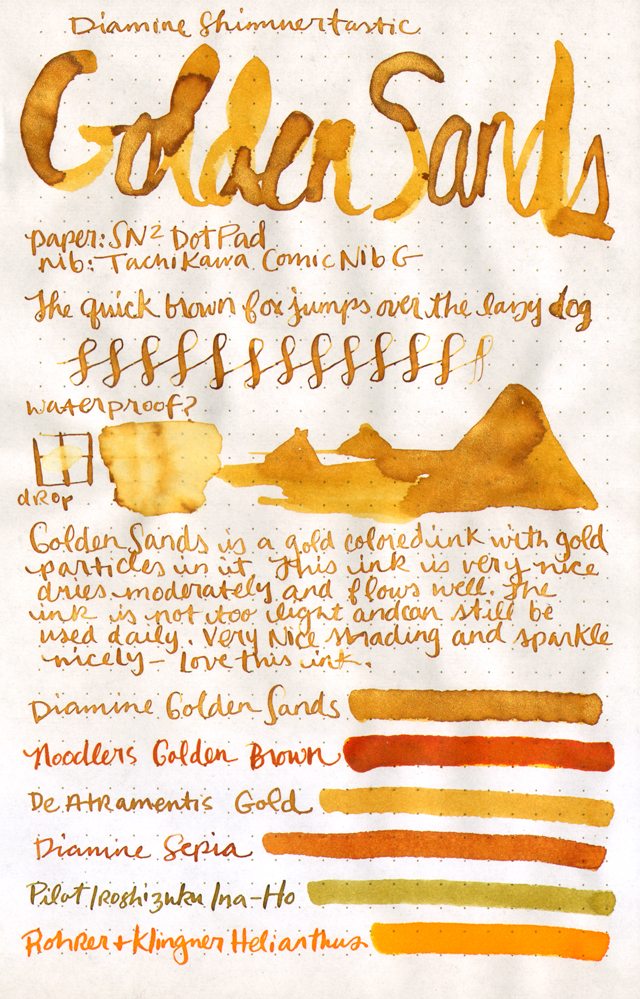 Sparkling Shadows (dark grey with gold particles)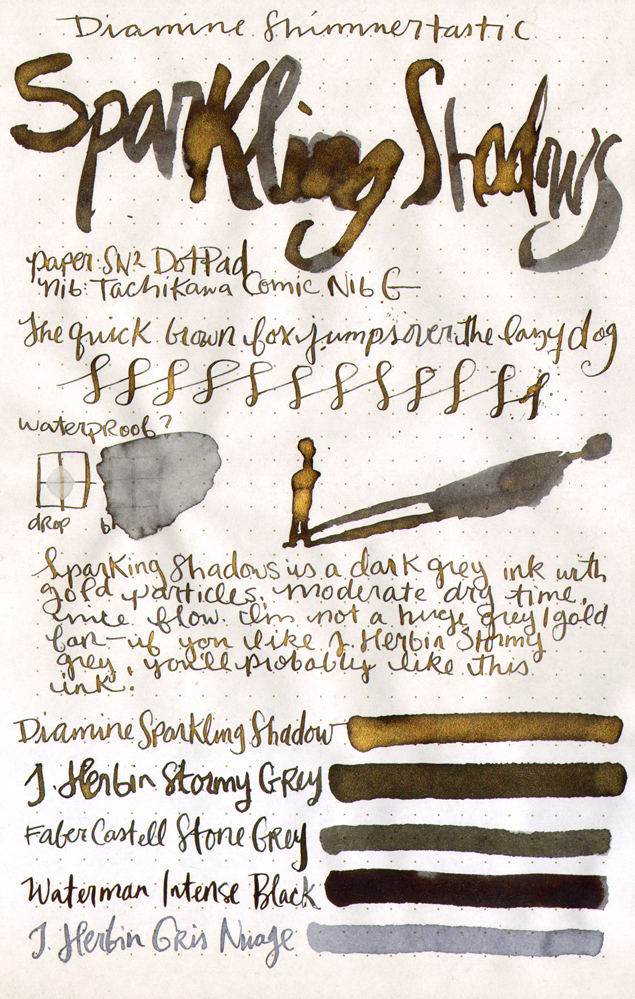 More Images:
The names of inks above are linked to where you can purchase them!
Have you bought any of these inks? Which one(s) are your favorite?
Thanks for looking/reading!
—– —– —– —– —–
Notes:
Images scanned in with minimal level adjustment and photos taken with Samsung NX mini (with and without flash).
I had to shake up the samples pretty regularly to keep the shimmer writing.
As with any ink scans and/or photos I try to be consistent in color. What you see on your monitor might not be the actual color, but it should be a fairly close representation.
I received these ink samples from The Goulet Pen Company for the purposes of review. All opinions in this review are mine, and are not bias based on how I received these samples.
Thank you so much for your support and for viewing this post!
xo-Jane
For projects I'm currently working on, free PDF zines and printables, sketchbook pages, videos, & more support my work on Patreon! :)
www.patreon.com/sjanemills