Hi all!
Here's a little mini visual review about Diamine Quartz Black.
I'm always on the hunt for drawing inks for my sketchbook, and this was an ink I picked up to try because I heard it was more of a dark grey rather thank a pure black ink.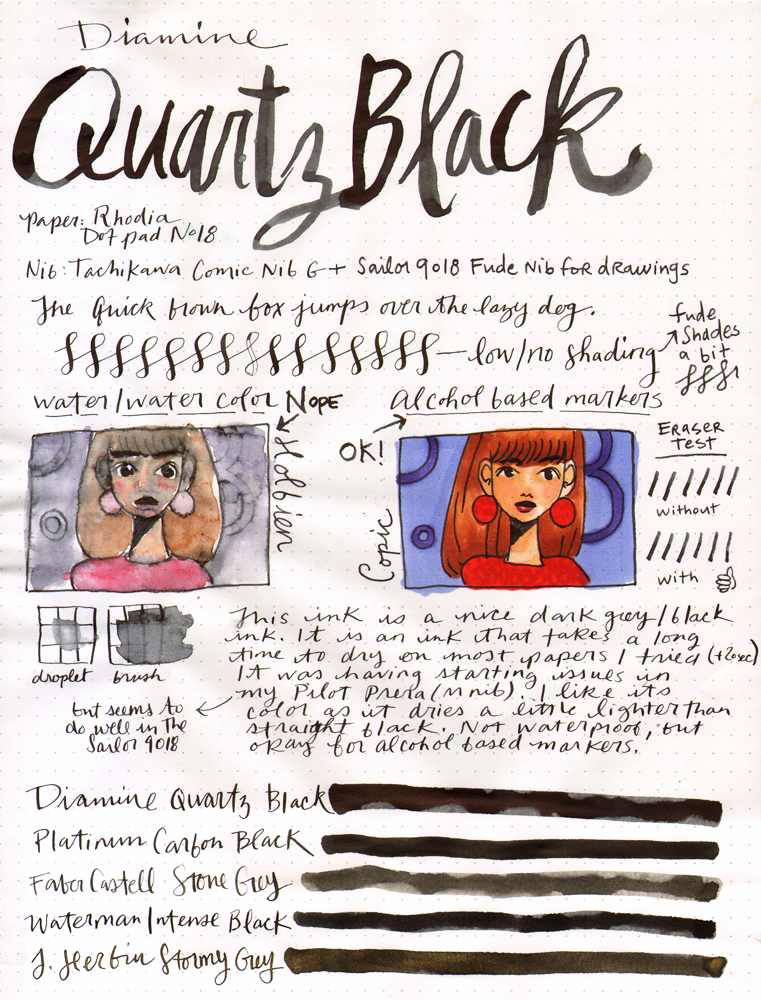 As you can see, it's not a waterproof ink – poor, sad, watercolor test girl! :P – but with a few light lines with this ink and water brush, it creates a nice grey-tone watercolor type drawing – a fun thing I like to do with sketches in my sketchbook – like the two sketches below, drawn with a Sailor 9018 fude nib, waterbrush, and UniPOSCA for white dots/lines – the creepy creatures in the back are inked with a Pentel pocket brush pen.
This ink also does well with alcohol based markers, the ink color is not a pure black, so the lines are slightly softer.
Overall I really like this ink for sketching in my sketchbook! I prefer it with my Sailor 9018 Fude nib fountain pen.
Do you have a favorite grey ink? (doesn't have to be for drawing, just in general) :)
Thank you for reading/looking!
—– —– —– —– —–
If you would like to support me and my art, videos & reviews and get some goodies every month, check out my Patreon page: patreon.com/sjanemills
—– —– —– —– —–
(Images scanned in with minimal level adjustment and photos taken with Samsung Note 3. As with any ink scans and/or photos I try to be consistent in color. What you see on your monitor might not be the actual color, but it should be a fairly close representation.)
Thank you so much for your support and for viewing this post!
xo-Jane
For projects I'm currently working on, free PDF zines and printables, sketchbook pages, videos, & more support my work on Patreon! :)
www.patreon.com/sjanemills