Hi Friends! I received my Ink Drop from Goulet Pens! Woo-hoo :D
This month's drop has a festive theme :)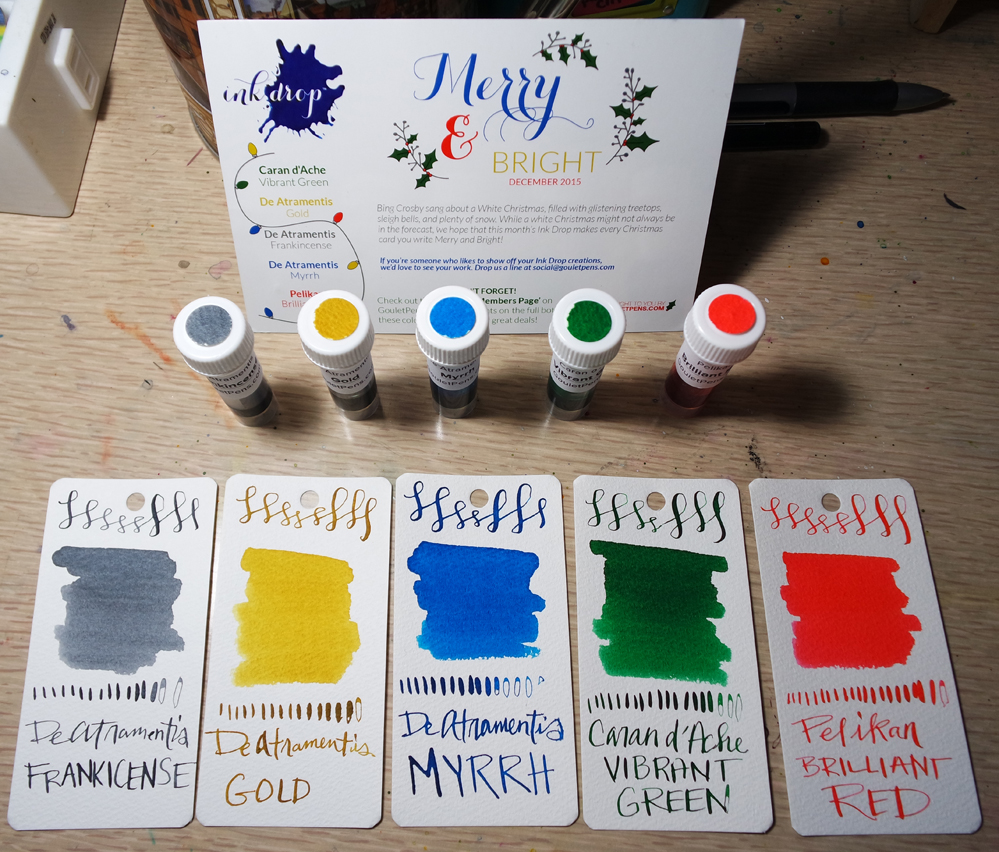 Theme: Merry and Bright
Inks:
De Atramentis Gold
De Atramentis Frankincense
De Atramentis Myrrh
Pelikan Brilliant Red
Caran d'Ache Vibrant Green
Here's the Ink Drop Doodle – which ended up as a shadow box! :) I used all the colored inks in this drop separately (did not mix), Frankincense for the sky, Vibrant Green for the trees, Brilliant Red for the cape, Gold for the hair and present, and Myrrh for the fox-like creature. I outlined the 2 main characters with Copic Multiliners, added white gel pen snow accents (with a little white acrylic on the front trees, all on watercolor paper, then cut out the pieces and made the box with cardboard (with a bit of assistance from the cardboard master, Jason) :) I hope you enjoy! I had fun making it and plan to make more in the future. :)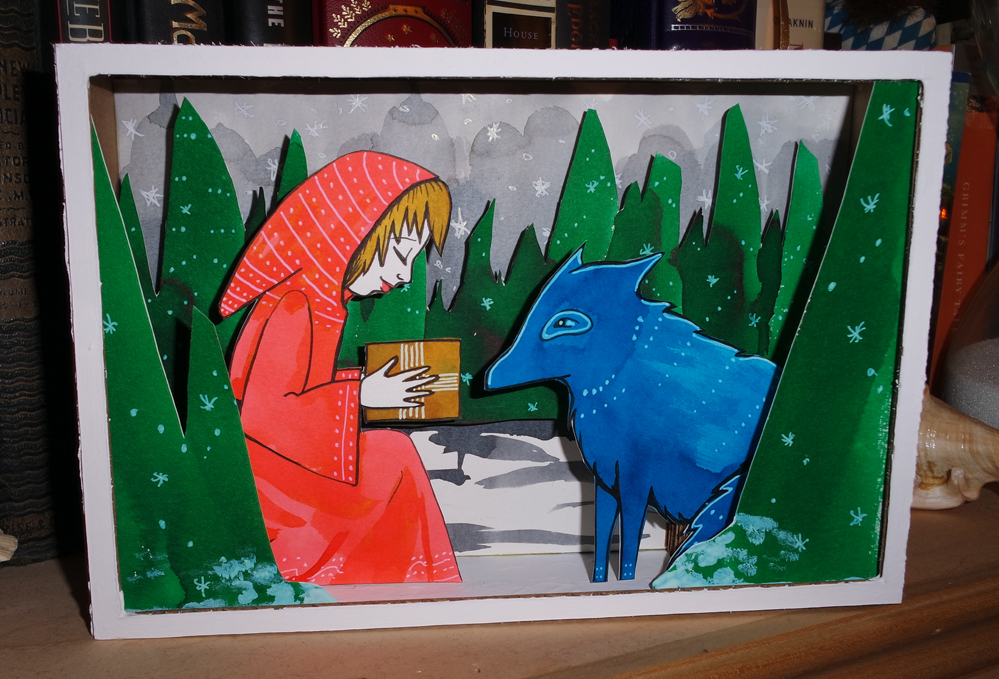 These colors are a nice set of festive colors, they all really go well together! De Atramentis Gold has been one of my favorite gold colored inks! De Atramentis Myrrh and Caran d'Ache Vibrant Green are really beautiful colors! Myrrh was really hard to get the color to look correct in both photos and scans, it's really gorgeous though! I was surprised at De Atramentis Frankincense and Pelikan Brilliant Red, I probably would have looked those inks over if I didn't receive them.
A tooon of additional photos :)
What are your favorites from this month's Ink Drop?
Thank you for reading/looking! :)
Join the Goulet Pens Ink Drop here!
—– —– —– —– —–
Images scanned in with minimal level adjustment (unless noted) and photos taken with Samsung NX mini (with and without flash). Ink swatches are done on Maruman Mnemosyne Word cards with a dip pen and Tachikawa Comic Nib G. As with any ink scans and/or photos I try to be consistent in color. What you see on your monitor might not be the actual color, but it should be a fairly close representation.
Thank you so much for your support and for viewing this post!
xo-Jane
For projects I'm currently working on, free PDF zines and printables, sketchbook pages, videos, & more support my work on Patreon! :)
www.patreon.com/sjanemills