Baron Fig Notebooks are a Kickstarter Project that I backed.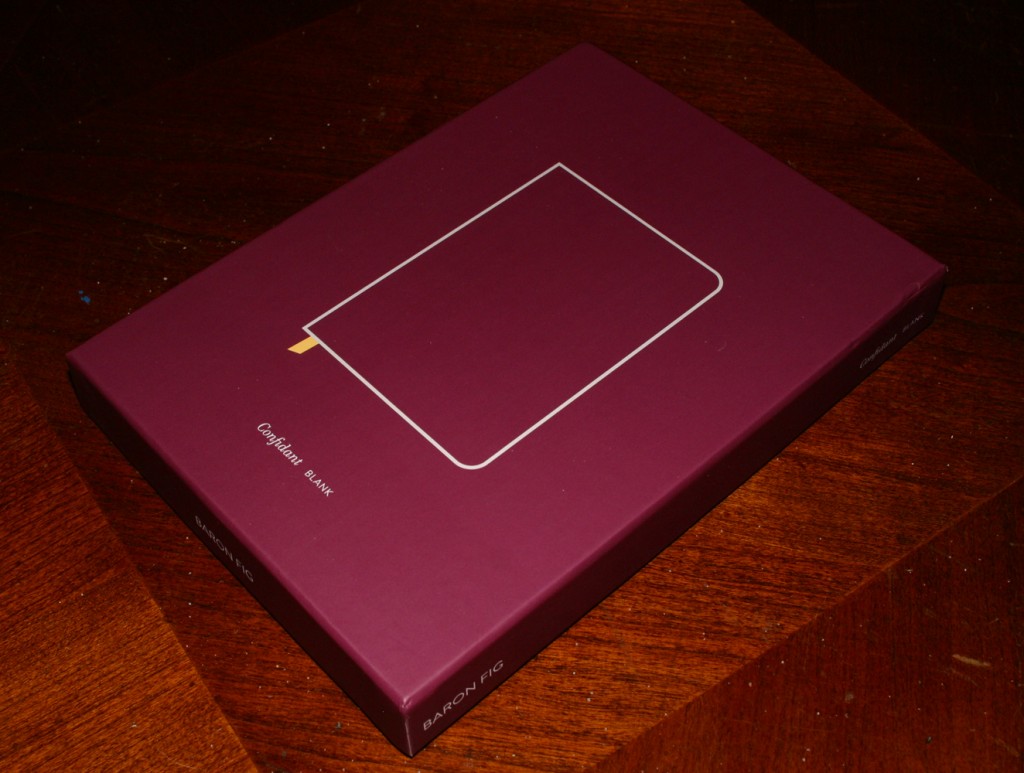 I received the Confidant I Blank notebook. It was beautifully packaged in a maroon box. The cover of the notebook is a nice textured grey fabric.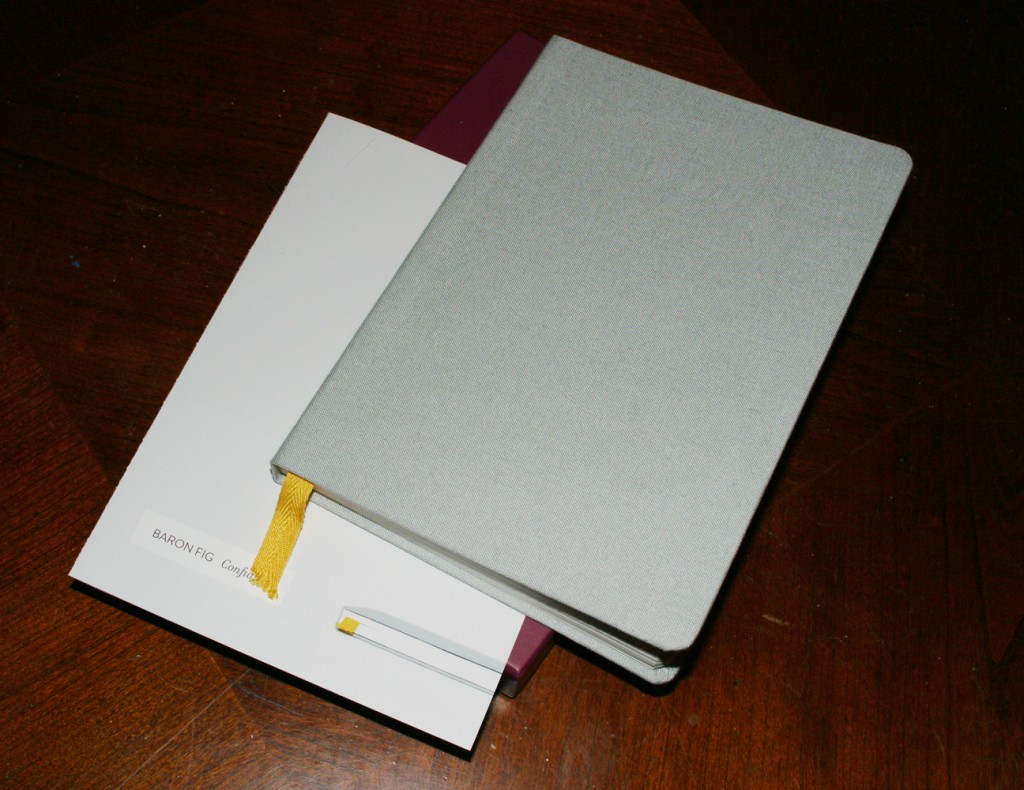 The dimensions are approximately 7.75 inches (19.5cm) by 5.5 inches (13.9cm) – a little shorter and slightly wider than a Moleskine Classic Large (5″ x 8.25″).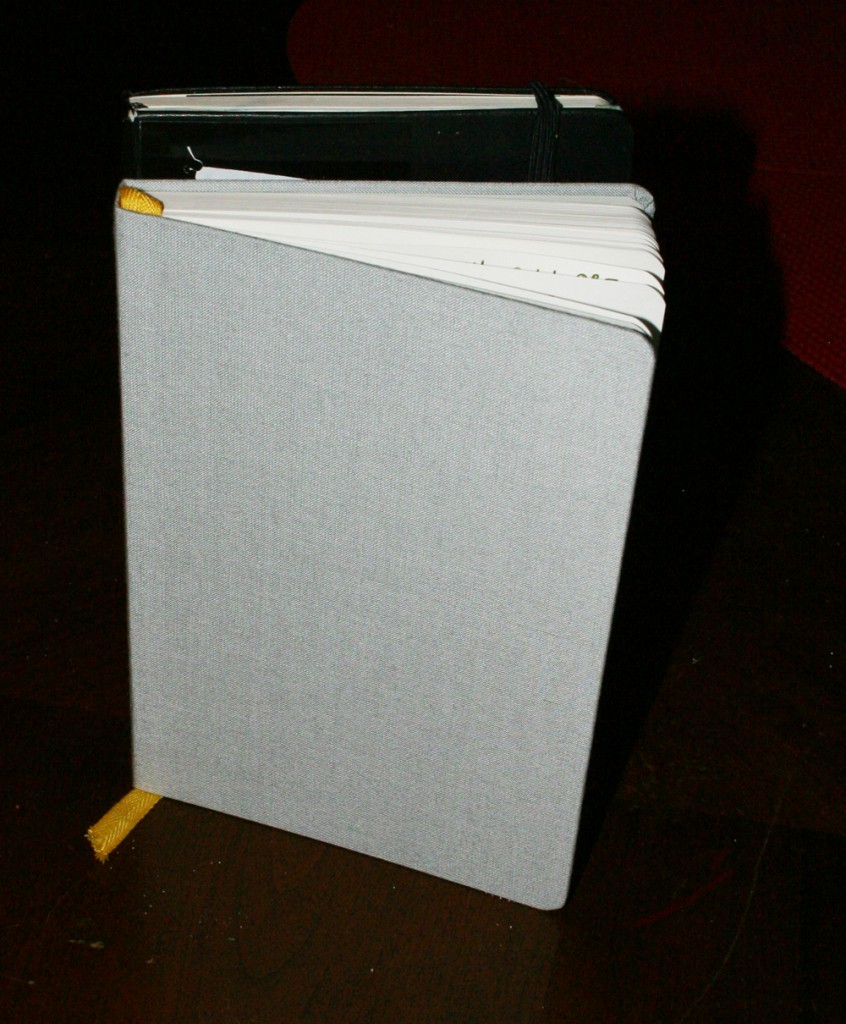 The pages have a good feel and I've confirmed with Baron Fig that the paper is 100gsm, which is 68lb paper. I've written in it with all my fountain pens and various others. I did not notice any significant feathering from the fountain pen inks. There is hardly any bleed through except, what I expected, from the Sharpie markers. In my mind, I would consider this "fountain pen friendly" since I can write on the other side.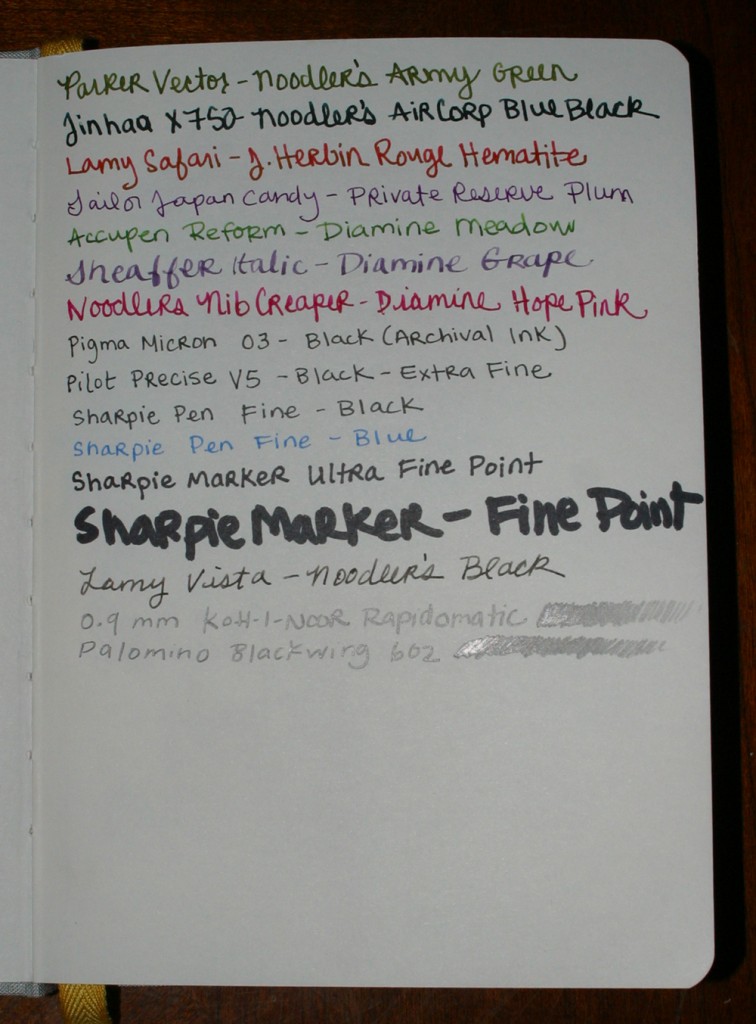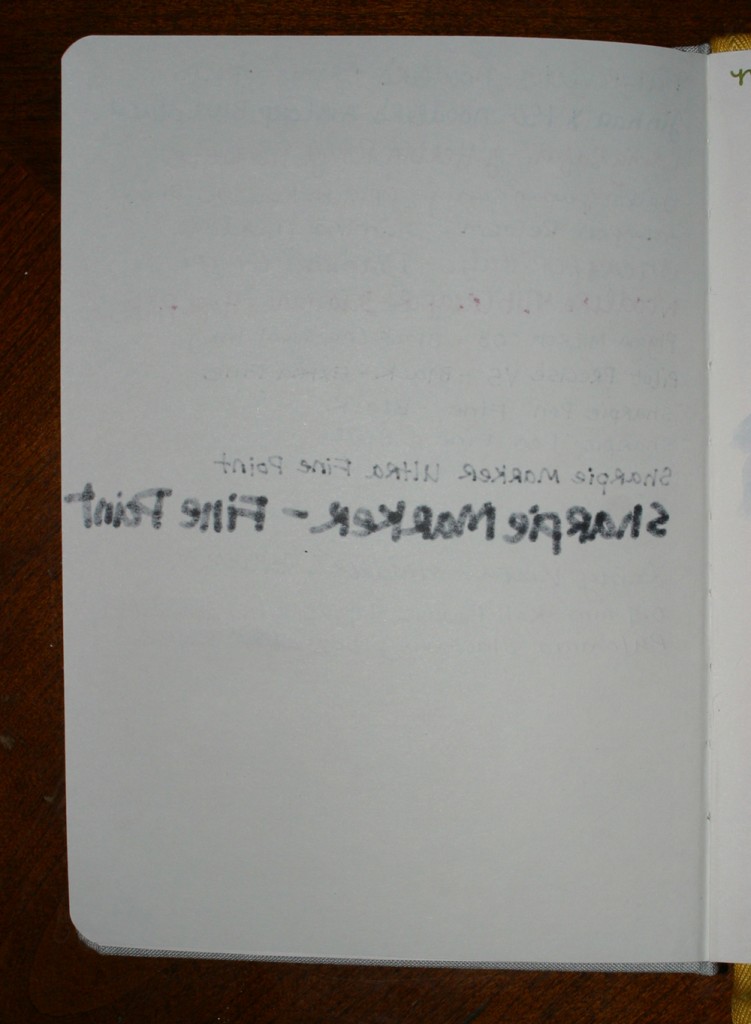 Here' s a comparison of the above inks/pens with a Moleskine Classic: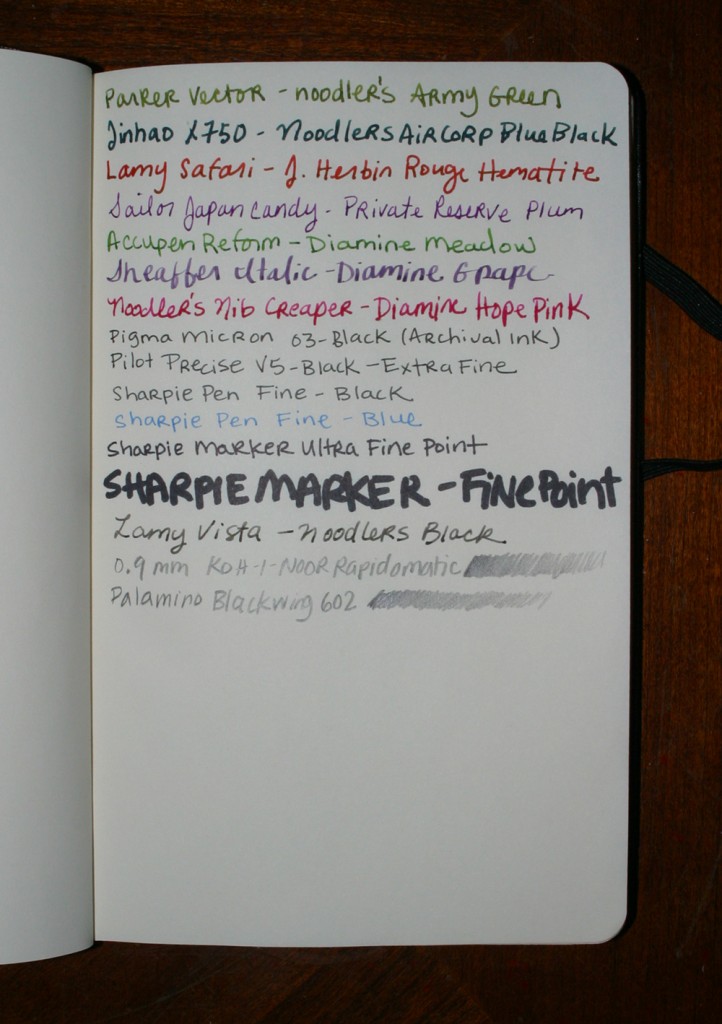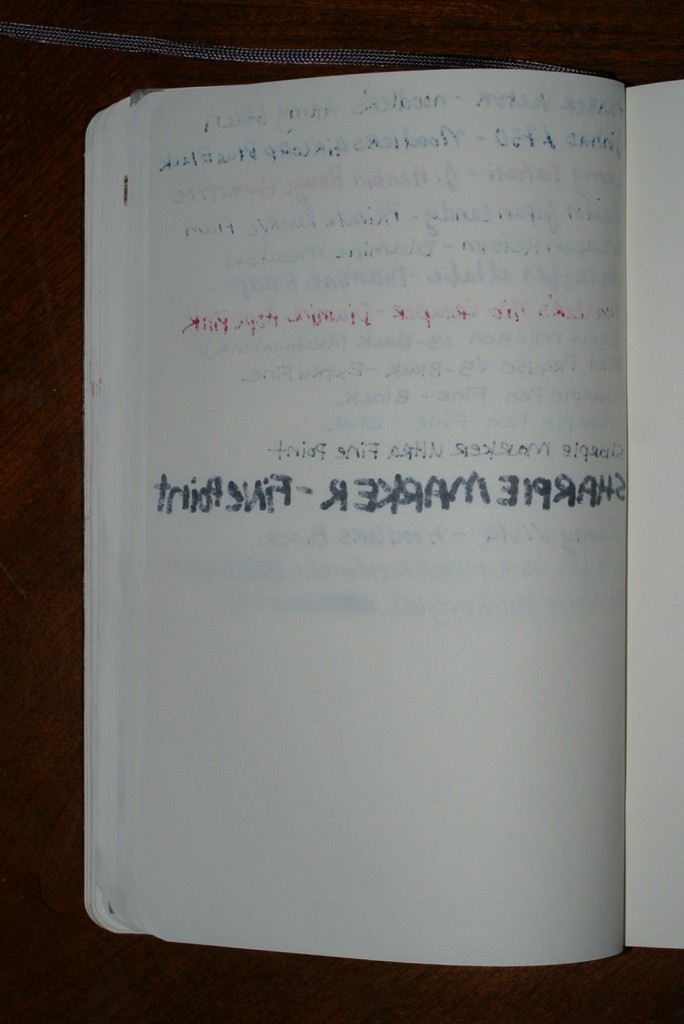 I have also done a personal watercolor sketch test. I understand that this paper is not watercolor paper, but I almost always add watercolor to a sketch and I usually do not carry a watercolor sketchbook with me in addition to a sketchbook. Baron Fig passed, the paper buckled (as I expected to) but there was no bleed onto the next page.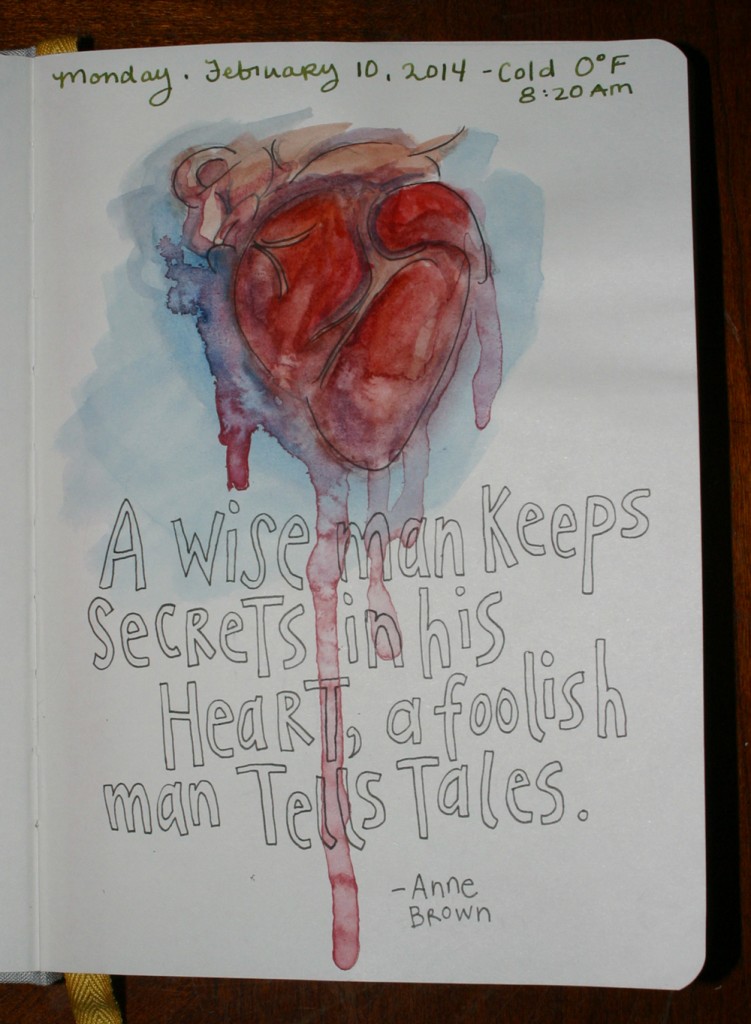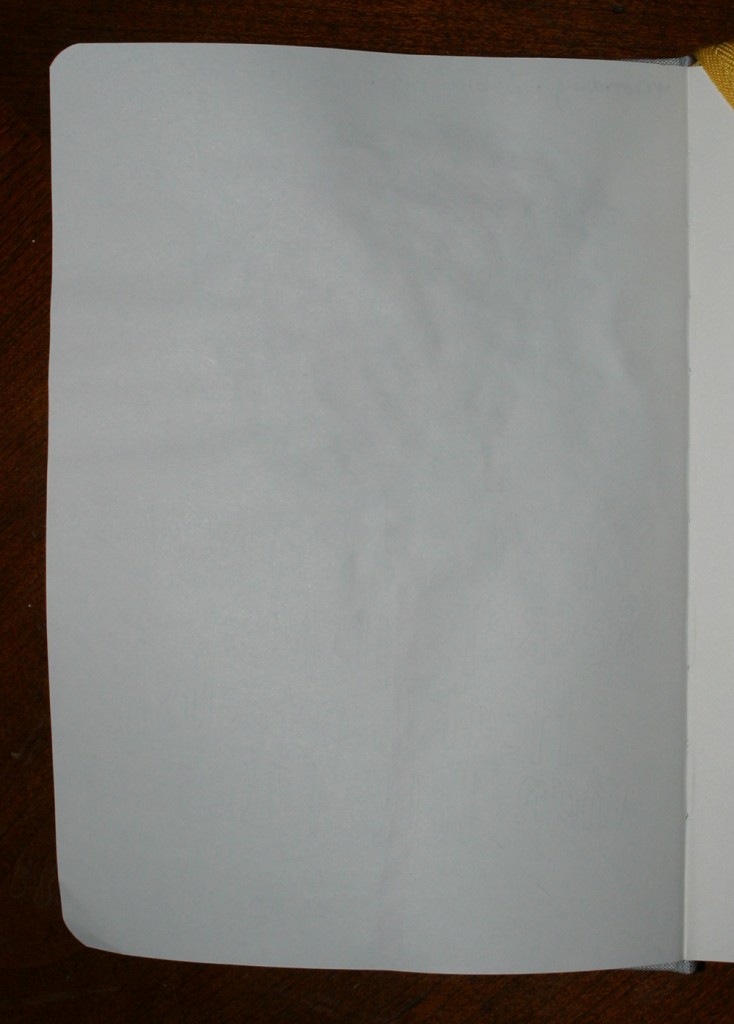 Watercolor sketch drawing on Moleskine Classic Large example:
This notebook does lay flat as advertised and there are six perforated pages at the very back of the notebook. I like the yellow book marker.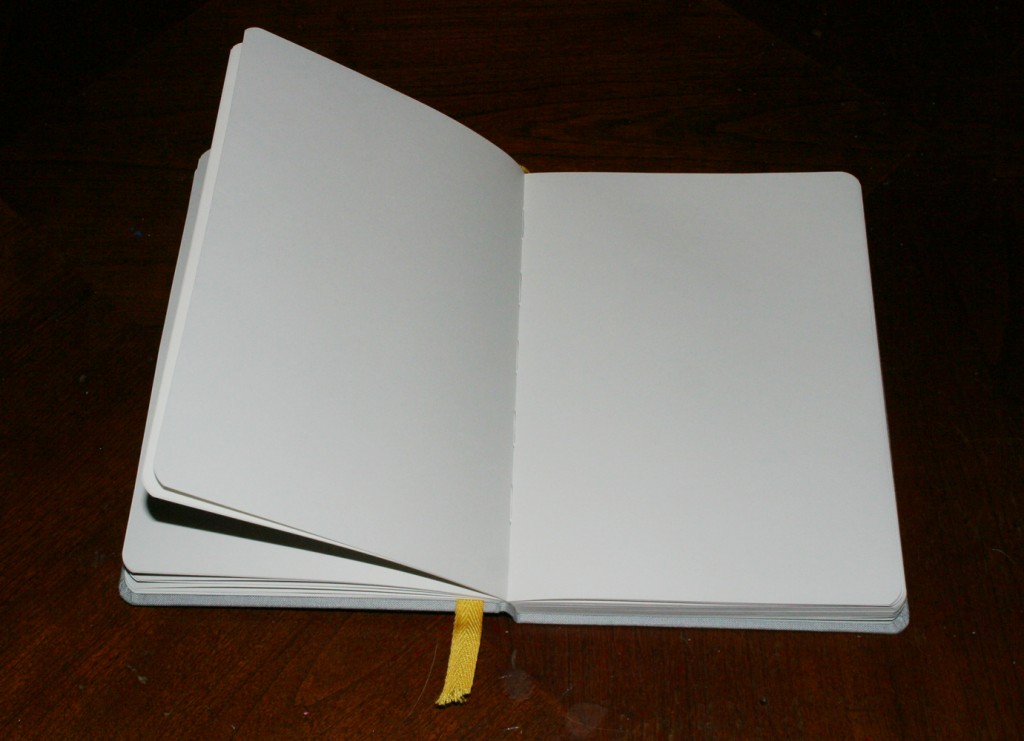 Overall, I really enjoy this notebook. I like the paper and I'm looking forward to filling it up with my sketches and notes. I would like to get their lined notebook for writing someday.
Missing, for me, is something that assures that the notebook is closed (e.g. the stretch band that holds a Moleskine together). This notebook lays flat, therefore this notebook doesn't completely close when laying on the table (not in use). Also, I put notes, postcards, tickets etc. in my note/sketchbooks. I feel they would be falling out if this notebook were in my day purse/bag. Currently I have a rubber band around the notebook for this reason.
Baron Fig Notebooks are not yet available to buy yet, but you can be added to their email list for updates here. They will be selling these at $15.95
Thank you for reading. I was a Baron Fig backer and was not given this notebook by Baron Fig for review. This review is based on my personal feelings about notebooks and how I use note/sketchbooks. I apologize for not covering everything. If you have questions about the Baron Fig, please leave a comment and I'll answer to the best of my ability.
Thanks again!
Links:
xo-Jane
For projects I'm currently working on, free PDF zines and printables, sketchbook pages, videos, & more support my work on Patreon! :)
www.patreon.com/sjanemills